Page created: 16 February 2002 Updated 23 May 2007
Later became HM Sub Thunderbolt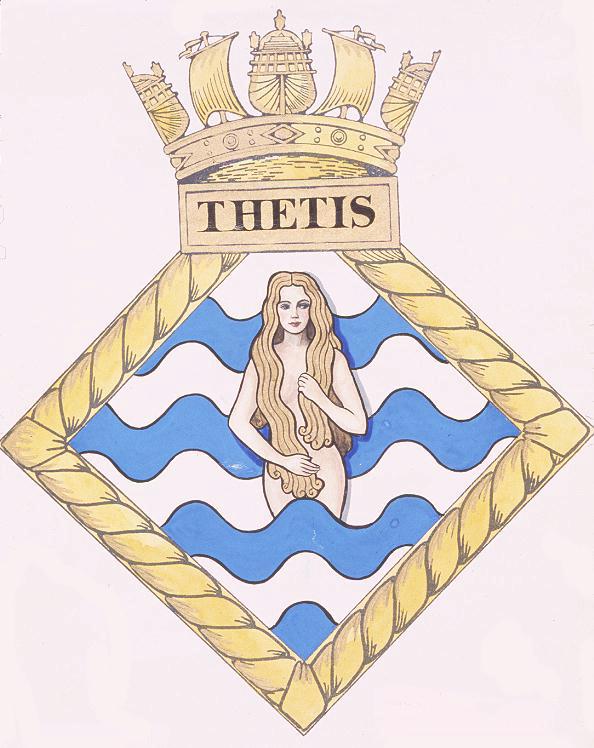 On the 1st June 1939, HMS Thetis sailed out of the River Mersey on her final voyage. She had recently been launched at Cammell Laird Shipyards Birkenhead and, for some inexplicable reason, was 100% OVER crewed; loaded with civil workers, officials and crew. In Liverpool Bay she was found with her nose into the seabed and with her stern raised above the waterline. 99 died, 4 survived. (They were Captain Oram, Lt Woods, Leading Stocker Arnold and Mr. Shaw, a Cammell Laird engine fitter). The photograph below was actually taken as HMS Thetis set out on her sea trials, never to return. The skyline on the River Mersey is unfamiliar, therefore I cannot place her exactly on the river. As the caption on the rear of the image states, HMS Thetis is photographed leaving the River - therefore that has to be the Lancashire shoreline. At least that is what the caption says. The shoreline looks suspiciously like New Brighton on the opposite side, meaning she was inbound, maybe from an engine trial run. Not convinced though. After completing dockside and basin trials, she proceeded to the Clyde area for sea and engine trials on April 30th. However, before the diving trials could be carried out in the Garelock, the fore - planes jammed at hard dive, and "Thetis" had to return to Cammell Laird to have the fault rectified. The Admiralty then gave approval for the diving trials to be carried out in Liverpool Bay at a later date.
What Happened?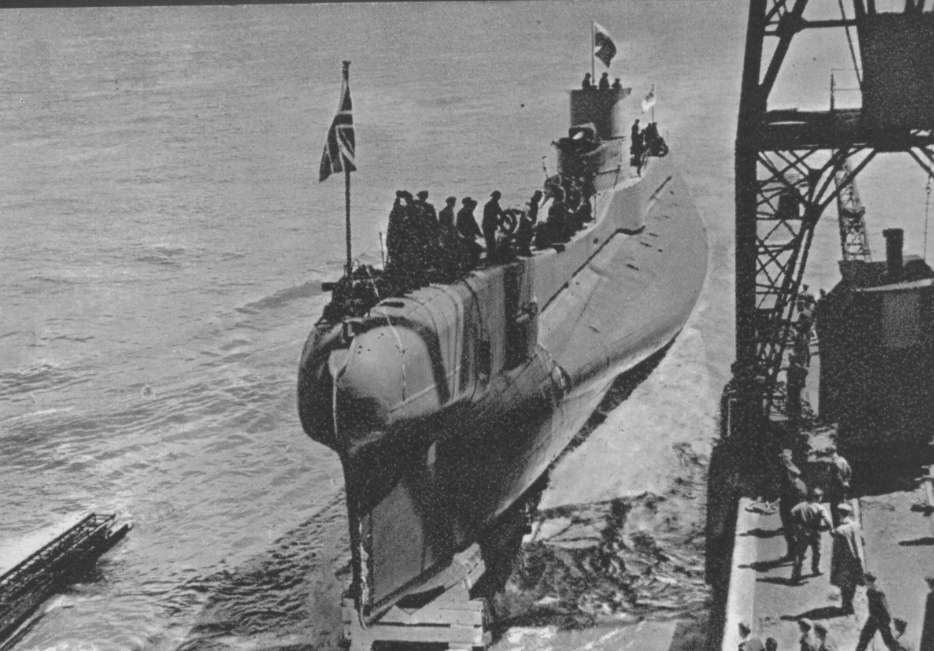 Launched: 26 June 1938 Cammell Laird Shipyard Birkenhead
Commissioned: 4 March 1939
HMS/M Thetis was a brand new submarine, the third of the then modern and new class of submarine boats...the "T" class boats. She was the first submarine built on Merseyside by Cammell Laird. She was the pride of the navy, of the men who built her and the men who sailed in her. To so very many, ninety nine of them , she was soon to become their tomb. On her very first dive, her very first venture into the element for which she had been designed and built, she died. Those with her, save four died too. So close to safety, with the stern above water, the steel hull that should have protected them from the dangers of the deep, became their coffin wall. Why did this tragedy happen. Bad luck, a series of bad luck, a series of mishaps which on their own would not have been fatal, came together to make a lethal combination for all involved. On board were many civilians, technical and industrial workers from the builders yard, officers and ratings , not just from Thetis but from other ships, even food catering staff: there was to be a grand buffet on board as this was to be a grand event. Thetis had almost double the number of souls on board that she would usually have. These visitors came to Thetis to see, learn, watch, observe, test, adjust and to enjoy a new build submarine, for Thetis was on trials and on her way to her maiden dive at sea. So why did she sink?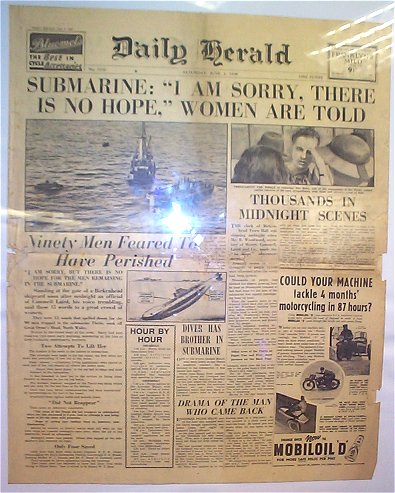 Of the mishaps what was the first one that started the chain? Which was the first domino to fall? The first one was not the one that did the fatal deed. It has never been explained as to who, whom, or why the external bow cap of No. 5 torpedo tube was open. No. 5 tube was flooded, it was open to the sea, while Thetis made her maiden passage out to the diving area her No.5 torpedo tube cap was open......a mystery as to why to this day.
Although not good practice, it is generally not lethal. That is because the rear or inner door of a torpedo is always shut when the tube is full of water. The two doors, inner and outer are never, ever, open at the same time....except on Thetis on that fateful day. On her transit to the diving area Thetis was behaving slightly different to helm than one would expect, even on a new and un tested new build. She was also a little to high in the water on one side when compared to the other...in other words she was not truly floating upright at the correct level...she was too light....it has never been explained why. This should not have been so as all this had been calculated by maths, and tried and tested formula that had been proved for many years in the submarine service. This calculation, a mixture of theory and practical shifting about of, and taking on of pig iron ballast, to put on the submarine "her trim", had been done, approved and demonstrated to the Admiralty overseers at the builders yard. So why? We do not know.
position 54 45N 04 00W
As she closed up for her first dive, she just would not go down. She would not dive. Then suddenly she did, her bow dropped and down she went......to die. Her first dive was her last. In the forward torpedo compartment water had gushed in through the 21 inch wide No. 5 torpedo tube that incredibly was open to the sea. Immediately she became heavy as she filled with water forward. Pure bad luck, small "design quirks" of water tight door closing, decisions that would be right any other day became deadly wrong today. She went down and stayed down.
The internal rear door of No. 5 tube had been opened at the same time as the external bow cap of the same tube was also opened. Water flooded in in a torrent overpowering all and making the closing of the hatch impossible. The impossible had happened. Both doors open on a torpedo tube while at sea. A speck of paint, or rather enamel had blocked the test drain pipe tap on the tube. This was a test to see if the tube was full or empty of water. If the tube is dry, no water will run out of this pipe, if however the tube is full of water, then water will run out. Except that at this critical instant on Thetis, this test drain pipe was blocked by a spot of enamel. So even though the tube was full of water, none came out. So the door was opened and Thetis sank. Someone at the builders yard while applying protective enamelling to the inside of this tube had allowed a drip of enamel to run, trickle, to seep into this pipe....un-noticed. Thetis' fate was sealed. There are checks to test the patency of this pipe to avoid blockages but in this case...but, but.....The bow cap was open ...but, the trim was wrong ..but, but, many buts, few answers, dead men.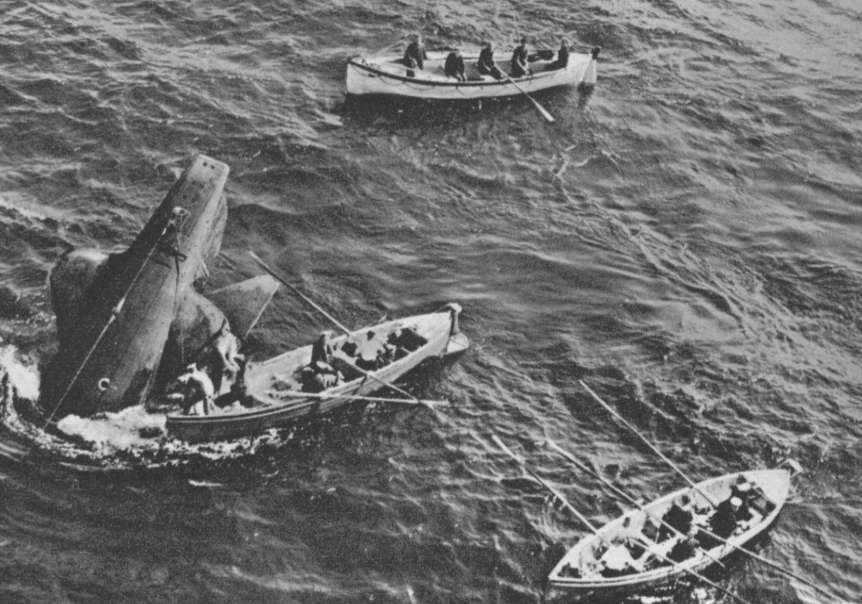 Those trapped in Thetis which by now had her bows stuck in the mud tried everything to break free, to rise to the light and life that existed above the water, but, but, again too many buts, no luck, just bad luck. Even in this deadly situation Thetis could have survived, but for, and due to this and that....she did not. Brave men, naval and civilian fought to live as the air around them turned to a soup that would not only extinguish a candle, but a mans life. Four escaped, ninety nine did not. More should have, but, again but...did not. Some waited when they should have tried to escape earlier. Ignorance of the Davis Submarine Escape Apparatus proved a handicap, at that time submariners received little or no training in "how to escape"...and there were so many people using up the 36 hours of air....36 hours for half the number of people!! Navy rescue efforts were at best confused, lack of plan, common purpose, red tape, naval politics, rank issues, confusion and sheer helplessness hampered the rescue at every corner. Thetis could have been rescued, but for, and if had, or due to......all small errors which on their own would be a hindrance, came together in a fatal cocktail. Thetis died 140 feet down in Liverpool Bay. Rank in death serves all men equally.Civilians alongside naval ratings, stokers alongside officers, Admiralty overseers alongside food caterers, all entered a permanent sleep held by the unfeeling clench of the muddy cold waters of Liverpool Bay on a summers day.
The 100th. Man
Salvage operations on Thetis aimed at raising her, which is what eventually did happen, resulted in the death of one of the divers involved in this dangerous and cold work. On August 23rd. 1939, Diver Petty Officer Henry Otho Perdue died of a severe "bend."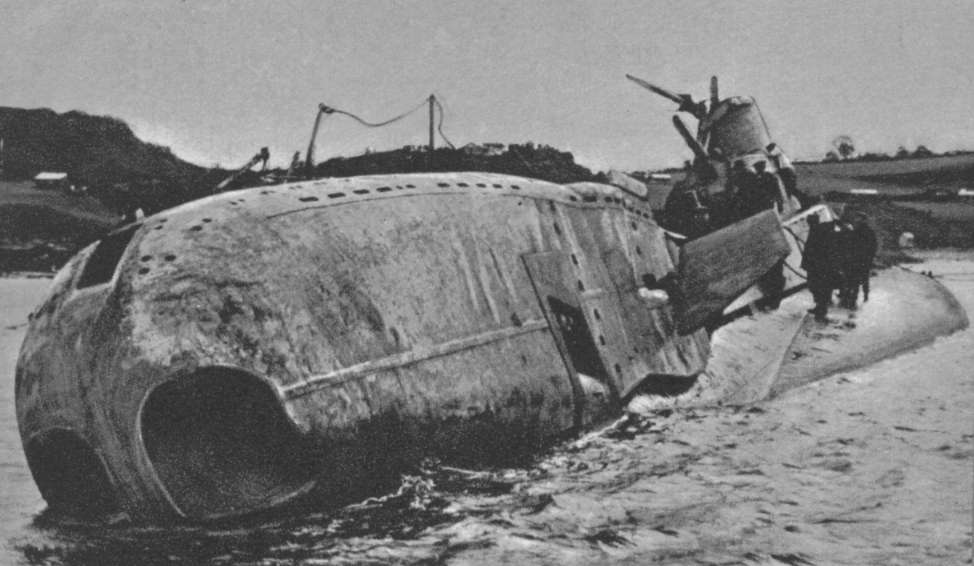 Sunday 3rd. September saw Thetis intentionally grounded ashore at Moelfre Bay, Anglesley. It was the same day that war was declared. Human remains that had not already been removed by the salvage team were now brought out to a decent Christian Naval Funeral, with full honours.
"Thetis" was first beached at Traeth Bychan, and then towed to Holyhead. Forty-four of those lost were interned in a mass grave in the town, where a memorial was dedicated on 7th November 1947. The "Thetis" was eventually taken back to Birkenhead, and after an extensive rebuild, was re-commissioned as "HMS Thunderbolt". She sailed on her first operational patrol on December 3rd 1940. On March 14th 1943 she was depth-charged and sunk by the Italian "Cicogna" off Cape San Vito, Sicily, with the loss of all hands. After the accident in Liverpool Bay, the course of Inquiry failed to find how, when or by who the No.5 bow cap was opened, but as a result, a clip was fitted to all rear torpedo tube doors to prevent a similar disaster ever happening again. It is called the "Thetis Clip". More Images below.

What happened is copied from: http://www.geocities.com/Pentagon/Quarters/6680/subs.htm
See Also: http://www.merseyferries.co.uk
Another good site: http://www.holyhead.com/page117.html
HMS Thetis was salvaged, recommissioned as HMS Thunderbolt and lost in March 1943 near Sicily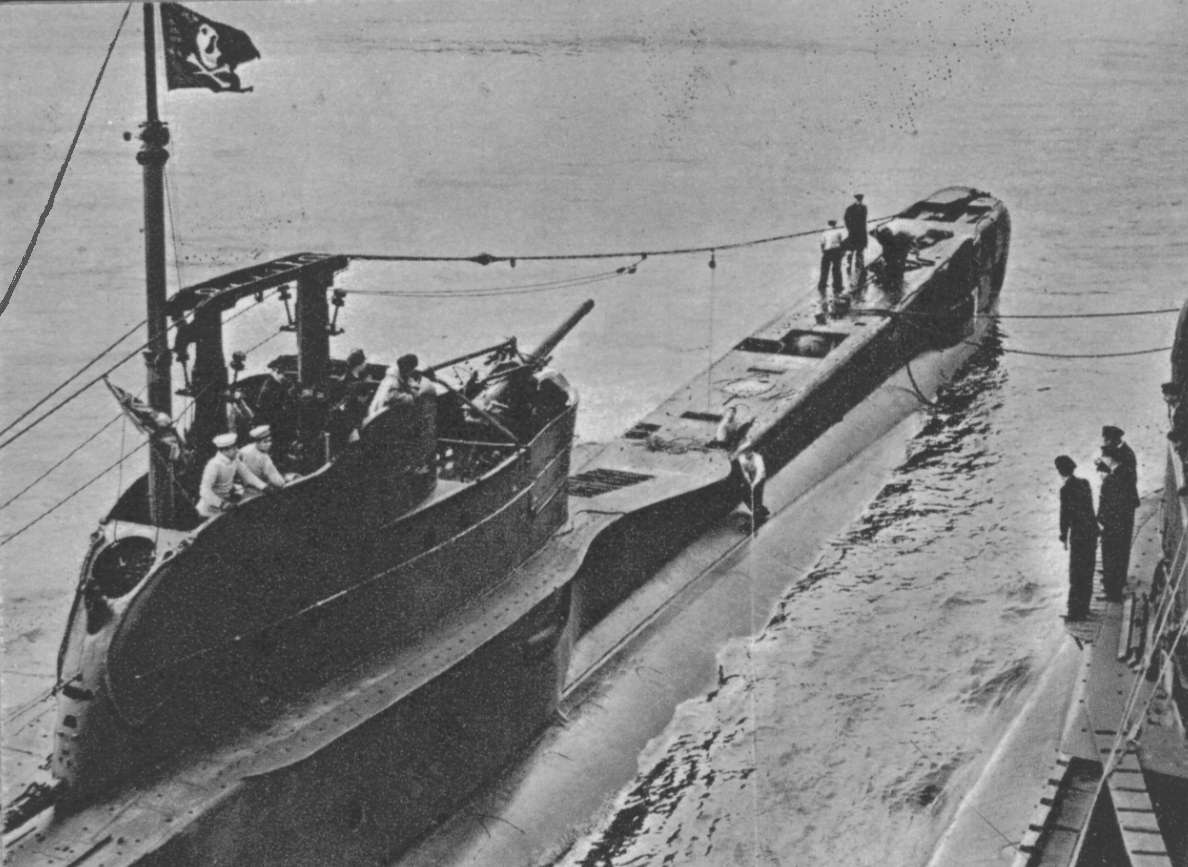 HMS Thunderbolt (Thetis)
Found on: http://web.ukonline.co.uk/chalcraft/sm/page10.html#thunderbolt
Lt Cdr Cecil Crouch. Lt. J.S. Stevens sank Italian s/m Capitano Tarantini, Bay of Biscay 15/12/40. At 2210 on Friday 12-March-1942 the Italian merchant ship Esterel was torpedoed two miles north of Capo San Vito. Following the attack the torpedo boat Libra was ordered to seek out the submarine responsible - Thunderbolt. The Libra made contact with the Thunderbolt that night and carried out seven depth charge attacks with no result. On Sunday 14-March the Italian corvette Cicogna obtained a contact and shortly after 0734 a periscope was sighted 2000 yards off the corvette's bow. At 0845 the periscope was again sighted, this time less than 10 feet away. Depth charges were launched at once and the corvette increased its speed and turned for another attack when an explosion lifted the submarine's stern out of the sea at an angle of 90 degrees. The submarine sank through a discharge of air and oil. A further two depth charges were dropped resulting in air bubbles, oil and smoke appearing on the surface where the submarine had sunk. The Cicogna remained on station for an hour but no further contact was made. (c 38-15'N, 15-15'E)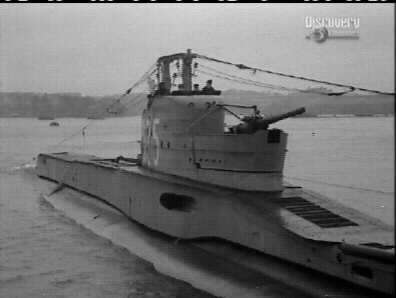 From: http://www.cyber-heritage.co.uk/thetis/subs.htm
---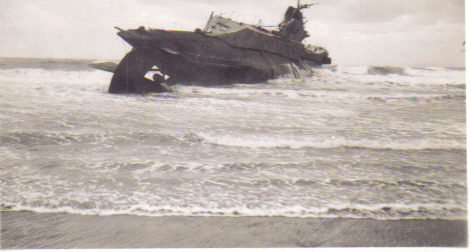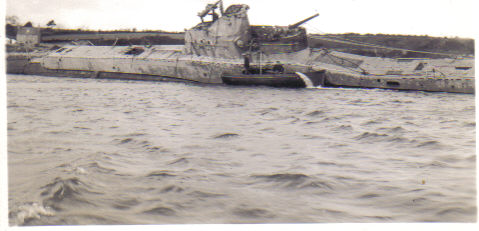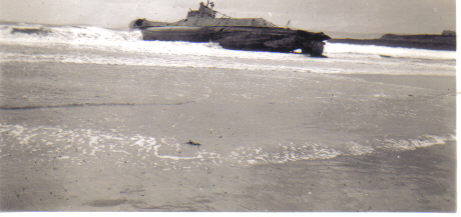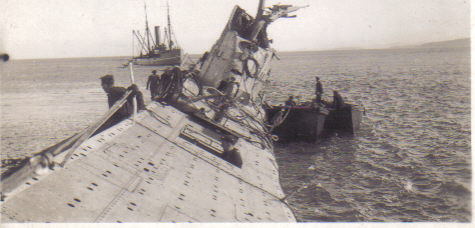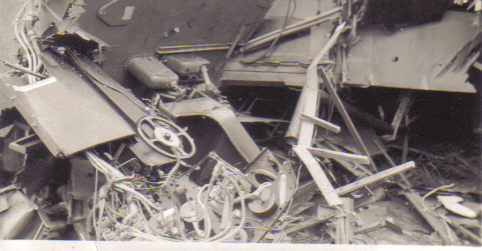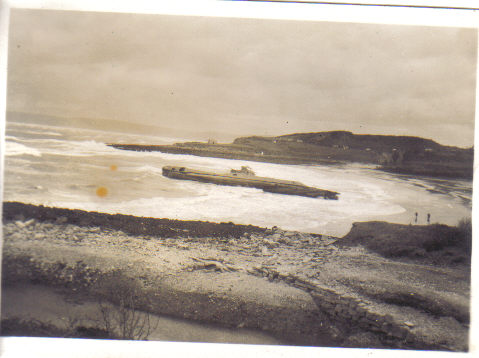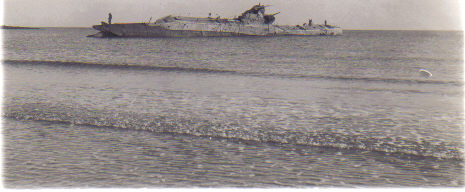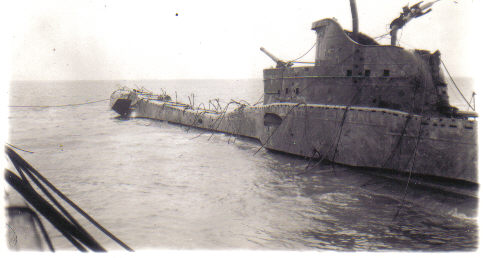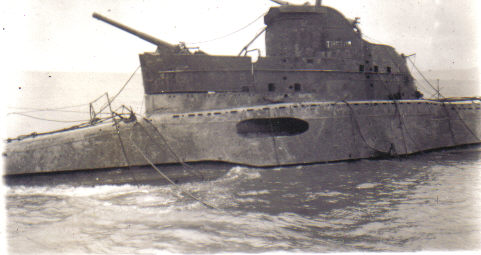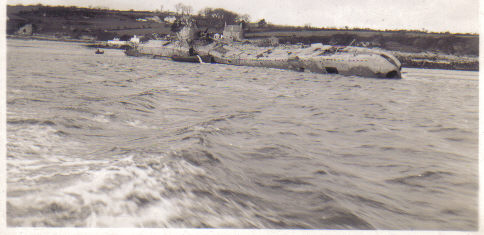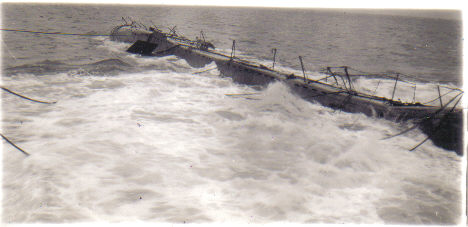 My thanks to Keith Carter for the above images. Keith, if you read this, I am giving permission for an author to use these images of yours above in a book.
"He Missed the Boat"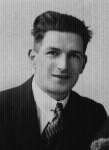 Arthur James Campbell in 1936
........a true story by Ian L.Campbell
Some time after my father died in 1985, his sister, (now deceased ) told me that it was a quirk of fate that he lived as long as he did. According to my Aunt, he was due to sail as a civilian, on the ill-fated HMS/M Thetis on her disastrous initial trial, but was ultimately replaced by a more senior colleague.
I know not who this unfortunate man was, nor would I recognise any names but I suspect he was in the same drawing office as my father.
It would be of interest to me and my family if there exists any provisional or final manifesto to finally substantiate my beliefs.
ARTHUR JAMES CAMPBELL started his employment with the Admiralty as an apprentice at Rosyth Dockyard about 1920 and after several moves, all within the Admiralty he retired as a senior draughtsman at the then V.D.E. Portland around 1966.
Between 1937 and 1944 he was a draughtsman in the Royal Navy Torpedo Factory in Greenock and probably worked on torpedoes and ancillary equipment used in submarines.
At the time of the Thetis incident I was a 7 year old boy in bed with measles and I remember father and mother following the story on the "wireless."
Father showed unusual interest as the drama unfolded and he gently explained to me, with the aid of simple sketches, what was happening. I remember hearing the word "hawser" and another meaning for the word "camel."
Father never talked of his work and it was not until later that I discovered "he drew bits of torpedoes." By this time the memory of Thetis had faded in my mind and neither parent ever mentioned it.
It was only after my Aunt`s revelation that I realised there was a possible personal connection with this story and I may yet find out the truth.
Ian L.Campbell
---
" ...and so did he!"
Ernest Hall, who passed away in 1985 in Perth, Western Australia: an extract from his personal memoirs
"...It was soon after this event that I was drafted from L23 into the base to stand by for new construction work. To fill in my time, I was placed in the engineers office reproducing drawings and keeping records - a very pleasant job that allowed me to go home three nights out of four...... there was much going on at this time in the submarine world and war clouds were gathering.

I was drafted to HMS Thetis, a new type of submarine known only as "T" Class. The draft, there were two of us, was delayed a few days so that we could assist in preparing for an Admiral's inspection of the base. This did not appear to be important at the time as Thetis had a full crew and was ready for sea trials.

After the inspection I received orders to proceed next day to Barrow in Furness to join my new boat. I left the Fort (Fort Blockhouse) with the other young stoker the next morning, and it was not until we reached the station that we heard that Thetis had sunk on trials. We were terribly upset and returned to the Fort for further instructions. I was immediately put back into the office.

This was a bad time in the submarine service. Poor communications, bad decisions, lack of proper equipment etc resulted in the loss of the boat and all but four of the people on board. About forty of them were civilians and Admiralty experts. There is a book written on this disaster. A score of my old friends including Captain Bolus were lost. We could not afford to lose these types of men in so useless a fashion.

The list of the crew "discharged dead" was placed on my desk for the records. My name was included. I was thankful to go home that night.

Shortly after this I was drafted to HMS Truant..........."
Thanks due to his son John Hall of Sydney, Australia
" ...and also so did he!"
Ron Shaw DOB 15.6.13 now widowed, father of Robin, and living in Huddersfield
At the time of the Thetis disaster Ron Shaw was a 26 year old civilian tool fitter for Cammell Laird. He lived at the Y.M.C.A. at Birkenhead. He was one of the team working on the Thetis when an administrative error took a hand in fate and saved his life.
Ron should have been paid 35/- "float" or "trials" money - an extra payment for the hardships to be expected by a civilian when on sea trials. Ron was expecting to go to sea on the Thetis on that fateful and tragic day when for some unknown blunder his 35/- did not get paid to him.
So he refused to go and lived. He was angry and not getting his expected bonus so he came off the Thetis and transferred to work on the Trident building alongside.
As Ron says "I was fortunate in sticking to my principles."
During his time spent on constructing the Thetis he worked in a tight four man team. His mates were: George Scarf, Billy Waterson and Archie Craven. These men were older than Ron, mostly in their 40`s and during many late night work shifts the four men had "become wrapped in each other's lives."
These three men looked after Ron, and Ron grew to know their wives too.
His three workmates did get paid their 35/- and as a result did go to sea with Thetis for that first and last dive. They never came back. Ron was devastated at the loss of his close work mates. The shock of their loss was not immediate and did not hit him at all once - he was numbed at the concept of them "not being there anymore." He feels that he must have been close to a nervous breakdown.
When the Thetis was finally recovered and the bodies removed, Billy Waterson`s wife gave Ron, Billy's pocket watch that Billy had been wearing when he perished. Ron had it inscribed to Billy's memory and still treasures it to this day.
Ron Shaw was a work colleague of Frank Shaw, in his own words he says he was a "close associate of Frank Shaw", Frank Shaw, a civilian, being one of the four who escaped from the Thetis. Although Ron and Frank worked together on various projects after the disaster they never discussed the loss of the Thetis.
For Ron's part he did not want to approach the subject as he was too numbed at the loss of his three pals. Ron does say that Frank Shaw was devastated by the whole affair and the scale of the loss.
When describing the scene outside the gates of Cammell Laird's as the wives and families waited for the good news that never came, he says - "it was electric, but in a negative way, ....so gloomy and so intense that all speech is completely devoid - not a passing word."
With war on the horizon work had to go out at the shipyard as Ron worked on Trident, Taku and Talisman. Ron still well recalls their constructor`s number, Thetis was 10-29, Trident was 10-30, Taku was 10-31 and Talisman was 10-32.
http://www.cyber-heritage.co.uk/thetis/subs.htm
Received this email:

My great uncle was Fred Orton, the diver who tried to rescue the men on the ship. He said to my mother he could hear the men tapping on the side of the ship, all to no avail in the end. Gaynor McAuley. Nov 04.
November 18th 2004. I was browsing through your web page regarding Thetis and thought you might be interested to hear the story of my Uncle Tom Bambrick who perished on Thetis. Tom was born in Bawnree Co. Carlow Ireland. He was eldest of eleven children, nine boys and two girls, my mother being one of his sisters. He went to England to find work and joined the British navy. He met Mary Weldon in London, She was from Castlecomer Co. Kilkenny only about twenty miles from where Tom was born. They married in London in September 1938. At the time of the sinking of Thetis she was expecting their child. Mary learnt of the death of her husband from the newspaper that was delivered to her apartment with the headline that Thetis had sunk. Tom was 27 at the time of his death. Mary returned to Castlecomer and gave birth to a son who she named Tom after his father. My mother has often told me of the anguish her family suffered waiting for the return of Tom's body for burial. His coffin had to be brought to the cemetery on a horse drawn carriage because it was lined with lead and would not fit in an ordinary hearse. It was the last funeral to Paulstown by horse and carriage. His wife Mary lived to old age and never remarried. His son Tom is still living in Castlecomer and has six children himself and several grandchildren. He is a woodturner by trade. Of Tom's sibling's there are only four surviving my Mother is still alive and has a photo of Tom on her windowsill and still remarks on how handsome he was. Brigid Evans.
July 2011: Tom North saw the sunken submarine: What also comes to mind is a submarine (ours ) that could not surface after its first test dive. The rear end was sighted sticking in the air and reported. There was a complement of Camell Lairds workers on board as well as the new crew. It took longer than it should have to rescue because Navy/ Shipyard responsibility was in doubt.