This page is dedicated to the memory of Lt Francis Fasson GC, Abel Seaman Colin Grazier GC and Canteen Assistant Tommy Brown GM
Colin was from Tamworth and Francis from Jedburgh. Tommy, from North Shields was a member of NAAFI.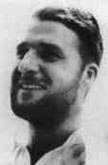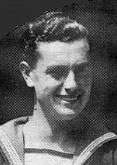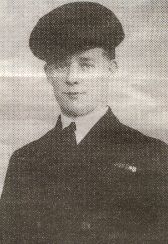 Lt Fasson and Able Seaman Grazier. Tommy Brown (died 1945)
The only Allied warship to sink a German, Italian and a Japanese submarine during WW2.
The Capture of the U559
It was October 30th 1942, and off Port Said, the U Boat U-559 had been spotted off the Egyptian coastline by a Sunderland Flying boat's radar screen. No less than 5 destroyers were dispatched to the "kill". One of these was HMS Petard captained by a man who had a burning ambition to take a U Boat intact! Some of his crew had burning ambitions towards him as well, he drove them quite hard!
The U Boat proved to be a difficult opponent, diving too deep for the depth charges to attack. At that time depth charges were unable to attack deep lying submarines which could dive a lot deeper than British experts imagined. One of the crewmen, and it's a shame we do not know his name, had the bright idea of putting soap into the holes of the depth regulator, thereby causing the depth charge to detonate much deeper than planned. The soap worked and it forced the U-559 to move away, giving ASDIC operators on the surface a stronger echo. Repeated attacks took its toll on the beleaguered submariners, they were cracking. Grown men broke down in tears under the incessant hammering on the hulls of the explosions. U-559 was also leaking badly. The incoming water was upsetting the delicate balance of the boat and, after discussions; the order was given by Captain Heidtmann, to surface. There was precious little time left. Yet again, under the intense pressure of battle, a German (Gunther Graser) or one of his section, made a serious mistake. Whilst evacuation was under way, they were supposed to open vents to fill the diving tanks, causing the submarine to dive again but someone had not removed the levers retaining pins which bent and the levers became jammed. The Captain of HMS Petard, Thornton, sensing his prize, shouted at his boarding party to search every single sailors pockets, he knew what he was looking for.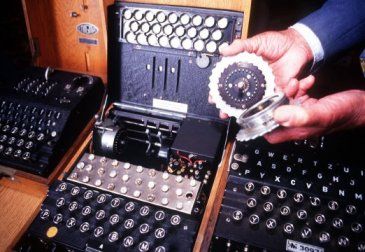 The enigma machine
16 year old Canteen Assistant, Tommy Brown, (one of many who lied about their age) had joined the boarding party along with Lt Anthony Fasson and Able Seaman Colin Grazier. Tommy went into the conning tower and down into the flooding U Boat. The lights were all still on. Fasson found some water soluble paperwork in the Captains cabin, he passed them to Tommy and he managed to keep them dry despite water pouring in through a shell hole, and he climbed out and handed them to a waiting whaler. He also helped to remove all the codes from the submarine. The Lieutenant could not remove the enigma machine as it was bolted quite firmly in place. Tommy remembers the Officer hammering away at the fittings in an attempt to break them. Time was short. The water was getting deeper and deeper and Tommy made three trips to the boat with codes and books. Fasson had returned to the control room to wrench a radio or radar set from its fixings but by this time the water inside the U-boat was knee-deep and rising. Brown, now on top of the conning tower, shouted 'You had better come up!' down into the U-boat as its afterdeck was well underwater. As Grazier and Fasson started up the ladder, the U-boat suddenly sank. Brown jumped clear, "popping out of the conning tower like a cork out of a bottle", according to an eye-witness. but U-559 made her last dive taking Lt Fasson and Able Seaman Grazier with her.
Lt Fasson was not to know that Bletchley Park already had an enigma machine (captured by HMS Bulldog from the U110) and that far more valuable information was already safely stowed in the whaler. Petards coup came after a costly 10 month gap. Because of the immense secrecy, there were no cheering crowds to welcome her home and her achievements, and the sacrifice of Fasson and Grazier, slipped into history, unnoticed until recently.
Ineligible for the Victoria Cross since the action did not take place under enemy fire, Fasson and Grazier were each posthumously awarded the George Cross. Brown, who survived, was awarded the George Medal but died in 1945 attempting to rescue a sister from a house fire. Despite this and the memorial sculpture to the three in Grazier's hometown of Tamworth in Staffordshire; Fasson, Grazier and Brown's action has never received the widespread public recognition which it deserves. There is further evidence that Tommy was not 16 either, but only 15. Nevertheless he was sent home following disclosure of his true age after receiving his George Medal. Not many teenage catering assistants can have shortened the war and saved tens of thousands of lives, but that's what 16 year old Tommy Brown's heroism helped to do. Tommy, who was born is North Shields in 1926, was one of three men who went into a sinking U-boat and saved the submarine's code books, helping the Bletchley Park team crack the German's naval Enigma code.

The above paragraphs are copied from my Enigma page (with additions added here).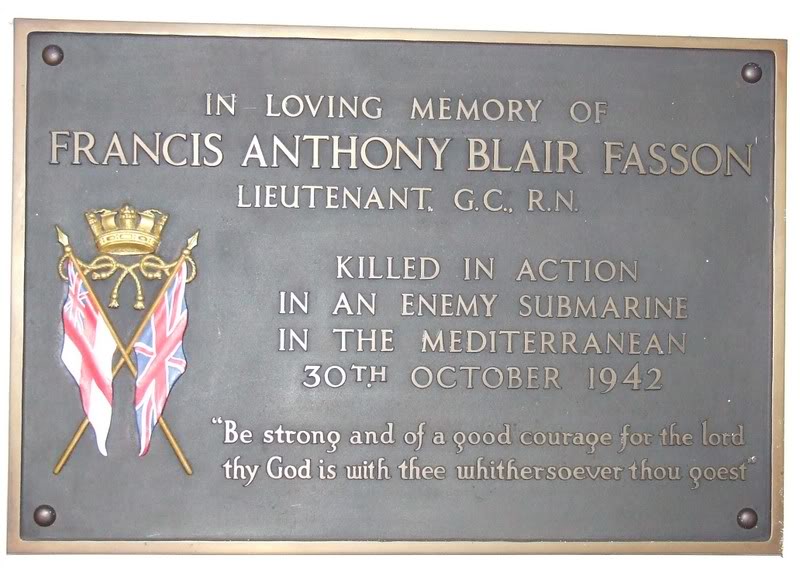 The documents retrieved from U-559 reached Bletchley Park on November 24th. They proved to be the Wetterkurzschlussel and Kurzsignalheft, which yielded a priceless set of cribs. On December 13th, a crib obtained using the Wetterkurzschlussel gave a key with M4's rotatable Umkehrwalze in the neutral position, making it equivalent to a standard Enigma and thus potentially breakable on existing bombes. Six bombes were plugged-up accordingly and run. Later that afternoon, after a blackout of ten months, the naval section at Bletchley Park telephoned the Admiralty's Operational Intelligence Centre to report the break into SHARK. Within the next hour the first intercept chattered off the teleprinter indicating the position of more than a dozen U-boats. A stream of intercepts followed allowing the rerouting of convoys around the waiting wolfpacks. Allied shipping losses in the Atlantic were consequently halved in January and February 1943 and, perhaps even more vitally, procedures were developed which facilitated the breaking of SHARK for much of the remainder of the war. Fasson, Grazier and Brown's action consequently saved millions of tons of Allied shipping and tens of thousands of Allied lives. As eminent naval historian Ralph Erskine has put it: 'Few acts of courage by three individuals can ever have had so far-reaching consequences.' Ralph Erskine thinks that, without the breakthrough, the Normandy invasion would have been delayed by at least a year, and that between 500,000 and 750,000 tons of allied shipping were saved in December 1942 and January 1943 alone.
With this capture the scholars at Bletchley were able to break the four rotor Triton Code and, from Sunday 13th December 1942, just 6 weeks later, much needed traffic on the U Boats were being read. The resulting intelligence was to prove of immense value in the winning of the Battle of the Atlantic. Eventual Allied victory depended on that success.
Part of the Petard incident above is also transcribed here: Capturing Enigma: How HMS Petard Seized the German Naval Codes by Stephen Harper and Seizing the Enigma: The Race to Break the German U-boat Codes 1939-1943 by David Kahn. I have not read either but found a cross reference on another site.
The U559 was commissioned 27 Feb 1941, a Hamburg boat, and completed 10 patrols. Responsible for the sinking of 4 ships, a warship, and 2 others total losses. 32.30N, 33.00E is the position where it was sank. The destroyers involved were HMS Petard, Pakenham, Hero, Dulverton & Hurworth. An RAF Sunderland from 47 Sqn. 38 crew members were rescued and 7 dead. That's 9 dead including our two gallant heroes, Fasson & Grazier. http://uboat.net/boats/u559.htm
From BBC Stoke Website: One of Tamworth's most famous sons, Colin Grazier, changed the course of World War 2. He sacrificed his life to ensure the famous 'Enigma code' would be broken. On 31st October, the town holds a Memorial Day celebration dedicated to him. Colin Grazier was born in Tamworth in 1920, and enlisted in the navy serving on board the HMS Petard, a Class P Destroyer, at the age of just 21. He assisted in the capture of German Enigma codes from a sinking U-boat and lost his life in the attempt. A memorial of his bravery stands in Church Square, in the heart of Tamworth town centre.
Able Seaman Colin Grazier paid the ultimate sacrifice for his heroism on 30th Oct 1942 when he drowned retrieving two code books from Nazi U-boat U-559. These code books enabled Britain to crack the Enigma Code and shortened the time it took to decipher coded messages by as much as a year!
More conflicting information has surfaced. According to Capturing Enigma (page 75): At sixteen, though claiming to be a year older, Tommy Brown was the youngest recipient of the George Medal. Despite his age he remained with the Petard until she returned to Britain in 1944. Later he was appointed Senior Canteen Assistant aboard the cruiser HMS Belfast. Whilst being refitted for the Far East, in February 1945, Brown was sleeping at his nearby family home in Lily Gardens, Ridge Estate (Presume North Shields?) attending on board Belfast every day. Tommy then 19, and a four year old sister died when fire broke out in the early hours of 13 February 1945. His mum, 3 brothers and 6 other sisters escaped! His mother collected Tommy's medal from Buckingham Palace in July 1945.
I am grateful to Ralph Erskine for some enlightening facts about enigma in general and, in particular, the role of Petard and her crew.
Today, my 42nd Wedding Anniversary, 29th March 2017, I visited Tamworth and had the opportunity to see the really superb memorial to Seaman Colin Grazier. Here are the images.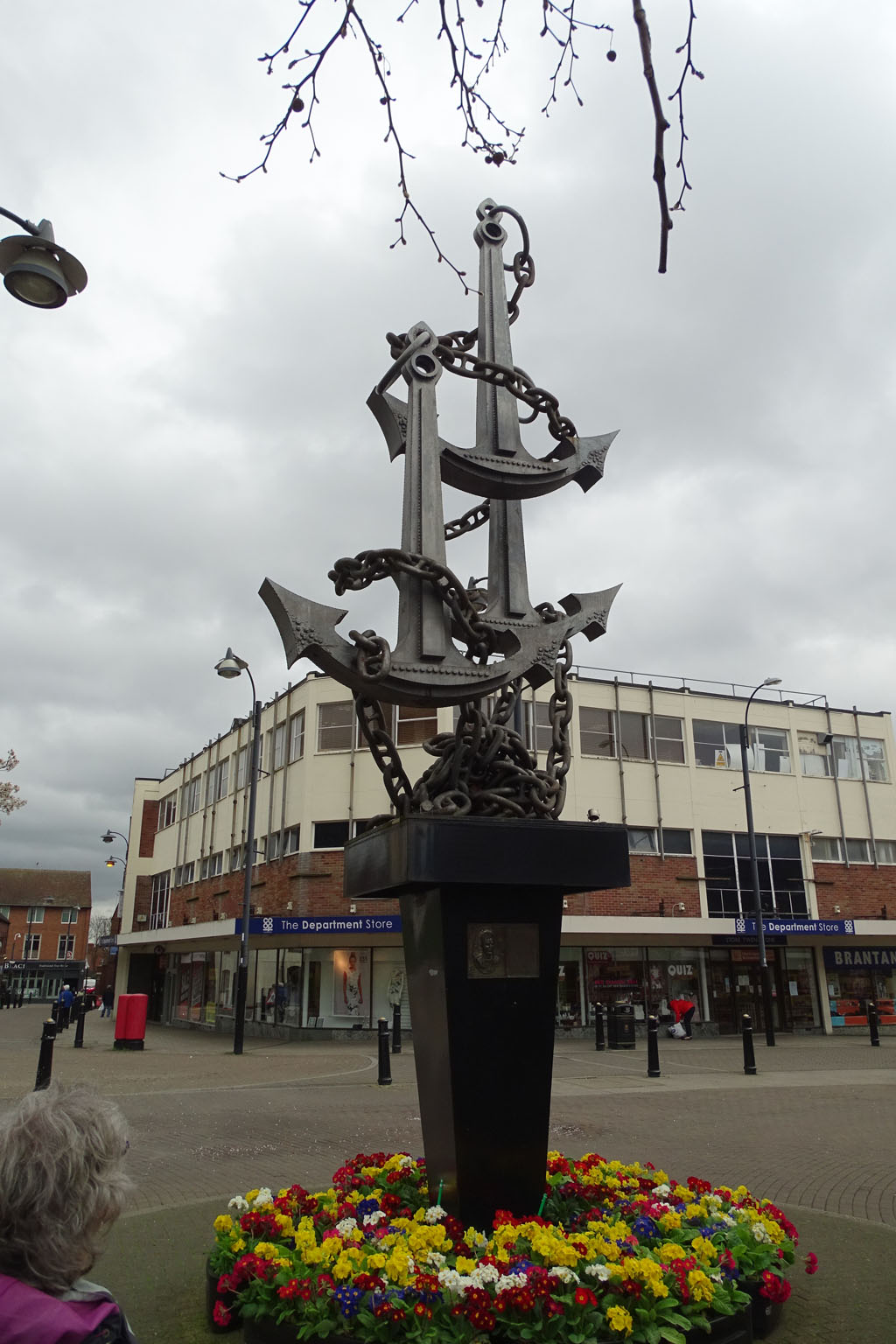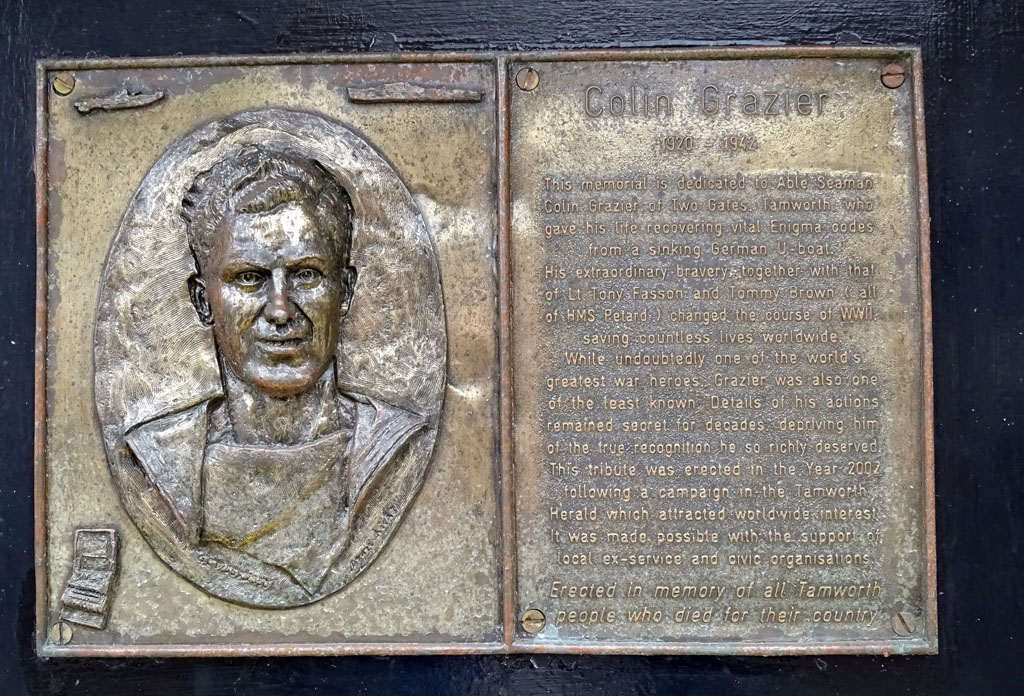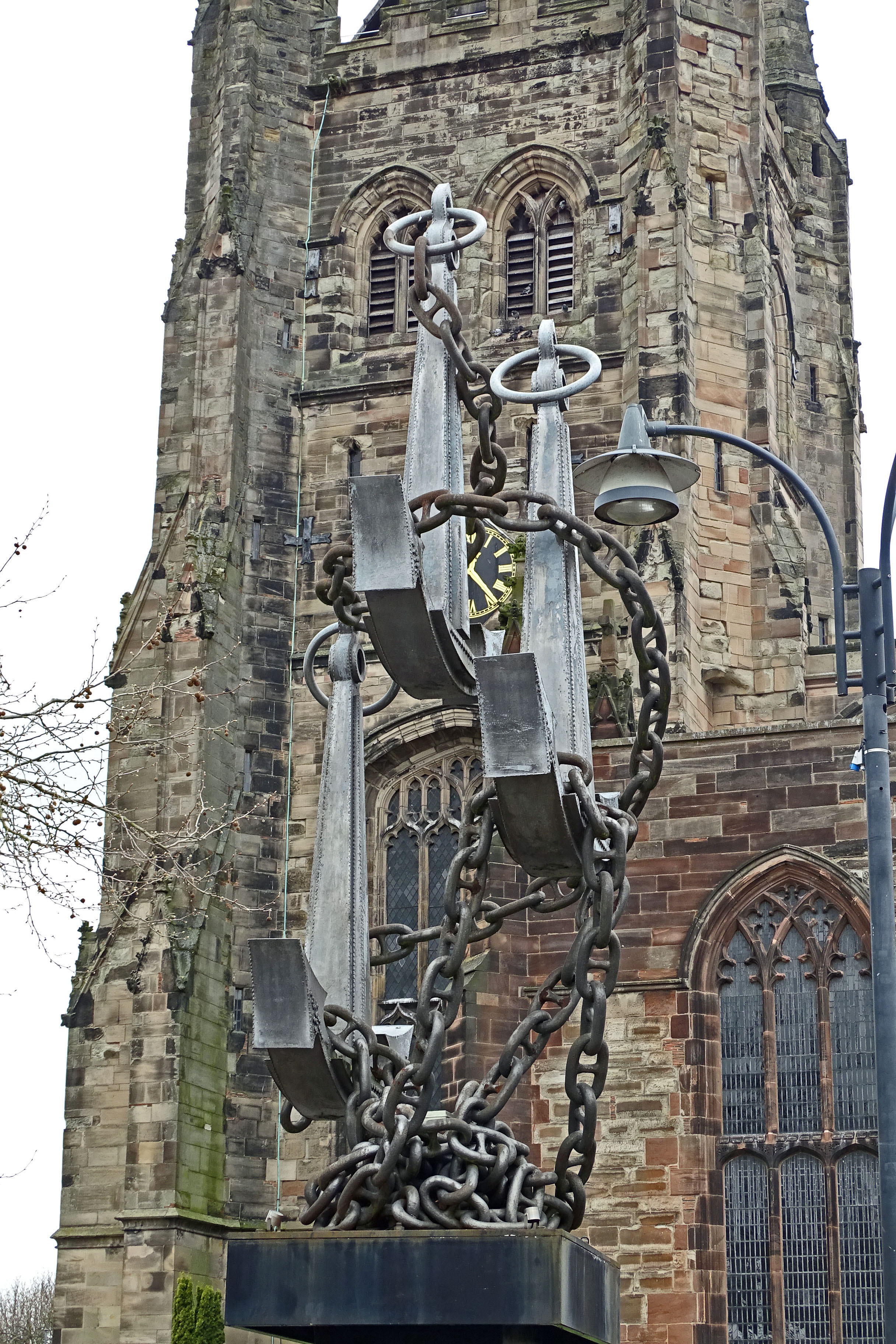 Standing outside the church of St Editha
See also:
http://www.guardian.co.uk/uk/the-northerner/2011/nov/25/tommy-brown-north-shields-tyneside-george-medal-enigma
http://warmemscot.s4.bizhat.com/warmemscot-ftopic1377.html
http://www.bbc.co.uk/stoke/content/articles/2009/10/13/colin_grazier_feature.shtml
HMS Petard - The Ship
She was a P Class Destroyer built on Tyneside by Vickers Armstrong.
Number: G56.
Ordered on 20 October 1939.
Launched on 27 March 1941.
Commissioned: 15 June 1942.
Scrapped at Bowness in June 1967.
Notable Events: From www.uboat.net (all links lead to uboat.net)
12 February 1944: The Action: I cannot vouch for the 100% accuracy of all of this.
Indian Ocean, 60 miles SW of One and Half Degree Channel. KR.8, now escorted by HMS HAWKINS and destroyers HMS PALADIN (G.69) and PETARD (G.56, ex-PERSISTENT), is approaching the channel at 13 kts, when the convoy is sighted by submerged I-27. Cdr Fukumura closes in from ahead to attack, probably intending to target heavy cruiser HAWKINS, the leader of the port column, from the starboard quarter of the convoy. He dives under the screening destroyers without being detected and raises his periscope for a snap shot only 50 yds astern of VARSOVA, the leading ship of the starboard column. Fukumura then fires a spread of four torpedoes at the cruiser, partially overlapped by KHEDIVE ISMAIL, the leading ship of the center column. Three gunners on the stern gun platform of VARSOVA sight a dark green periscope protruding some 3 ft above the water and traveling towards KHEDIVE ISMAIL at 4 kts. They attempt to target it, but their gun cannot be depressed deep enough.
At 1433 (convoy time), KHEDIVE ISMAIL receives a torpedo hit to her starboard side engine room and starts to list to starboard. The aft mast collapses and the adjacent superstructure caves in, while the after hatch covers are blown upwards. Approximately 5 seconds later the second torpedo strikes the boiler room forward, directly below the ship's funnel, causing a major explosion inside the ship. Once on her beam ends, KHEDIVE ISMAIL breaks in two; the stern sinks first, the bow upends and then corkscrews beneath the surface only one minute and 40 seconds after the first hit, at 00-57N, 72-16E. Of 1,511 passengers and crew 1,279 are lost, including a total of 77 women. Two remaining torpedoes, one of them a surface runner, pass ahead and astern of HMS HAWKINS, forcing her to take evasive action. The two destroyers each turn 180 degrees outwards while the convoy scatters, to regroup at 02-41N, 74-49E.
Multiple periscope sightings are reported by different vessels and confusion ensues. At 1436 Lt Edward A.S. Bailey's HMS PALADIN first establishes an asdic (sonar) contact N of the position of the now-sunken KHEDIVE ISMAIL, dropping a pattern of ten depth charges near the stern of the retreating HMS HAWKINS. PALADIN then chases a false contact and at 1449 drops a single depth charge at a periscope detected by the steamer CITY OF PARIS. PALADIN's next attack with ten depth charges against an unreliable target fails, but then a new contact is detected. After her asdic operator reports hearing a noise resembling the blowing of ballast tanks, nine depth charges are dropped at 1502.
Cdr Rupert C. Egan's HMS PETARD likewise chases several contacts about a mile SW of the sinking. The first target is lost during the approach. At 1500, PETARD drops a pattern of seven depth charges, followed by eight depth charges five minutes later. After the final attack with nine depth charges at 1513, this contact is lost. Following an unsuccessful sweep to the westward, at 1536 Cdr Egan gives permission to pick up the survivors from KHEDIVE ISMAIL.
At 1620, the stationary I-27 suddenly surfaces about a mile and a half off PETARD's and PALADIN's starboard quarter, down by the stern. Both destroyers open fire from all guns, claiming numerous hits. PETARD passes close to I-27's stern and fires a pattern of three depth charges set to 50 feet. These cause no visible damage and the submarine starts to move, steering 250ş at 4 kts and simultaneously correcting her trim.
The Captain of HMS PALADIN decides to ram the submarine to prevent her from diving again. At 1621, when 600 yds away from the submarine, he receives an order from PETARD not to ram. HMS PALADIN turns away to port, grazing the submarine's port foreplane with her starboard side. The impact tears an 80-feet long gash 12 inches below PALADIN's waterline, flooding her engine and gearing rooms, two fuel tanks, and the after magazine. The destroyer goes dead in the water, but fires two depth charges, one of which explodes right under the I-27's bows. Now fighting the increasing list, the destroyer lowers her scrambling nets to pick up the last survivors from KHEDIVE ISMAIL.
Two minutes later five gunners scramble from I-27's conning tower in an attempt to man the deck gun. PALADIN's No. 2 Oerlikon AA gun opens fire from 400 yds distance, blowing one of them overboard and killing the others. I-27 increases her speed to 8-10 kts, going round in circles and still down by the stern. PETARD fires a number of 4-in rounds that riddle I-27's conning tower, disable one of the periscopes and the deck gun. Since the high-explosive shells seem to inflict no apparent damage to the submarine's pressure hull, the officers of PETARD discuss the possibility to board the I-27 and storm its conning tower with Sten guns and hand grenades, or to plant explosive charges on its hull. Both plans are given up as too dangerous. At 1700, PETARD commences launching single torpedoes, six of which miss the target one by one. At 1723, the seventh torpedo finally strikes the crippled submarine, blowing her in half. As the column of water settles, the bow and stern are seen sinking at 01-25N, 72-22E. An oil slick and pieces of decking are sighted in the area, but no survivors. From: http://www.combinedfleet.com/I-27.htm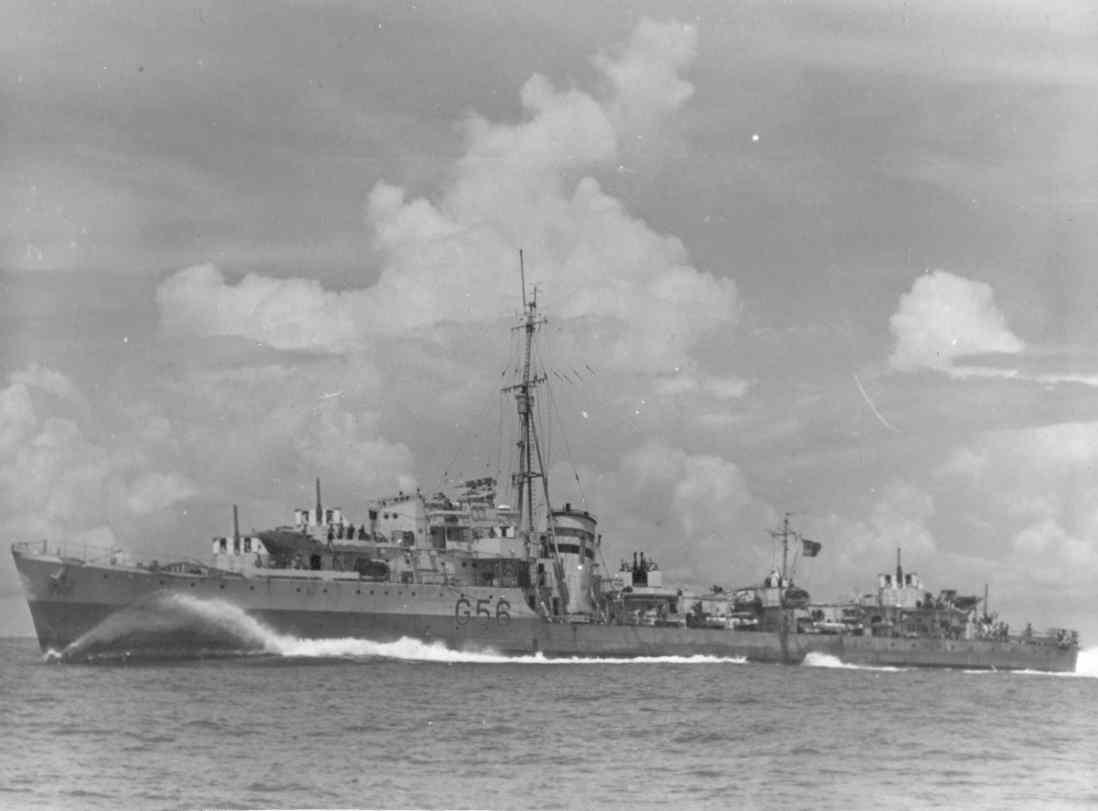 Petard - Full War Service
http://www.naval-history.net/xGM-Chrono-10DD-49P-Petard.htm
Post War
HMS PETARD returned to Ceylon with the Flotilla. On release from service at Singapore, she remained in the East Indies Fleet and was transferred to the 6th Destroyer Flotilla. Visits were paid to ports in India before her return to UK in May 1946. On arrival at Chatham she joined the Local Flotilla for a few weeks before being paid off and reduced to Reserve status at Harwich in September 1946. The ship was laid up until 1953 when transferred to Chatham. In May 1953 after selection for conversion to' a Type 16 A/S Frigate she was refitted at Belfast. Completed in December May 1955 she was again put in Reserve and laid up at Devonport after her equipment had been preserved in Southampton. She was re-commissioned in September 1960 for service at Plymouth to replace HM Frigate ULYSSES in the Local Flotilla until April 1961 when refitted at Chatham. On completion in June 1962 she rejoined the Reserve Fleet. Placed on the Disposal List in 1966 the ship was sold to BISCO on 18 May 1967 for demolition by McLellan, at Bo'ness on the Forth. The ship arrived in tow to be broken upon 2 June that year. As you can see from all on this page, the Petard is fully deserving of a honourable place in the history of the Royal Navy and of WW2.
The U559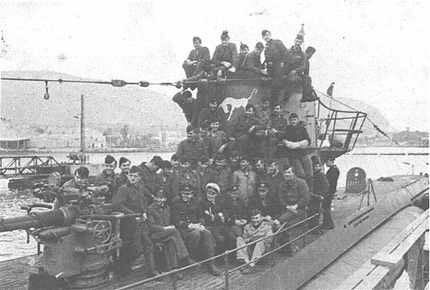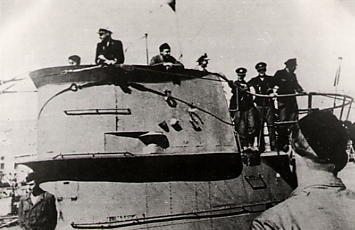 U 559
Type: VII.C, ocean-going.
Constructor: Blohm und Voss, Hamburg.
Armament: 14 Torpedoes, 1 x 88mm, 1 x 20mm.
Commissioned: 27.2.41. Operational: June, 1941.
Service Life: 20. Operational Life: 16. Patrols: 10.
Theatres: Atlantic, Mediterranean.
Sank HMAS Parramatta (DD) on 27.11.41, escorting c/v to Tobruk; 4 m/vs (11,781 grt) and damaged 1 (5,917 grt). On 19.8.41 attacked by 3 British destroyers, with 180 DC's. Departed: 29.9.42, Messina; for East Mediterranean.
Last Action: 30.10.42, 29.U-Flotille, sunk by Wellesley N/47 Sqd. RAF, based at Landing Ground 87, Egypt, HMS Pakenham (DD Capt E.K.B. Stevens), HMS Dulverton (DD L.Cdr W.N. Petch), HMS Hurworth (DD Lt D.A. Shaw), HMS Hero (DD L.Cdr W. Scott) and HMS Petard (DD L.Cdr P.C. Egan), with 288 DC's, at 32.30N 33.00E, near Port Said, Egypt.

A boarding party from HMS Petard swam across and code books were recovered, which enabled the decryption of the German `Shark' Enigma code. The first two to board, who had swum across were Lt. F. Fasson (the 1st Lt.) and Able Seaman C. Grazier, but after recovering the documents went down with the craft, both were posthumously awarded the George Cross.

8 crewmen were lost, the Commander and 37 others were made POW. Commander: KL H. Heidtmann 02.41-10.42. M/V attacked/damaged/sunk : Alva(S), Shuntien(S), Warszawa(D), Athene(S), Brambleleaf(S), (Heidtmann).
As is always the case, Hollywood changes history by making a so called blockbuster film, which died a death apparently in the UK, when they portrayed the Petard story as U571 and how our gallant American allies help us out by capturing etc etc etc. Load of bull. And they wonder why we do not take American films seriously. Why do they have to change history? If a story is worth telling, then tell it as it was, not a Hollywood fiction. In researching this incident I have seen a few conflicting versions of this including the death of Tommy Brown in 1944 and in 1945, suffice to say that he died in a fire at his family home, in 1945. I hope that, with the help of people like Ralph Erskine, I can portray an accurate story of this incident and others. I saw one site that not only claimed that the enigma machine was retrieved but that IT contained the codes, which is of course impossible.
The first decrypts of SHARK after the Petard papers arrived in Bletchley Park (courtesy Ralph Erskine).