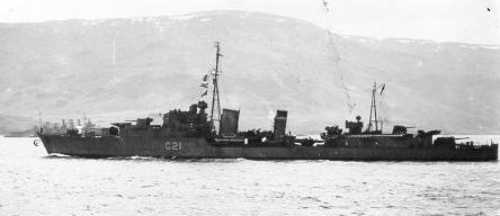 Built by Scotts Shipbuilding & Engineering Co. (Greenock, Scotland). Keel was laid down on 1 October 1936 and she was launched on 18 December 1937. Commissioned on 28th March 1939 and was lost on 1 May 1942. 169 survivors. Member of the 6th Destroyer Flotilla. Pennant numbers: F 21 January 1939 - Autumn 1940 & G 21 Autumn 1940 - May 1942.

Immediately at the outbreak of World War 2, PUNJABI began to patrol the North Atlantic with the rest of the 6th Destroyer Flotilla. For the first three months, her duties consisted of anti- submarine patrols and fleet screening duties all aggravated by exposure to violent gales. During the Second Battle of Narvik on 13th April 1940, PUNJABI was badly damaged by six shells but was back in action an hour later. Bigger action was to follow. On 21/22 May 1941, it was believed that the German pocket battleship BISMARCK was ready to break out into the Atlantic. Confirmation came through on 22nd May and the Home Fleet sailed at 2245. PUNJABI as part of that Fleet, was not to share in the final cornering of BISMARCK. Two days of high speed search soon depleted the destroyers fuel oil and by the 24/25th, all destroyers had to return to Hvalfiord Iceland to refuel. Prior to the invasion of Russia by Germany, Force 'K' consisting of PUNJABI, HMS AURORA, HMS NIGERIA and HMS TARTAR left Scapa Flow for Spitsbergen with the intention of investigating that island's use as a naval base. It was intended that the ships stationed here could strike against German convoy traffic off Norway. Rear-Admiral Vian in NIGERIA layer reported that a military occupation of Spitsbergen could be feasible but the winter ice in the fiords would prohibit the island's use as an all-year round naval base. After that mission, all of PUNJABI'S operations focused on Russian convoys.
"The Sinking of HMS Punjabi"
by
Kenneth Tipper
On May 1st 1942 the Tribal Class Destroyer HMS Punjabi was part of a screen of destroyers on the flanks of a line of capital ships that included the battleship HMS King George V, the Carrier HMS Victorious, the battleship USS. Washington, and the Cruisers USS. Wichita and USS. Tuscaloosa. The force was covering P.Q.15 on its way to Murmansk in Russia with vital materials for our ally in the fight against the Nazi's. I was a telegraphist aboard Punjabi, and my job was to intercept German Morse Code signals on high-frequency direction finding equipment.
.
"HMS Punjabi" (Wright & Logan - Southsea)
We had left Iceland five days before and were in Arctic waters when at 15:45 on May 1st a thick fog descended on the fleet. I was in the main wireless cabin in the forward part of the ship, prior to relieving another telegraphist in the cabin aft where we conducted our interception work. Suddenly there was a tremendous crash, the Punjabi heeled over sharply on its side, and all the lights went out. First thought was that we had been torpedoed, but our nemesis turned out to be one of our own ships - the 34,000-ton battleship King George V had rammed and cut in half our 1,850-ton destroyer.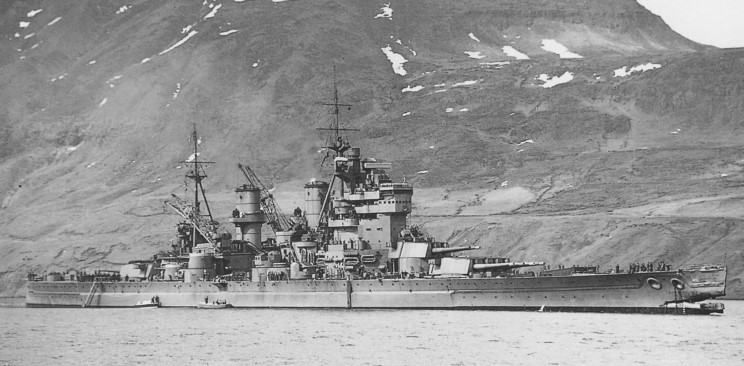 "HMS King George V", anchored in Seydisford, Iceland before returning to Liverpool for repairs. May 1942

I made my way up on deck, and soon after we got the order to abandon ship. Sliding down the sloping side of the forward part of the ship, I got a liberal coating of fuel oil on entering the freezing water. No swimmer, I looked around after coming to the surface, and was lucky to grab onto a Carley Float nearby, hoisting myself onto the side where I sat in freezing water until we were picked up by the destroyer HMS. Martin.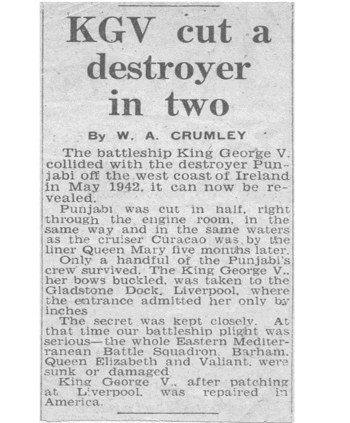 Press Cutting - Credit: Terry Hopkins (Ken Tipper points out disaster was off
Iceland,
not Ireland)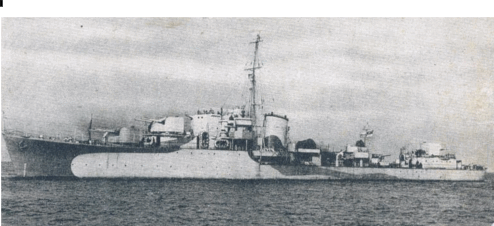 "HMS Martin"
As our stricken ship lay in two halves in the water, she was narrowly missed both by the USS. Washington and HMS. Victorious. The Punjabi's depth charges blew up as the stern sank, and the crew of the Washington felt the concussion as they passed by. The incident was kept secret until the end of the war, and a court of enquiry decided that Punjabi, in the fog, had turned across the bows of the battleship after being told to alter course to avoid a floating mine. Miraculously, only 49 of the Punjabi's crew were lost in what was one of the most bizarre incidents in World War 2. There were 201 survivors, who, in another twist of fate, were transferred to the battleship that sank their ship, in Iceland for the return trip to Scapa Flow, the Home Fleet anchorage in the Orkney and Shetland Islands. The King George V, with a huge gash in her bows, needed to return to Liverpool for repairs.
HMS Punjabi ---HMS King George V
Fate was not yet done with me, for while on deck of the King George V on the trip to Scapa Flow, I saw a member of the battleships crew emerging from a hatchway. He looked strangely familiar, and it took a while for he and I to recover from the shock of seeing each in such strange circumstances. We had last seen each other in the newspaper office where we both worked before joining the Navy. Our desks had almost adjoined each other in the Birmingham Gazette reading room.
Winston Churchill on the Bridge of HMS Punjabi 1939 - John Sully (Signalman behind), this picture appeared in the British press and John Sully's Father spotted it. - (Credit - Terry Hopkins)
After Punjabi, I was sent to another destroyer, HMS Quorn, based in Harwich and doing convoy escort duty around the coast of Britain. We also took part in the sinking of a German armed merchant raider off the French coast. The Quorn was sunk soon after D Day and I learned that all the telegraphists were killed. Fortunately for me, I had been in Colombo, Ceylon (Sri-Lanka now) for 18 months intercepting Japanese radio signals.
Fate still had not done with me though. We had emigrated to Florida in 1957 and in July 1973, I was reading the Sunday paper in my home in Pompano Beach when I saw an article about the reunion of the crew of the USS Washington taking place in Fort Lauderdale. I called the hotel where the reunion was to be held and spoke to the organizer, who asked me to join them for what turned out to be quite a memorable meeting with the guys who had last seen my ship in the Arctic Ocean, in two halves as they narrowly avoided hitting us. Later, I attended their reunion at the Naval Academy in Annapolis, Maryland, and in June 1989, at their reunion in Reno, Nevada I was made an honorary member of their association.
It's been more than 62years since that fateful day in May 1942, but I still recall the two telegraphists who lost their lives, one of them who I was due to relieve in just 15 minutes to stand the first dog watch. Very recently I have received a medal from the Russian Government for taking part in the "Russian Convoys".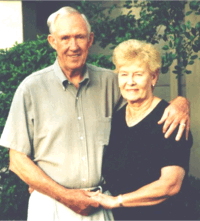 "Home" is in Florida.
I am now 83, father of two, grandfather of five, and great grandfather of four, with my wife of 58 years to share our memories.