On 2nd February 1942, HMS Westcott sank the U-581, by ramming. I have been supplied by Alan Chitty of some images of the rescue of the U581 crew. His father was a signalman on board HMS Westcott but sadly passed away in 2009. Alan Wrote: Unfortunately my father died 3 months ago or I could have collaborated the full account with him. As often is the case it was only after he died that I found his war record and have started doing some digging. Like many veterans he volunteered little about his 4 years war experiences, but the ramming was one he did. He told how he got hold of an escape set but had to leave most of it at the dock gate - only had the nose clamp to show for it, and a couple of cap badges. I thought he said that it had just been spotted on the surface but that could have been after a chase. In one of the photos the U-boat can be made out on the surface with its crew in the water. Attached is a scan of the newspaper cutting he kept and the photos. He spent just over a year on the Westcott from late '41 to the end of '42 , based in Gibraltar. This included Atlantic and Malta convoy duties and the Torch landings. Said he was watching the Eagle when she was hit - one of his best friends was on it at the time. Now wish I'd asked a bit more. The Americans try to claim everything, like capturing the Enigma machine! My father was quite scathing about American escorts often went off failing to keep in formation - allowing U-boats through the screen and into the convoy. I have this vague memory that my father wasn't too impressed with the Hedgehog. I saw the story from Cdr Ian Hamilton Bockett-Pugh's son about the Hedgehog. My father spoke fondly of Cdr Ian Hamilton Bockett-Pugh. The Westcott was my father's first ship, aged 19, and as a signalman presumably had more contact with their skipper than most. Another story he did recounted was how Cdr Bockett-Pugh thought everybody should be able to shoot straight (floating mines came into it somewhere I think) and he would hold shooting practice using the Winchester rifle he kept on the bridge. I still have the mascot my grandmother made for my father while on the Westcott - one of the Disney "7-dwarfs" figures dressed up as Cdr Bockett-Pugh. After his 56 months service he received the princely sum of £66 / 2 / - . (£66:10p in decimal money) It was thought by some that Westcott was the first destroyer to claim sinking a U Boat by the use of the Hedgehog. I think this article lays that particular 'ghost' to rest.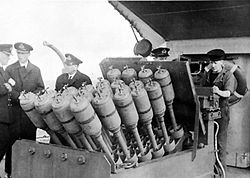 Westcott's Hedgehog
| | |
| --- | --- |
| | |

Pennant: D-47/I-47
Built: William Denny & Brothers (Dumbarton, Scotland)
Keel Laid: 30 Mar 1917
Launched: 14 Feb 1918
Commissioned: 12 Apr 1918
Reconstruction to Long Range Escort finished in July 1943.
Sold to be broken up for scrap on 8 January 1946.
Commanding Officers:
Lt.Cdr. William Francis Roderick Segrave, RN
21 August 1939 – February 1941
Later Captain: HMS Kite
Cdr. Ian Hamilton Bockett-Pugh, RN
February 1941 - Ca. March 1943
DSO awarded on 10 April 1942
Bar to DSO awarded on 9 April 1943
HMS Westcott in dockyard control during reconstruction
Cdr. Hedworth Lambton, RN (retired)
May 1943 – 19 October 1944
Promoted to Cdr. on 20 March 1944
Lt. Edward Perry Reade, DSC, RN
19 October 1944 – still in command in April 1945 according to the Navy List
Promoted to A/Lt.Cdr. on 1 November 1944
HMS Westcott is not listed as active unit in the July 1945 Navy List
Noteable events involving Westcott include:
16 Jan 1941
HMS Westcott (Lt.Cdr. W.F.R. Segrave, RN), HMRT Superman and HMRT Tenacity together pick up 143 survivors from the British passenger ship Oropasa that was torpedoed and sunk by the German submarine U-96 southeast of Rockall in position 56º28'N, 12º00'W.
2 Feb 1942
The German submarine U-581 was sunk in the mid-Atlantic south-west of the Azores, in approximate position 39º00'N, 30º00'W, by the British destroyer HMS Westcott (Cdr. I.H. Bockett-Pugh, RN). (see map)
8 Nov 1942
During the Allied invasion off North Africa the Vichy-French submarine Actéon was sunk off Oran by the British destroyer HMS Westcott (Cdr. I.H. Bockett-Pugh, DSO, RN).
Source: www.uboat.net
The official version of what happened is recorded as:

Sunk 2 Feb, 1942 in the mid-Atlantic south-west of the Azores, in approximate position 39.00N, 30.00W, by depth charges from the British destroyer HMS Westcott 4 dead and 41 survivors. On 2 Feb, 1942 the U581 was sunk near the coast of Pico Island, in front of a place called Guidaste. One of the officers, Ltn. Walter Sitek, managed to swim 6 km to shore where he was picked up by the locals. He then managed to pass through neutral Spain and make his way to Germany again when he again went to sea on a U-boat. The captured crew were released in 1947.

I would imagine that the depth charges brought it to the surface and then the sub was rammed.
Contact