Fact File:
Displacement: 41,700 tons (50,900 fully laden)
Dimensions: Length: 251m; Width: 36m; Max Draught: 10.2m
Engine: 3 Blohm & Voss turbine sets, 12 Wagner boilers
Speed: 30.12 knots. 150, 170 HP
Protection: Main Belt: 266-317mm, Deck: 82-120mm
Main Armament: 8 x 380mm naval guns in 4 double turrets. 12 x 15cm in 6 double turrets.
Anti Aircraft: 16 x 105mm, 16 x 37mm, 16 x 20mm
Aircraft: 4 Arado Ar196
Crew: 2200 (approx)
Feb 2003: James Cameron, the film director, had made a special documentary, shown on Discovery TV, in which he took submersibles to go down to the sea bed to film the inside and outside of the Bismarck and conduct a detailed survey of the wreckage. His findings confirm the German point of view that the Bismarck was scuttled and not actually sunk by the Royal Navy. See the foot of the next page for details.
July 2004: Bismarck Survivor, BRUNO RZONCA, the only Survivor residing in the United States, passed away on July 23, 2004, after battling cancer.


Bismarck in harbour prior to "Rheinubung"
The Bismarck was "discovered" in 1989 by the same team that found the Titanic. She lost her guns when she turned turtle, they were only held on by sheer weight and gravity. Her superstructure has almost gone. In the TV footage of the Bismarck, the AA guns could clearly be seen on her decks. A large faded swastika still adorns her bow. The Bismarck was initially conceived to be the crown of a German fleet powerful enough to compete with the Royal Navy. But, soon after the outbreak of war, factories and resources faced increased demand and Bismarck was redeployed instead as a 'commerce raider' to harass and destroy North Atlantic convoys which were vital to Britain's war effort. Designed with the rough north Atlantic in mind, and coupled with a large fuel capacity, this was a role in which she would have excelled. Churchill, aware of this, knew that letting the Bismarck into the open seas was a recipe for disaster. A contract for the building of Bismarck was placed on the table on 16th November 1936. This was a year after naval construction restrictions were lifted. Construction took over 2 years and Bismarck was launched on 14th February 1939. She was finally commissioned on 24th August 1940. On 18th May 1941, Bismarck left German waters accompanied by the heavy cruiser Prinz Eugen. Operation Rheinubung was under way.
On 23rd May, both ships were detected on radar of HMS Suffolk and Norfolk who requested the support of Hood and Prince of Wales. Hood was sunk (see Hood) in a short, ferocious battle. On 26th May, Bismarck was spotted by a Catalina flying boat and Ark Royal launched her Swordfish planes, at extreme range, in an effort to cripple her.
The Battleship Bismarck, pride of Hitler's Kriegsmarine and marvel of marine engineering, was built for only one purpose - to destroy allied shipping and to rule the waves. How close she came to that purpose is already well documented and the subject of a well known film "Sink the Bismarck". The Royal Navy had some luck also, a Fairey Swordfish, from HMS Ark Royal, caught the rudder of the Bismarck, causing a steerage lock which swung the Bismarck back, towards the pursuing British ships. Thus enabling the Royal Navy to close and finish her off. Although an "enemy" ship, I have always marvelled at the sleek superstructure and exquisite lines of this beautiful ship. Such a vessel was worthy of preservation and enthroning upon a museum dockside forever to be marveled at. Alas, the Atlantic Ocean has her now and forever, lying broken and humiliated on the sea bed.
1 July 1936: Laid down at the Blohm & Voss Shipyard, Hamburg. Yard No. BV 509, slipway 9.
14 February 1939: Launched. Christened by Dorothea von Loewenfeld, granddaughter of the German chancellor Otto von Bismarck.
April 1940: The first crew members come aboard.
23 June 1940: Enters floating dry dock No. V-VI for a three week period where the three propellers and the MES magnetic system are installed.
14 July 1940: Leaves the dry dock.
24 August 1940: Commissioned. The battle flag is hoisted (photo below) and the ship put into service with the Kriegsmarine.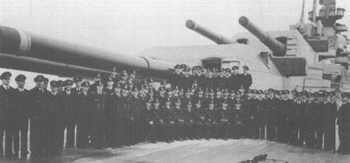 The crew, this photo taken on Bismarck's Commissioning
http://www.kbismarck.com/archives/index.html - on this link this is credited as being onboard the Tirpitz - which is correct?

Bow Ensign hoisted on Commission
15 September 1940: Leaves Hamburg for the first time. In the afternoon anchors in Brunsbüttel.
16-17 September 1940: Passes through the Kiel Canal.
17-28 September 1940: At Scheerhafen (Kiel).
28 September 1940: Leaves Kiel and arrives at Gotenhafen.
October-November 1940: Conducts trials in the Baltic sea.
5 December 1940: Leaves the Baltic and sails back to Hamburg to complete her outfitting.
7-8 December 1940: Passes through the Kiel Canal.
9 December 1940: Arrives at Hamburg.
24 January 1941: Ready to sail again.
6 March 1941: Leaves Hamburg and sails again to Gotenhafen.
7-8 March 1941: Passes through the Kiel Canal for the last time.
8-17 March 1941: Embarks supplies at Scheerhafen (Kiel), ammunition, fuel, water, two Arado 196 Seaplanes. Striped camouflage paint is added. The ship is now fully equipped.
17 March 1941: Arrives at Gotenhafen.
18 March-April 1941: Conducts trials in the Baltic.
5 May 1941: Adolf Hitler visits the Bismarck together with Field Marshal Wilhelm Keitel, Admiral Lütjens, and other personalities. The Führer stays aboard for five hours.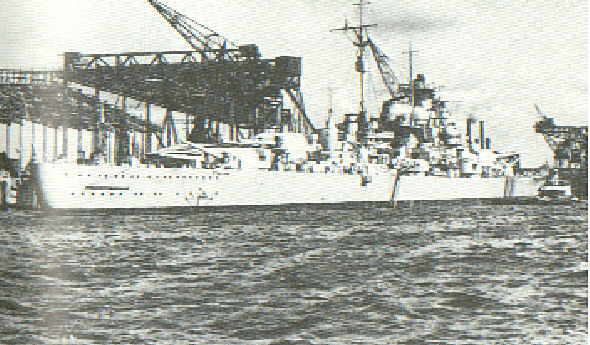 Bismarck at Blohm & Voss
12 May 1941: Admiral Lütjens and the Fleet Staff embark ship.
13 May 1941: Refueling exercises at sea with Prinz Eugen.
18 May 1941 (Sunday): Operation Rheinübung.
1200. Leaves the berth in Gotenhafen and anchors in the bay to embark supplies and fuel.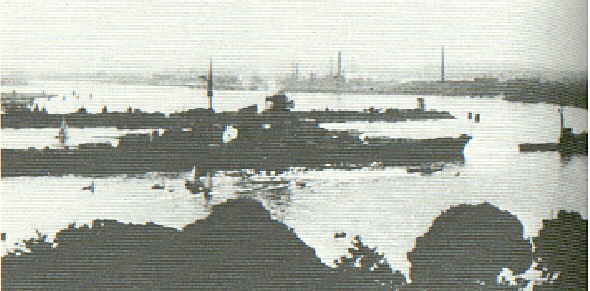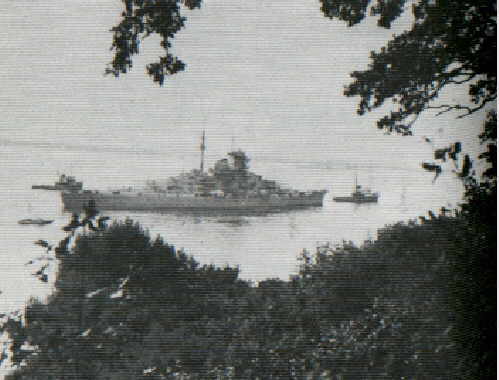 Passing along the Elbe Canal
19 May 1941 (Monday):
0200. Leaves Gotenhafen and begins her cruise west.

1200. Position 54º 45' north, 13º 20' east. Joins Prinz Eugen and destroyers Z-16 Friedrich Eckoldt and Z-23 off Rügen Island.

2230. Destroyer Z-10 Hans Lody joins the formation.
20 May 1941 (Tuesday):
0200-0600. Passes through the Great Belt together with Prinz Eugen and the destroyers Z-10, Z-16, and Z-23.

1300. Sighted by Swedish cruiser Gotland (below) in the Kattegat.

Gotland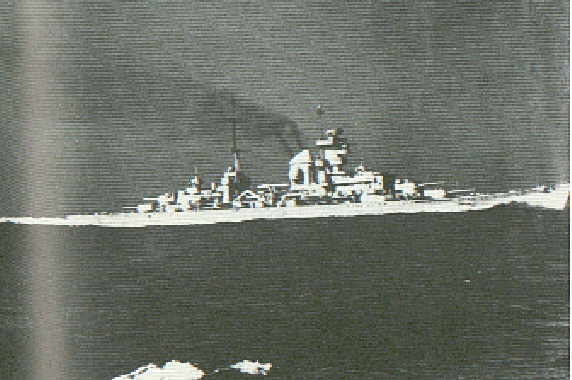 21 May 1941 (Wednesday):
0800-0900. Enters Korsfjord near Bergen.

1100. Anchors in the Grimstadfjord.

1315. Sighted and photographed by a British Coastal Command Spitfire.

2000. Leaves the Korsfjord together with the Prinz Eugen and the three destroyers.

2340. Course 0º.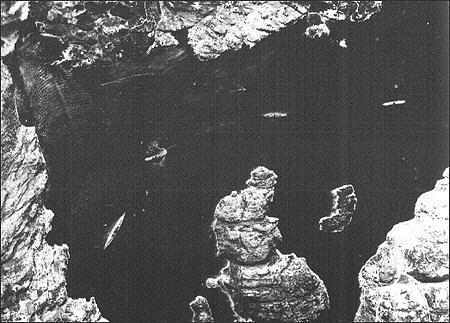 In this image above is shown the Prinz Eugen, centre, which was moored further up the Fiord. See the map below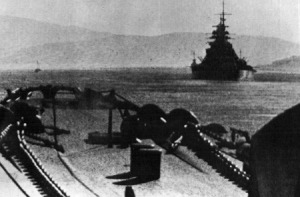 22 May 1941 (Thursday):
0420. Course 0º. The destroyers leave the group. Bismarck takes the lead.
1200. Position 65º 53' north, 03º 38' east. Course 0º. Speed 24 knots.
1237-1307. U-boat and air alarm. Zig-zagging.
1800. Course 311º.
2322. Course 266º.
23 May 1941 (Friday):
0400. Course 250º. Speed 27 knots.

1200. Position 67º 28' north, 19º 28' west. Course 250º. Average speed 24 knots.

1420. Course 270º.

1811-1822. False alarm. Vessels identified as icebergs.

1821. Reaches the ice limit. Course 240º.

1922. Sights Suffolk at 7 miles.

2030. Sights Norfolk and fires five main battery salvoes. No hits scored. The forward radar set (FuMo 23) is disabled. Shortly afterwards the Prinz Eugen passes the Bismarck and takes the lead.

2200. Inverts the course and tries to engage the Suffolk which realizes the Bismarck's manoeuvre and avoids contact.

Right: Bismarck Searchlight shows the way for the Prinz Eugen
24 May 1941 (Saturday):
0543. Course 220º. Speed 28 knots. Sights two ships at 17 miles.

0552. The Iceland Battle begins. Hood opens fire. (See base of next page for new footnote August 2001)

0555. Fires first salvo at Hood.


Opening Fire on the Hood



Bismarck firing on HMS Hood. Image From Prinz Eugen. Judging by the ships wake,
the Prinz Eugen is weaving frantically!

0555-0601. She is hit on the port side by three 356 mm shells from Prince of Wales. One in her bows (section XXI), a second amidships under the armoured belt (section XIV), and the third one passes through a boat.


Hood blows up

0601. Hood blows up.

0602-0609. Obtains four hits on Prince of Wales.

0609. Fires last salvo at Prince of Wales. 93 380 mm shells fired. She is losing oil and her top speed is reduced to 28 knots. 2,000 tons of water in the forecastle.


Bismarck firing on the Prince of Wales, Hood by this time had already vanished.
The flash from the guns has darkened the photograph.

0632. Bismarck reports: "Battle cruiser, probably Hood, sunk. Another capital ship, King George V or Renown, damaged. Two heavy cruisers keeping contact."

0705. Bismarck reports: "We have sunk a battleship at about 63º 10' north, 32º 00' west."

1200. Position 60º 50' north, 37º 50' west.

1240. New course 180º. Speed 24 knots.

1814. Turns 180º to starboard while the Prinz Eugen leaves the formation.

1840-1856. Fires some shells at Suffolk and Prince of Wales. No hits.

2056. Bismarck reports: "Shaking off contacts impossible due to enemy radar. Due to fuel, steering to Saint-Nazaire."

2300. Sighted by the United States Coast Guard Cutter Modoc.

Midnight. Attacked by eight Swordfish from carrier Victorious. Speed 27 knots. She is hit by one torpedo on the starboard side, amidships.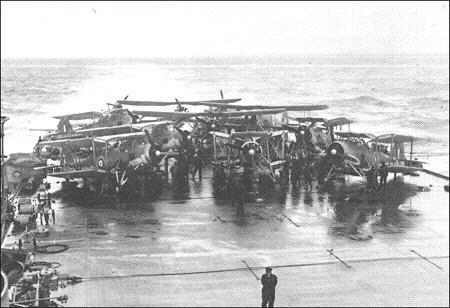 Swordfish on Victorious
0849. Turrets "Anton" and "Bruno" open fire at Rodney.

0902. She is hit for the first time. Foretop command post disabled.

0908. Forward command post disabled. Turrets "Anton" and "Bruno" out of action.

0913. After command post disabled. Turrets "Caesar" and "Dora" proceed to local fire.

0921. Turret "Dora" out of action.

0927. Turret "Anton" or "Bruno" fires one last salvo.

0931. Turret "Caesar" fires the last salvo and is put out of action. Main battery silenced.

0958. Possible torpedo hit to port.

0936-1016: Receives multiple hits at point blank range between 2,500 and 4,000 meters, but is still afloat.

Sometime about 1000. Demolition charges explode in the turbine room.

1022. Hit on the starboard side by two torpedoes fired by Dorsetshire.

1037. Hit on the port side by a third torpedo fired by Dorsetshire.

1039. Bismarck finally sinks in position 48º 10' north, 16º 12' west.
9 June 1989: The wreck of the Bismarck is discovered at a depth of 4,700 meters. Evidence since collected suggest that the Bismarck was actually scuttled as opposed to being sunk.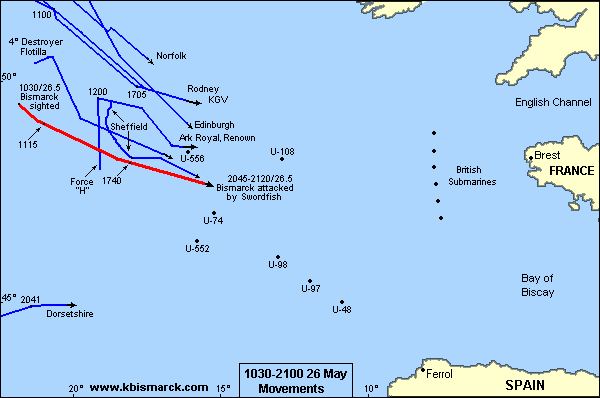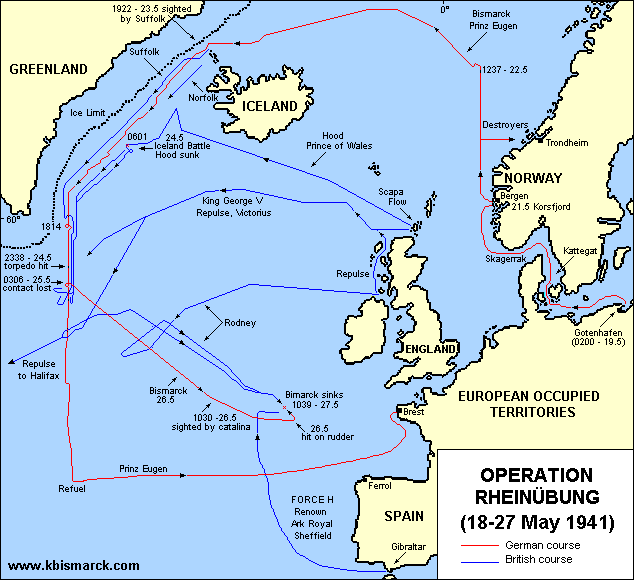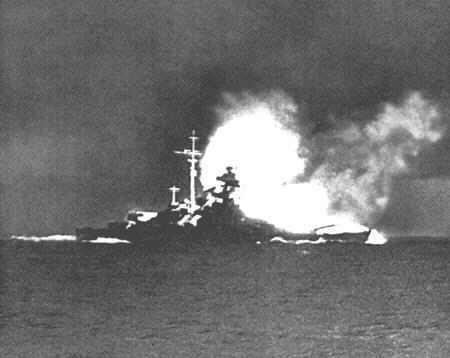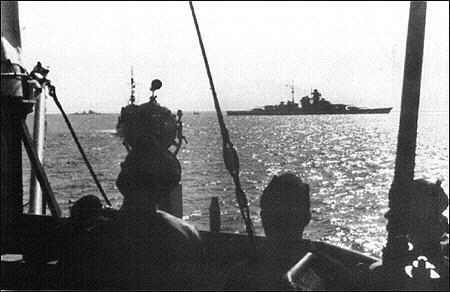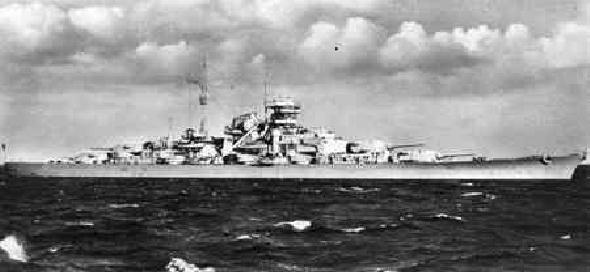 "The Bismarck had put up a most gallant fight against impossible odds, worthy of the old days of
the Imperial German Navy, and she went down with her colours still flying."
Commander of the Home Fleet, Admiral Sir John Tovey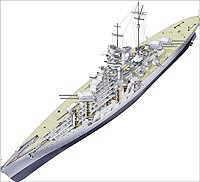 It was clear from Enigma decrypts, with the death of the Bismarck, that the large network of supply ships that was to have supported her patrol would now be made available to U Boats. The first to go was the Belchen, a 10,000t tanker, sunk off Greenland by the Cruisers Aurora and Kenya. Within 2 weeks the Royal Navy had eliminated almost the entire network at sea, some 9 tankers and supply ships sunk in the North & South Atlantic. Understandable euphoria swept the OIC, this was real operational intelligence. Risk factors were involved. The Kriegsmarine would want to know how it was possible the Royal Navy could find and destroy all these ships, spread over a large area, in a matter of 14 days. The officers of the Royal Navy ships involved asked the same question.
An email from Anne Winter Williams regarding the Spitfire that found the Bismarck. 6 Nov 03.

Not many know that the Bismarck was discovered by a PR pilot called 'Babe' 'Suckling who landed at Wick from the Norway fjords with his photos where it was identified. The film was required in London and his was the only transport available with limited fuel. He flew to Nottingham where he ran out of fuel but fortunately where he had a friend who owned a garage and car so they drove all the way in the black out to London with the film arriving there at 2pm. The film about Bismarck shows a PR pilot discovering the ship but he looks rather old. Babe (Michael) Suckling was so named because of his youthful appearance. He lost his life as many PR pilots did. when the losses were 50% at one stage.....