"Only in attack does a submarine reveal herself, before creeping away to the concealment of the deep"
One of our bravest sailors in World war 2 was the submariner. Operating mainly in secret, often in the shallow waters of the Mediterranean and accompanying coastlines, sometimes not having enough depth to sneak away after an attack. Dropping agents off and picking others up, rescuing down airmen from the clutches of the Axis. Des Radwell was one such man. He tells me,
(These figures courtesy of the former Secretary of the Cornwall Submarine Association, Des Radwell.)
73 British submarines were lost in the war, reflecting the difficulties of their operating areas and targets: the well protected German shipping around Northern Europe, the clear and shallow Mediterranean, Malacca Straits and Indian Ocean. A total of over 2000 men.
The Royal Navy, still the largest in the world in September 1939, includes these 58 submarines, mainly modern with 9 being built. They were reasonably well-equipped with effective guns, torpedoes and fire control. Approximately 21 were based in Home waters and 4 in the Atlantic. The main defined role for the Home Fleet submarines appears to be patrolling off southwest Norway and the German North Sea bases for surface raiders and U-boats on passage.
As the war progressed, the Royal Navy and its few Allied-manned submarines neither had the target opportunities of the German U-boats in the Atlantic Ocean nor the US submarines in the Pacific, and certainly in the early years suffered heavy losses for comparatively few gains at least in Axis warships. But if account is taken of such vital activities as the heavy merchant ship sinking in the Mediterranean, certainly in the battle for North Africa, the many dangerous cloak-and-dagger operations so vital to Churchill's command to "set Europe alight", helping to cut Germany supply routes from Norway and Japanese ones to Burma, then the even more silent part of the "Silent Service" played a major role in clearing the seas of enemy ships. The following scenarios give some idea of the important roles undertaken by British Submariners in WW2.
HMS Sterlet. On 8th April 1940 HMS Sterlet left for a patrol in the Skagerrak, Norway. Four days later she signalled that she had unsuccessfully attacked a Convoy of 3 Merchant ships and a Destroyer. The following day she was assigned a new patrol area and on the 18th torpedoed, and sank, the German Gunnery Ship Brummer. At once the German escorts counter attacked with repeated depth charge attacks. She was possibly sunk by the German anti submarine trawlers UJ-125, UJ-126 and UJ-128 on 18 April. Alternatively, she may have struck a mine whilst returning to port.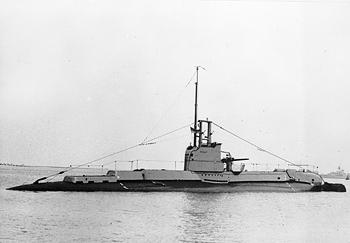 HMS Sterlet
HMS Parthian sank Italian submarine "DIAMANTE" off Tobruk, Libya on 20th June 1940.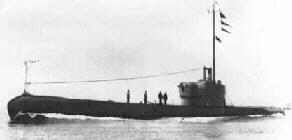 HMS Parthian
HMS Parthian torpedoed Vichy French submarine Souffleur on 25th June 1941 during the British-Free French campaign to occupy Lebanon and Syria.
In the first five months of 1942 Allied forces have sunk over 500 Axis merchantmen of 560,000 tons throughout the Mediterranean.
HMS Upholder, disappeared, sank, on 14 April 1942. She had an incredible tally of 93031 tons. she has her own page.
Battleship Tirpitz poses such a threat to Russian convoys and holds down so much of Home Fleet's strength that almost any means to sink her are justified. One gallant attempt was made in October 1942 when a small Norwegian fishing vessel Arthur, penetrated to within a few miles of the battleship in Trondheimfiord with Chariot human torpedoes slung underneath. Just short of the target they broke away and all the efforts were in vain.
14 Nov 1942. From: http://web.ukonline.co.uk/chalcraft/sm/page8.html - Lt. J.H. Bromage; 13 Nov 42, sank the Italian transport Scillin, 1903 tons. Scillin was transporting Allied prisoners of war, of which many drowned. Brian Sims contacted me, his poor father was one of the POW's who sadly lost his life.
On 17 January 1943 in the Mediterranean the enemy destroyer Bombardiere is sunk off west Sicily by the submarine HMS United.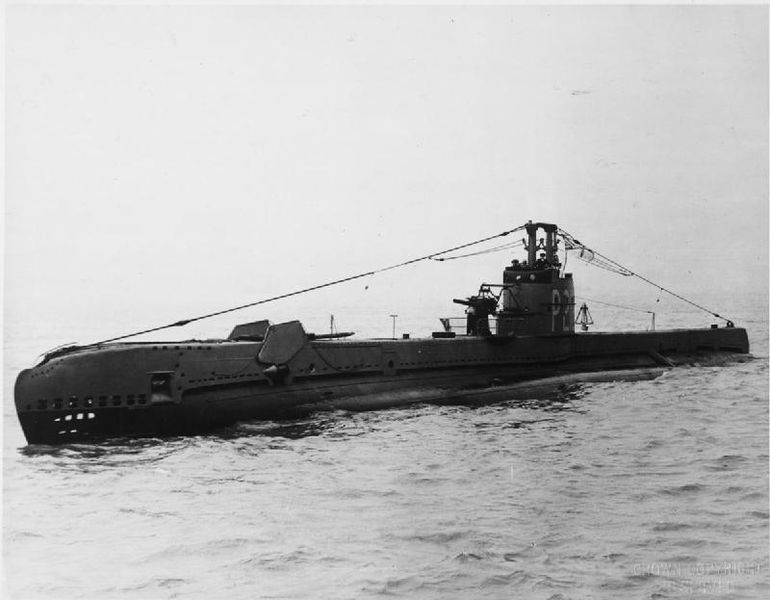 HMS Sahib
21 Jan 43, Sahib (P212) torpedoed and sank German s/m U-301 west of Bonifacio. There was one survivor from U-301.
On 23 February or thereabouts HMS Vandal disappeared in the Firth of Clyde region off Scotland, on 24 February, her sister ship, Uredd, of the Norwegian Navy, got sunk off Norway.
HMS Tigris set off from Malta on 18 February 1943 for a patrol off Naples. She failed to return to Algiers on 10 March, a possible mine victim in the Gulf of Tunis.
February 12, whilst on patrol HMS Turbulent attacks an escorted ship off Maddalena, Sardinia, and is presumed sunk in the ensuing counter-attack by Italian Motor Torpedo Boats. Commander John Linton was awarded the Victoria Cross for his record as Commanding Officer of Turbulent.
February 14, the Italian Corvette Cicogna sinks HMS Thunderbolt (ex Thetis) near the north entrance to the Straits of Messina.
The submarine HMS Tuna, on a Norwegian Arctic patrol, sinks U-644 off Narvik on April 7 1943.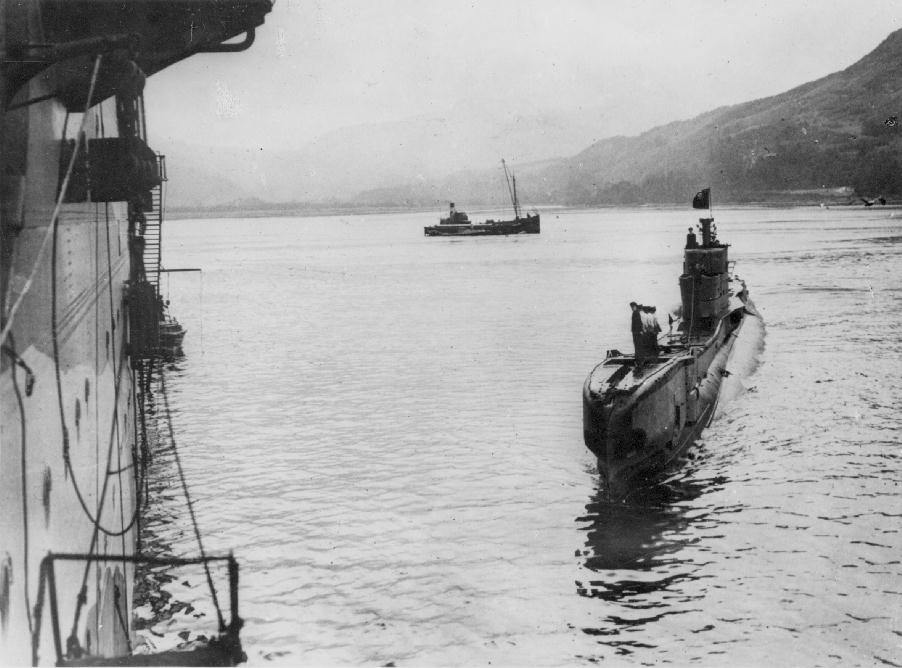 HMS Tuna - Thanks to Francois Boisnier for this image
On 18 March 1943 the U-123, whilst on patrol south of Freetown, Sierra Leone, sinks the P-615, an ex Turkish submarine, which had been travelling to the South Atlantic Command to provide training in anti submarine warfare.

HMS Splendid (above) fell victim, on 21 April, to combined air (JU88) and sea attack from the ex-Greek German destroyer Hermes south of Capri. Elsewhere numerous enemy ships fall victim to Royal Naval Submarines plus an Italian warship.
24 Apr 43, Sahib sank the Italian transport Galiola, 1428 tons, off northeast Sicily. Counter-attacked by Italians off Cape Milazzo after broaching the surface. Fired on by a German Ju-88 aircraft and attacked by depth charges from Italian corvettes Gabbiano, Climene (which was sunk four days later by HMS Unshaken) and Euterpe. At about 0545, Sahib came under heavy depth charge attack resulting in the pressure hull being holed at the after ends. With no way of repairing the damage, the order to abandon ship was given. The submarine surfaced, meeting a machine gun attack from the waiting aircraft and escorts. As the crew left, Sahib was scuttled in position 38.30N 15.15E. One of the the crew was wounded and died on 3 May 43.
28 Apr 43. HMS Unshaken sank the Italian Torpedo Boat Climene off Sicily as it escorted a convoy.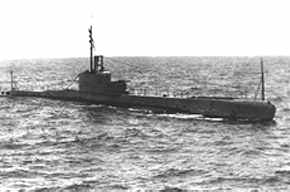 HMS Regent (above) is presumed to have been sunk by mines after she attacked a small convoy near Bari on 18 April, getting no response from the escorts. Failed to return (to Beirut) late April 1943. (See images on link ref Stan Parris, Electrical Artificer). See HMS Regent. Includes images of wreck.

The famous story, later becoming a film "The Man Who Never Was", became fact in April 1943 as HMS Seraph (above) releases the body of a supposed Royal Naval officer into the sea off Spain. In his handcuffed briefcase were false papers which helped to persuade the Germans that the next allied blows will fall on Sardinia and Greece as well as Sicily, effectively splitting up the Axis defences in the Mediterranean. James P Whitehead was serving on Seraph at the time. He also served aboard Tally Ho; Sea Devil, Token, Trusty, Sportsman and Tactical.
May 21 HMS Sickle on patrol south of Toulon, torpedoed U-303.

Sickle Memorial at the NMA
On a patrol on June 4 HMS Truculent sank U-308 north of the Faroe Islands. This submarine was later accidentally lost in 1950. The story behind this has been sent to me by Paul Dummott. Truculent was sunk at approx 51 degrees, 31 mins north, 1 degree 5 mins east which puts her in a region known as the Oaze Deep to the north of Whitstable. The Admiralty statement on the loss went as follows:
"On the evening of 12th January 1950 HMS Truculent was proceeding on the surface from the submarine exercise area to Sheerness on completion of Dockyard trials, for which a party of Chatham dockyard officers and men were also on board. The SS Divina, with a Trinity House pilot on board, was on passage from the Port of London to Ipswich and at the time of the collision, shortly after 7pm, was in the vicinity of the West Oaze Buoy, a narrow part of the Thames estuary. for some time before the impact each vessel had the lights of the other in sight....".
The subsequent Board of Enquiry report states that: (The submarine) entered the Thames Estuary through Princes Channel, thence passing between Red Sand Sheal and Shivering Sand Fort on course 280 degrees Her speed was about 9 knots through the water. In Oaze Deep, course was altered to 261 degrees. The collision occurred with SS Divina in position one mile bearing 287 degrees from Red Sand Tower. This section of info came from: George Malcolmson Archivist submuseum Haslar
On its own page in this section is an article about Truculent and a sailors miraculous escape. Frederick Henley, in 1950.
The invasion of Sicily took place on July 10 1943. Operation Husky contained a total of 2590 US and British warships. This included HMS Nelson, Rodney, Warspite, Valiant and the carriers Formidable and Indomitable. 7 Royal Navy submarines acted as navigation markers off the beaches. 12 enemy submarines were sunk with a loss of 3 RN submarines.
North of the Straits of Messina the Italian submarine Acciaio is torpedoed by HM Submarine Unruly on July 13.
HMS United (below) sank the enemy transport submarine Remo in the Gulf of Taranto, Italy on July 15.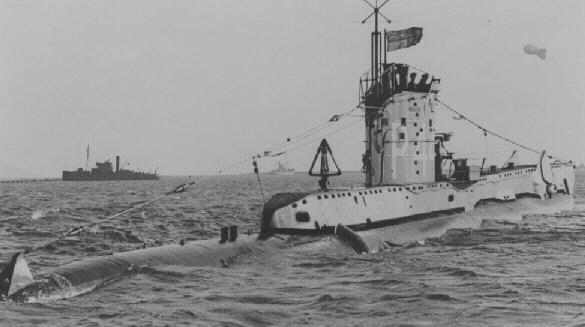 HMS United
HMS Trooper torpedoes the Pietro Micca at the entrance to the Adriatic on 29 July.
9 August 1943, HMS Simoon sinks the destroyer Gioberti off Spezia, Italy.
11 August. HMS Parthian is declared overdue. She left Malta on 22 July and failed to return to her base in Beirut.
HMS Saracen, on patrol off Bastia, Corsica is sunk by Italian corvettes Minerva and Euterpe on 14 August.
On 14 August HMS Ultor sinks the Torpedo Boat Lince in the Gulf of Taranto.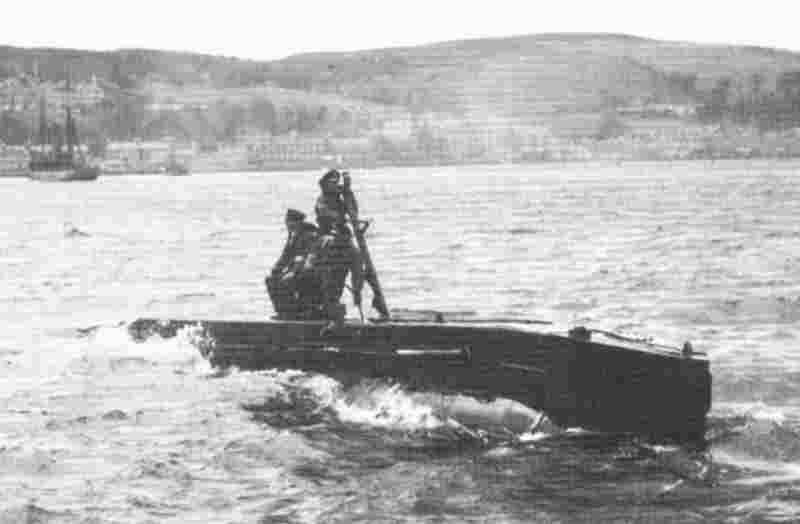 Click on image for Memorial List
Also in August, Midget submarines, X Craft, each with 2 ton saddle charges left the UK for Norway towed by S and T class submarines. 2 were lost en route but on 20 August X5, X6 and X7 set out to attack Tirpitz holed up in a Fiord. X10 went for the Scharnhorst. X5 is lost and X10 is unable to attack. X6 and X7 penetrate the defences and reach Tirpitz lying in Kaafiord. Both drop their charges under or near Tirpitz before they sink, some of the crew escaping. Tirpitz managed to shift position slightly but not enough to avoid damage when the charges detonate. Tirpitz was out of action for 6 months. Lt Cameron (X6) and Lt Place (X7) were awarded the Victoria Cross for their supreme gallantry.
7 September HMS Shakespeare sinks the Italian submarine Velella off the Gulf of Salerno.
HMS Usurper left Algiers on 24 September and failed to answer a signal on Sept 11. Her fate is unknown. HMS Trooper set out from Beirut on 26 Sept and did not return as expected on 17 October. German records claim a submarine sunk by a Q Ship off Kos on 14 Sept.
On 30 October HMS Ultimatum, off Toulon, sank U-431. (See below. This is no longer the case. U-431 was sunk by a Wellington bomber on 21 Oct 1943. Records have been amended accordingly.)
On 2 November HMS Simoon sailed from Port Said, Egypt and failed to answer signals on 19 Nov. German records claim she was sunk by U-565 off Kos on 15 Nov.
Royal Naval submarines operated in the Indian Ocean during November 1943 and, on the 12 November, HMS Taurus, with Des Radwell on board, (see top of page) sank the Japanese I-34 submarine which was en route to Europe, presumably carrying supplies. This occurred in the Malacca Strait, off Penang, Malaya. This was the first sinking of a Jap sub by a British sub.
During 1944, the enemy lost 25 ships to RN Submarines equating to 66,000 tons.
January 1944 saw the Anzio landing take place. A total of 369 Allied ships took part, 2 RN submarines being used as navigational markers.
In the Indian Ocean the British Eastern Fleet is strengthened by the arrival of British capital ships, Queen Elizabeth, Valiant, Renown and the carriers Illustrious and Unicorn as well as cruisers and destroyers. To this point the Ceylon based submarines had been able to carry out offensive actions in the region. In January 1944 they successfully sank Japanese light cruisers Kuma on 11 Jan by HMS Tally Ho and a fortnight later Kitakami was sunk by HMS Templar. Both these ships went down in the Malacca Strait, off Penang. (According to an email received Templar only succeeded in damaging Kitakami, which survived the war - Aug 04. Bob Hackett)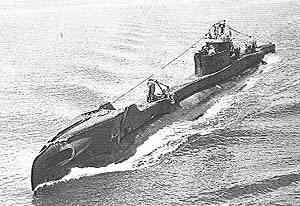 14 February, HMS Tally Ho (above) had another success, sinking German U Boat Ult-23; an ex Italian sub which was bound for home carrying cargo from the far east. See also Page 2.
20 March the Royal Navy loses HMS Graph when she broke her tow and ran aground on Islay Island, off the west coast of Scotland. This submarine was in fact a captured German U Boat, the U-570. See images on page 2.
On 28 March HMS Syrtis (Lt M H Jupp DSC) was lost in the Bodo area, probably to mining. Lt Jupp, Ty/Lt J M Ainslie RNVR, Temporry Lt D A Fryson RNVR, Warrant Engineer D H Lynch, Lt F E Spratt and forty three ratings were lost.
Also during March HMS Stonehenge left Ceylon for a patrol between Sumatra and Nicobar Islands and never returned - her fate is unknown.
AB Fred Coe HMS Stonehenge (supplied by his nephew Derick)
April 19 1944 A Norwegian submarine, working with the Royal Navy, sank the U-974 off Stavanger.
June 15, to the west of Narvik on Arctic patrol, HMS Satyr torpedoed and sank U-987.
In Europe June 6 1944 Operation Overlord, the Allied invasion of France. Naval forces total 672 warships and 4126 landing ships, a total of 4798. On the night of 5 June, two midget submarines take station off the British beaches; ready to guide in the landing craft. Already being put to use ferrying frogmen to check the beaches out and take sand samples.
HMS Sickle fails to return to her Malta base following a recall 16th of June 1944. (Lt J R Drummond DSO, DSC) was lost, probably on a minefield in the Kithera Channel around this date. A surviving rating had been rescued earlier on the 4th when he was blown overboard during an action with German auxiliary patrol vessels GA.76 and GA.91. Lt Drummond, Lt A D Sinclair DSC, Ty/Warrant Engineer G Francis, Ty/Lt P D Goodman RNVR, Ty/Lt P B Jakeman RNVR, Ty/Lt V P Walker RNVR and the entire crew of forty two ratings on board were lost. http://www.naval-history.net/xDKWW2-4400-60ALL.htm
17 June. HMS Telemachus sinks Japanese submarine I-166 which was attempting to reach the Indian Ocean. This sinking again took place in the Malacca Straits.
During September 1944, due to lack of targets, the Mediterranean Group, the 10th Submarine Flotilla is disbanded although some of the boats continued to operate out of Malta into the Aegean. The Royal Navy had had 45 loses in the Mediterranean. During the period June 1940 to the end of 1944 the Mediterranean accounts where as follows:
1,000,000 tons of enemy shipping; 3 Italian cruisers; over 30 destroyers, torpedo boats and Italian submarines. To this can be added the incomplete cruiser Ulpio Traiano sunk at Palermo by Chariot human torpedoes in 1943. Although 1,000,000 tons of axis shipping sunk cannot compare to the nearly 15,000,000 tons of Allied shipping sunk, it is still a major achievement within these confined waters. It was also vital to the protection of Malta and North Africa. Whereby British Forces, including submarines, did stop the supply of Axis War materials, the Axis powers could not stop supplies and the reinforcement of Malta. Also, on a broader front, Britain's very life depended on the Atlantic and other trade routes, Germany's and Italy's did not. In contrast, the Japanese depended upon sea routes, this the US Submarine fleet did break.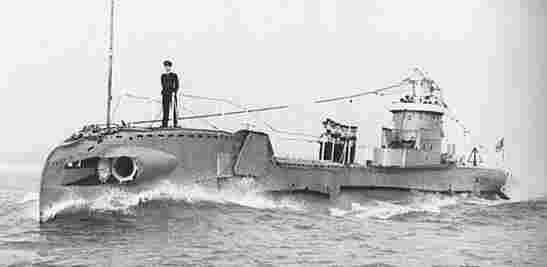 23 October - HMS Trenchant (above), again in the Malacca Straits, sank U-859, which ad just arrived from operations in the Indian Ocean. Britain moved a flotilla of submarines to Western Australia to serve under the US Seventh Fleet.
November 11. On Arctic patrol off the Lofoten Islands, HMS Venturer torpedoed U-771, which had been heading for Narvik.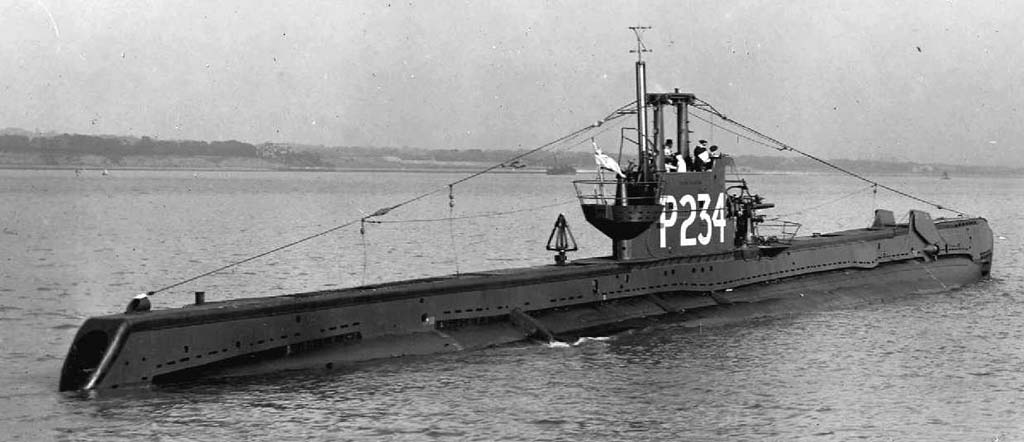 Strategem
HMS Stratagem is sunk by a Japanese destroyer in the Malacca Straits on 22 Nov; three days after sinking a ship. Robert Gilbert Weatherhead served on board Strategem. The Sub Museum says,
I
can tell you that Leading Cook Robert Gilbert Weatherhead had been serving in the Royal Navy as an HO (Hostilities Only) rating and volunteered for service in submarines in 1943. Robert was awarded a posthumous Mention in Dispatches for his conduct during the sinking of the submarine HMS Stratagem by a Japanese destroyer in the Malacca straits in November 1944. There were only a handful of survivors, and of that eight five would die in captivity. After the war the senior survivor Lt Donald Douglas made a report to the Admiralty. I quote from that report:

"Throughout the above experiences the behaviour of the crew in my compartment was magnificent. I should especially like to mention the ship's cook Leading Cook Weatherhead who kept up a cheerful narrative about the wonderful fruit cake which he had recently made, and who showed great bravery and coolness throughout the dreadful experiences in the flooded submarine. This rating was responsible for the singing and by his behaviour greatly assisted in preventing panic, It is with the deepest regret that I have to report that this extremely brave rating failed to survive the ascent to the surface". The numbers of those that survived differ from 8 - 10, and that 5 died in captivity.
Stratagem
S3
P234
48
9-Oct-43
Cammell Laird
22-Nov-44
War Loss

(Occasionally referred to as

Strategem

.) Lt Cdr CR Pelly RN. Sailed Trincomalee, Ceylon, 10-Nov-44 for patrol in vicinity of Malacca. Sunk tanker

Nichinan Maru

on 18-Nov in Malacca Straits. Lost 22-Nov-1944, off SW Malaya in Malacca Straits - by depth charges of Japanese destroyer, after being detected by aircraft. Bow struck bottom and began flooding. Unable to shut watertight door. Crew scuttled boat. Some ten men taken prisoner, of which only three survived captivity. Source:

http://web.ukonline.co.uk/chalcraft/sm/page7.html
http://www.socaleics1977.ukvet.net/stratagem.htm
Jan 1945. The Royal Navy lost 2 submarines to enemy action. On Jan 3, HMS Shakespeare, on the surface attacking a merchant ship, was hit by return fire and later on by aircraft attack, managed to return to Ceylon but was never repaired. On Jan 16 the submarine minelayer HMS Porpoise is presumed sunk in the Malacca Strait, probably by aircraft.
February 9. HMS Venturer, on patrol off Norway, sinks U-864; her second U Boat.
February 12 HMS Tapir sinks the outward bound U-486 off Bergen, Norway.
May 1945 Germany surrenders. The Mediterranean is declared totally free of Axis shipping. The Royal Navy lost 40% of the war total in the Mediterranean. This comprised: One battleship; two fleet carriers; 20 cruisers and cruiser-minelayers; 67 destroyers and escort destroyers; 45 submarines, escorts, minesweepers, landing craft and coastal forces. And, of course, thousands of men.
May 19. HMS Terrapin attacks a Japanese tanker and is badly damaged by the resulting depth charge attack, in the Java Sea. She is not repaired and becomes the last Royal Naval casualty of WW2.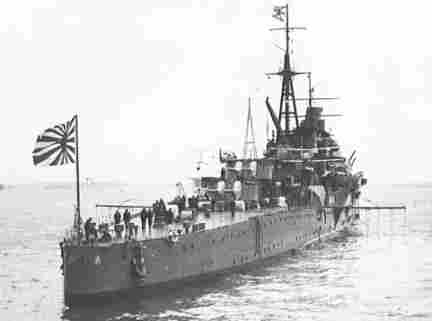 June 8. Japanese heavy cruiser Ashigara (above) is carrying troops from Batavia to Singapore. HMS Trenchant torpedoed her in the Banka Strait. 5 torpedoes sent her down. Her sister ship Haguro, has already been sunk by British destroyers in the last destroyer action of WW2.
June 31st. The Japanese heavy cruiser Takao had been previously damaged by US submarines and now lay off Singapore in the Johore Straits. XE1 and XE3, midget submarines commanded by Lt Smart and Lt Fraser respectively were towed to within range by submarines HMS Spark and HMS Stygian. They succeeded to reach the cruiser and lay their charges. XE3 becomes almost trapped underneath the Takao hull on a falling tide. Takao is badly damaged by the resulting explosions and sinks to the bottom. Other XE craft cut or damage undersea telephone cables off Saigon and Hong Kong at the same time. Lt Fraser and his diver, Leading Seaman Magennis are both awarded the Victoria Cross.
August 1945. Japan Surrenders.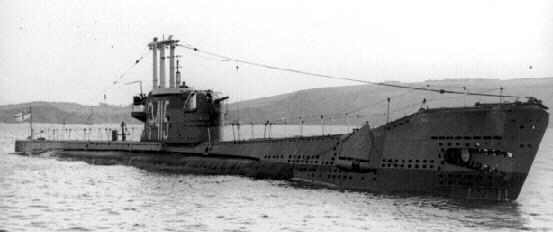 HMS Alcide
Historical Footnote: Admiral Sir Max Horton, who was the commander in chief Western Approaches in WW2, was a World War One submariner who earned criticism for being 'hot stuff' and was called a pirate. 'If so', he remarked, 'then I shall fly the Jolly Roger' (Skull & Crossbones), and there we have the origin of the flag as often portrayed by submarines on a successful tour and returning to base. This signified to all watching her come in that she had sunk enemy shipping. The last time I saw this on a sub, in real life, was when Conqueror arrived home after sinking the Belgrano in the Falklands War in 1982. Des Radwell, HMS Taurus, tells me: My Jolly Roger from the Taurus is in the Submarine School at Devonport. I was the signalman on the boat and flags and light signals and semaphore were all my job, and we only carried one signalman on every boat. But apart from that I had many other duties. I was responsible for small arms on the boat,also I was machine gunner in any gun action, and we had quite a few of those!! Hope this doesnt sound big headed Mike, but we all did several jobs on the boat, and just generally covered for each other. We were family!! and I could not have served with a better bunch anywhere.
I received an email today (170902) from the son of a sailor who served aboard Seraph, amongst others, during the "Man who never was" episode of the war. I look forward to hearing some more from James P Whitehead, the sailor concerned.
On the 16th March I received an email from an Italian gent who is researching his grandfathers death on board an Italian submarine: He writes: I am searching men, photos and information about the British submarine P34 Ultimatum that sunk the Italian submarine Regio Sommergibile Ammiraglio Millo on 14/3/1942 in Punta Stilo (Italy). I am writing a historical book on the sommergibile Millo and his men (my grandfather lost his life that day). I would be interested in images of the men, the submarine, documents etc. Crew list, stories of the men etc. Thank you very much! Nazareno Storani. You can contact him at the following email address, replacing the -at- with @. nazarenostorani -at- tiscali.it
HMS Ultimatum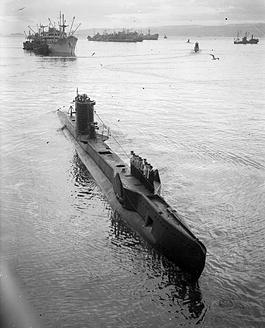 Commanding Officers:
Lt. Peter Robert Helfrich Harrison, DSC, RN
12 June 1941 - 12 November 1942
DSO awarded on 6 November 1942
Lt. Desmond Samuel Royst Martin, RN
12 November 1942 - January 1943
Lt. William Henry Kett, RNR
January 1943 - ???
DSC awarded on 29 June 1943
Lt. Peter Dove Courtenay Bennett, RN
5 February 1945 - 11 June 1945
Lt. Alan Flockhart Esson, RNR
11 June 1945 - 4 September 1945
Lt. Roger Creswell Bucknall, RN
4 September 1945 - ??
History: http://home.cogeco.ca/~gchalcraft/sm/page26.html
Class U2 submarine. Crew of 33 built in February 1941. Lt P.R.H. Harrison DSO DSC. 10th Flotilla, Malta.
25 Jan 42, torpedoed and sank Italian passenger ship Dalmatia L (3352 tons) south-west of Capo dell'Armi in position 37º45'N, 15º30'E.
23 Feb 42 attacked, but missed, two Italian merchant ships, Ravello (6142 GRT) and Unione (6070 GRT) about 80 nautical miles east of Tripoli, Libya in position 32º48'N, 14º50'E. 14 Mar 42, torpedoed and sank the Italian s/m Ammiraglio Enrico Millo off Cape Stilo, Calabria, Ionian Sea, in position 38º27'N, 16º37'E. http://www.regiamarina.net/subs/submarines/millo/millo_us.htm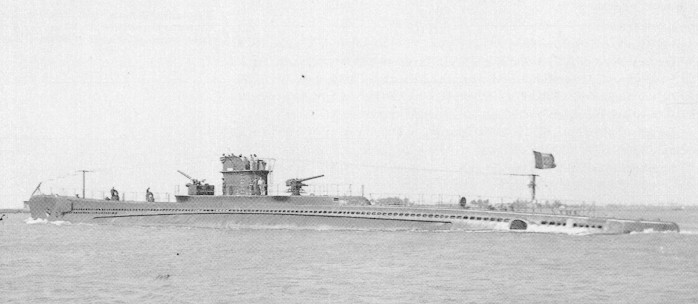 Milo in 1941 and, below, in 1942



Operations Harpoon/Vigorous, off Taranto, June 42.

24 Jun, 1942 made an unsuccessful torpedo attack on an Italian submarine (possibly Zaffiro) south of Crete in position 34º22'N, 24º08'E. 7 Sep 42, attacked but missed the Italian merchant Luciano Manara (6060 GRT) in the central Mediterranean about 45 nautical miles south-west of Schiza Island, Greece in position 36º17'N, 21º03'E.
30 Oct 43, (Lt. W.H. Kett, DSC, RNR) attacked a German U-boat the Mediterranean southeast of Toulon, France, in position 43º04'N, 05º57'E. This attack was against U-73 but it inflicted no damage. HMS Ultimatum is often credited to have sunk U-431 in this attack. However U-431 was sunk with all hands on 21 October 1943 in the Mediterranean off Algiers in position 37º23'N, 00º35'E, by depth charges from a British Wellington aircraft (Sqn. 179/Z). U-431's fate was revised in November 1987 by the Foreign Documents Section of the British Ministry of Defence.
5 Apr 44, sank a German sailing vessel with gunfire off Suda Bay, Crete, Greece. 2 May 44, shelled the harour of Kalamata, Greece. Two sailing vessels were sunk, five were destroyed on the slips and one was damaged. 3 Jul 44, fired two torpedoes at the German auxilary patrol vessel Uj6073/Nimeth Allah off Toulon, southern France. but missed.
27 Jul 44, fired torpedoes against a group of small German vessels. The German barge F811 was hit and sunk off southern France in position 43º03'N, 05º34'E. Broken up at Port Glasgow 1950.
http://www.sommergibilemillo.it/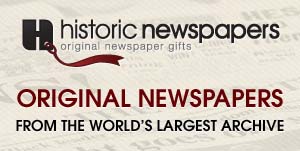 My thanks to Dave Whitehead for many of the submarine images
Aug 2019: Numerous sites where I have found information have now gone. Much valued information is being lost almost daily.
I am 70 this month, when I am gone, so will all this, gathered info over 2-3 decades.