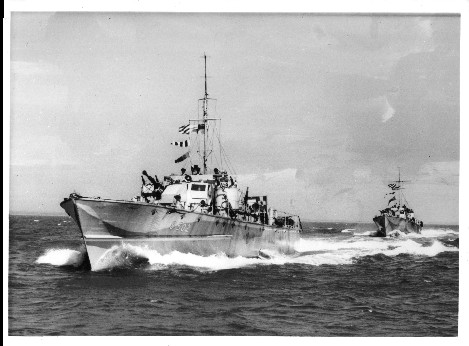 John Peake, of New South Wales, sent me the following document. It is lecture notes given by Lloyd Bott. A letter from the famous leader of the Special Operations Executive (SOE), Maurice Buckmaster, is at the base of the text. It is of a lecture given in Australia around 1991 - 92 as the 50th Anniversary of the Battle of Britain is mentioned as "recently past". Notes in yellow are mine - mk.
Thank you for inviting me to speak to you today. I appreciate that your objective is to look forward and that I am taking you back 50 years, but I trust that what I have to say will be of interest to you. The recent 50th anniversary of Dunkirk and the Battle of Britain, recalling as they do, a disastrous military defeat, miraculous evacuation of the British Army and a large number of French soldiers, immediately followed by a great victory in the air, made me feel there is value in looking back into history, as we shape our strategies for the future.
During the 1939-45 War, a few hundred Australians served with the RN. Some went to England as officers, others received their commissions after serving at sea and training ashore. They fought with credit in all sorts of ships and served in all the oceans of the world. A few served with great distinction in bomb and mine disposal; among their awards were 4 or 5 George Crosses and 1 George Medal. I shall be speaking firstly of the development and activities of Coastal Forces, in which I served, along with a number of other Australians and then I shall say a little about the MGB Flotilla of which I was part, in special operations leading up to D Day.
The Coastal Force craft were direct descendants of motor launches and coastal motor boats (CMB) of the 1st World War. The greatest CMB exploits were against the Bolsheviks in the Baltic Sea on the nights of 17 July 1919, when one large cruiser was sunk, and 17 August 1919, when two Battleships and a submarine depot ship were sunk for the loss of 3 CMB's at the island fortress of Kronstadt, near Petrograd (now Leningrad) (now St Petersburg - mk). Three VC's were awarded in the 2 raids.
Despite these brilliant operations, little attention was given between the wars, to developing and building Coastal Force craft. However, some private companies in the UK developed some small MTB's in the 1930's, which became the prototypes of the 70 foot MTB's successfully used during the war. (This was indicative of all Arms of the Forces, where those that made such decisions, were firmly of the opinion that the 1st World War, the Great War, was the war to end all wars and that there was no need to update and administer the building of new, better, armaments, aircraft or ships, much to Britain's chagrin at the threat on forthcoming hostilities, WW2. - mk).
So at the beginning of the 1939 - 45 war, there were very few craft. During the evacuation of Holland, Belgium and France (May 26 to June 4, 1940) their work was a small part of the vast operation undertaken by the Navy, but there were times when high speed craft were called upon to play a significant role. For example, the last boat to leave the Hook of Holland in May 1940 was an MTB. At Dunkirk, Field Marshall Lord Gort was evacuated in an MTB, as was General Alexander, the General who covered the retreat of the Army in the final days and himself one of the last to embark. MTB's took part in the blockade of Zeebrugge and Ostend, taking off the crews of the blockships under fire.
Admiral Wake—Walker, (responsible for organising the evacuation from Dunkirk) and his staff, were ferried into and out of Dunkirk in MASB 10 (Motor Anti Submarine Boat), a very small, fast boat commanded by Peter Williams of whom you will hear more later, when he was my Commanding Officer in MGB 502. The Admiral used MASB 10 as his means of transport, during the whole of the evacuation period. On the last night of the evacuation, after returning the Admiral to Dover, MASB 10 escorted the blockships to Dunkirk and brought the crews of the blockships back to Dover. MASB 10 was the last vessel to leave Dunkirk harbour. ( A member of the Admiral's Staff at this time was none other than Captain FJ "Johnnie" Walker RN, who was decorated for his part in organising the evacuation and who went on to great glory in his war against the U Boat - mk).
After Dunkirk and the capitulation of the French Government, all attention was given to the threat of a German invasion of Britain. Churchill's plan to prevent the invasion, should it be attempted, was based upon the ability of the RAF to beat the German Air Force and retain air power over Britain and upon control of the North Sea and the English Channel by light Naval forces.

"NO CAPITAL SHIPS WERE STATIONED SOUTH OF THE FORTH AND EAST OF PLYMOUTH BUT FROM HARWICH, THE NORE, DOVER, PORTSMOUTH AND PORTLAND WE MAINTAINED A TIRELESS VIGILANT PATROL OF LIGHT FIGHTING VESSELS WHICH STEADILY INCREASED IN NUMBER" (Churchill's "Second World War Vol 2).
This disposition of forces and roles were to remain until D-Day operations.
In the North Sea and the English Channel, for more than four years. a battle went on to keep open our own convoy routes from E-Boat attack and mine-laying and secondly, to prevent the Germans using coastal shipping to relieve their roads and railways. A large part of this battle was fought almost entirely at night, by our motor gunboats (MGB), motor torpedo boats (MTB) and motor launches (ML) collectively known as Coastal Forces. It will be appreciated that the confined area, with many shallow banks, made the small craft particularly significant in these waters.
The gunboat was mainly concerned with fighting enemy small craft in our own and enemy waters. The motor torpedo boat was primarily concerned with attacking enemy shipping in enemy waters; it's hitting power Is heavy for it's size and in that respect, it's role is like that of a bomber. The motor launch, with maximum speed of 18 knots, much slower than the MGB and MTB was used in the early years for a great many purposes, sometimes aggressive, such as laying mines and ML's did an heroic job leading in the landing parties of the Combined Operations raid at St Nazaire (28 March 1942). In the later years, it's role generally was defensive, such as convoy escort work and air-sea rescue.
To complete the Coastal Force picture, I should also mention the one flotilla of Steam Gunboats (SGB), which were commissioned late in 1941 and In 1942. They were steam driven, steel hulled, 145 foot craft, heavily armed, including 21 inch torpedoes and could reach speeds above 35 knots. Their first big task was the Combined Operations raid on Dieppe in August 1942 and they had many encounters with the enemy in the Channel in the succeeding two years. In 1940 and 1941. an increasing number of, and gradually improving craft became available, but the better equipped and faster new types of small (71' 6") and large (about 120 foot) MTB's and MGB's did not become available until the middle of 1942, when the 1250HP Packhard engines were supplied from the USA'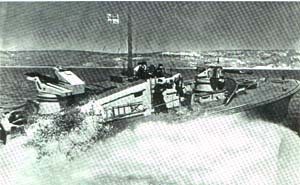 71' 6" MGB
The small MGB's had 3 engines and speed above 40 knots and the large MGB's with 4 engines were capable of speeds of 35 knots. Originally permanent Navy officers commanded the MTB's and MGB's but later, craft were largely staffed by Reserve officers. The majority of the crews were Hostilities Only ratings, but the coxswains were Inevitably permanent Navy Petty Officers and they were very key personnel.
In the early years, the officers and men struggled hard with unreliable boats and inadequate equipment and to a large degree, they had been forced to teach themselves. However, a dramatic change occurred early in 1943, when Capt Armstrong, DSO and Bar, DSC and Bar was appointed Captain Coastal Farces with a small staff, to the Nore Command which embraced the North Sea. He was based at Great Yarmouth, where I was stationed. He organised more specialised and intensive training. The standard of training and fighting experience, particularly of night action in Coastal Forces, became in 1943, second to none in the Navy, a position established by Capt. Armstrong's leadership. (As a post script, after his brief period of shore duties, Capt. Armstrong returned to sea as Captain D of a destroyer flotilla in the Med and was lost when the ship on which he was serving was torpedoed).
My own experience at Great Yarmouth in 1943 might give some idea of the tasks undertaken at that time by MGB's and MTB's. I spent several months with MGB 607 commanded by Lt Mike Marshall, DSO and Bar. Before the war, he was a top Rugby footballer, representing Oxford University and England and he carried the characteristics of toughness, determination and quick thinking into his naval duties. He was an outstanding Officer. We made regular trips off the Dutch coast with other MGB's and quite frequently, were engaged in long and bitter battles. Additionally, MGB's often went across to the enemy coast with MTB's, to create diversions for the MTB attacks. Also, off the English coast, there was activity from time to time and Mike was awarded his first DSC after an engagement with a group of E-boats attacking one of our convoys. It was one of the most decisive battles against E-Boats in the War.
The little ships fought with bold initiative and gallantry. A congratulatory note, addressed to Coastal Forces, by Winston Churchill on 30 Nay 1943, sums up their work to that time:
"I HAVE NOTED WITH ADMIRATION THE WORK OF THE LIGHT COASTAL FORCES IN THE NORTH SEA, IN THE CHANNEL, AND, MORE RECENTLY IN THE MEDITERRANEAN. BOTH IN OFFENCE AND DEFENCE, THE FIGHTING ZEAL AND THE PROFESSIONAL SKILL OF OFFICERS AND MEN HAVE MAINTAINED THE GREAT TRADITION BUILT UP BY MANY GENERATIONS OF BRITISH SEAMEN.
AS OUR STRATEGY BECOMES MORE STRONGLY OFFENSIVE, THE TASK ALLOCATED TO THE COASTAL FORCES WILL INCREASE IN IMPORTANCE AND THE AREA OF THEIR OPERATIONS WILL WIDEN.
I WISH TO EXPRESS MY HEARTFELT CONGRATULATIONS TO YOU ALL ON WHAT YOU HAVE DONE IN THE PAST, AND COMPLETE CONFIDENCE THAT YOU WILL MAINTAIN THE SAME HIGH STANDARDS UNTIL COMPLETE VICTORY HAS BEEN GAINED OVER ALL OUR ENEMIES."
When the time did cone for our armies to return to France in June 1944, our Coastal Forces had a vital role. In the preparatory period before D-Day, an extensive programme of mine-laying was undertaken by MGB's and MTB's to protect the flanks at the planned track across the Channel, from England to the Normandy beachhead. On D-Day Coastal Forces had the job of leading the assault forces to their beaches, some of them, acting as navigational leaders, others as smoke layers. Also, patrol units were in position on either flank. Further, in the early and critical hours of the invasion the last of the protecting minefields were pot in place and various diversions were staged by Coastal Forces, with the object of distracting the enemy from the real assault.
We might now turn to my involvement from November 1943, when I was with a Special Service MGB flotilla, operating across the Channel to France. Perhaps first, I should recall the general picture of the war In 1943. In the Pacific, following our victory at sea in the Battle of Midway (June 1942) and in the land battles in New Guinea and Guadalcanal (December 1942 - January 1943), we had wrested the Initiative from the Japanese. At El Alamein in October/November 1942, the German Army was forced back and the route continued across Africa, thence on through Sicily and Italy. As Winston Churchill was later to say:
"UP TO ALAMEIN WE SURVIVED, AFTER ALAMEIN WE CONQUERED"
On the Russian Front, the Russians, after a bitter battle Lasting 5 months, repelled the Germans at Stalingrad in January 1943. There, also, the initiative had passed from the German Armies. At the same time, the superiority of our Air Forces became evident. I recall well, whilst I was on the North Sea in the summer of 1943, the extraordinary experience of witnessing the forming up overhead of a 1000 bomber raid on Germany. Allied air power continued to grow enormously in strength and effectiveness, with improvement in electronic aids and new aircraft.
Also, by mid 1943, after almost four years of continuous battling against the elements and the U Boats, the Battle of the Atlantic, absolutely critical to maintaining the integrity of Great Britain as the forward base for Allied operations against Germany had turned our way. In this regard, it is relevant to quote from the memoirs of Admiral Doenitz, C-In-C of the German Navy.
"RADAR, AND PARTICULARLY RADAR LOCATION BY AIRCRAFT HAD, TO ALL PRACTICAL PURPOSES, ROBBED THE U BOATS OF THE POWER TO FIGHT ON THE SURFACE. WOLF PACK OPERATIONS AGAINST CONVOYS IN THE NORTH ATLANTIC, THE MAIN THEATRE OF OPERATIONS, WERE NO LONGER POSSIBLE."
This was in May, 1943. In that month, 41 U Boats were destroyed. The consequences of their withdrawal were grave for Germany. Our vital lifeline across the Atlantic had been maintained.
So, by mid-1943, the stage had been reached where we would not lose the war, but tremendous battles were still to be fought against strong and courageous enemies, before victory was won. A further two years were to elapse. In Europe, the giant step across the Channel had to be taken. The enormous task of preparing for the Invasion of the Continent proceeded with vigour.
More personnel had to be put into France, to mobilise and prepare the local population for the part they bad to play. As part of the overall programme the 15th MGB. flotilla was updated, to provide the necessary communication links across the English Channel. It operated from Dartmouth in Devon, under the direction of Capt. Frank Slocum, RN, DDODI (Deputy Director Operations Division, Irregular) at the Admiralty. He was an extraordinary and caring man, The flotilla undertook tasks for intelligence-gathering authorities and for SOE (Special Operations Executive), a British Secret Service formed to encourage underground resistance. Our commander of Operations at Dartmouth, Commander Ted Davis, DSO & Bar, RNR, did a large number of operations to France. He was a perfectionist of great drive and ability and a pleasing personality. He was held in the highest esteem by all those working in the operations.
It was fortuitous that I should be invited to join the 15th MGB Flotilla in November 1943, when it had been reorganised and the groups in France were also operating effectively. We had an extraordinary run of successful operations. In my time the 15th MGB Flotilla operated 4 boats:

MGB 502
MGB 502 was the senior officer's boat. The Commanding Officer was Lt Cdr Peter Williams, DSC, an Oxford Graduate, a first class Captain and man of the highest quality, who maintained cool in every situation. I was the First Lieutenant and our Boats Officer was a fine young South African, Dusty Miller. We took on board a navigation specialist when we proceeded on a mission. We undertook tasks for all Secret Services, but worked primarily for SOE.
MGB 503 was responsible for bringing out evaders (airmen shot down, but not caught by the enemy) and other miscellaneous agents. Mike Marshall, formerly my CO on MGB 607, was the Commanding Officer.
Note: MGB 502 and 503 were beautifully designed and built by Camper and Nicholson, yacht builders. Powered with 3 x 1500 HP Paxman Ricardo high speed diesel engines, the only MGB's with high speed diesels, their speed was up to 35 knots. A couple of similar vessels were used by the Merchant Service, bring ball bearings from Sweden.
MGB 318* did operations for other Secret groups operating in France. I went with 318 as Boats Officer on one occasion and in July 1944, became the Commanding Officer.
(*see link below for 318's operations log-mk)
Before the MGB's 502 and 503 joined the Flotilla, 318 and MA/SB 36 did most of the operations. (Other operations were undertaken by fishing vessels from Halford River near Falmouth).
MGB 718 joined the Flotilla in 1944, to support us generally in the various activities. In fact they came as support for 502 on one particularly vital mission. I think they also operated to Norway.
It was a feature of these operations, that none of the groups in France worked together, nor used the same beach. Lines of communication in Europe had been so fragile, codes broken, escape lines breached etc that security was much stronger if they worked in small, tightly knit, discreet groups.
The actual conduct of an operation was quite straight forward. Our passengers embarked during normal visiting hours on Westward Ho, a paddle steamer moored in the River Dart, and proceeded to their cabins. The Westward Ho was our base ship and we berthed alongside.
Five minutes before sailing time, the agent transferred to the MGB which was to carry them to France. Just before sailing, we received the German Navy recognition signals to midnight. We often wondered how this information was obtained, but we now know it resulted from the unravelling of ENIGMA, the top secret German coding machine. Moonless nights were always chosen for the operations and the BBC warned the field in their broadcasts that we would be coming.
Our navigation was of a very high order, as indeed it had to be, if we were to succeed in the very difficult waters and rock strewn beaches of Brittany. We were greatly assisted by the RAF navigation beacons and had "gee" equipment on board.
About a mile from the beach, the MGB anchored on a grass rope and the landing party was rowed ashore with muffled oars, in a surfboat, especially designed for the purpose. We were normally anchored for 1 to 1 /12 hours. The actual time spent by sailors on the beach was supposed to be only 3 - 4 minutes. I must say, that we wondered whether we'd judged the tides correctly and would find the right beach and on return, whether we'd find the gunboat. (For some operations we did have assistance such as a torch flashing from a cave on the beach and S-phones and we used a hydrophone to home on the MGB echo-sounder on return, if necessary).

The Operations of MGB 502
I shall speak first of all about the operations of MGB 502. As I mentioned earlier, our prime task was to support SOE - putting in and bringing out agents responsible for organising the Resistance Forces and preparing them for their role as D-Day approached. Among the particularly noteworthy passengers we carried was Suzanne Cherise, who brought with her, plans of the bunkers near Calais which contained the V2 rockets. the information she carried was considered of such importance, that come what may, we had to get Suzanne and her female companion safely to England. MGB 718 came with us on this occasion to provide added protection. It has been suggested that her information saved thousands of lives, because the Air Forces were able to bomb the entries to the bunkers and the area. Another interesting passenger we carried into France, early in t944, was Francois Mitterand presently the President of France.
These two particular occasions should not, in any way, detract from the significance of our broad task of servicing the Resistance Forces, We would be transferring back and forth key strategic people; the RAF was dropping their military supplies. It s a very satisfying role that demanded high quality performance. One could feel we were playing a significant part in the preparations for the assault into Europe. The success of our missions says a lot for the quality of our leadership and the whole ship's company.
Generally. our operations went without hitch, but one night we ran into casual trouble and unfortunately our Oerliken gunner was killed. Perhaps our most extraordinary occasion was one where we had to enter the Trequier River. We made our rendezvous point, but whilst we were anchored, a battle commenced a few miles offshore, between the cruiser BLACK PRINCE with two Canadian destroyers, against two German destroyers. Starshell illuminated the area as the battle proceeded and illuminated the whole area. We realised that anyone on the land looking at the battle would see us silhouetted, so our task completed, we decided to move out and dash for home.


There is a monument on the French coast where we used to land at Beg-an-Fry, near Morlaix, in Brittany. In French, it is written:
"EN CE LIEU ET DE NUIT PENDANT LES PREMIERS NOIS DE 1944 DEBARQUERENT, AVEC L'AIDE DE RESISTANTS FRANCAIS DES MISSIONS ALLIEES CHARGEES DE PREPARER L'OFFENSIVE DE LIBERATION."
Roughly translated:
IN THIS PLACE AND AT NIGHT DURING THE FIRST MONTHS OF 1944, ALLIED MISSIONS WITH PREPARING THE OFFENSIVE OF LIBERATION, DISEMBARKED WITH THE AID OF FRENCH RESISTANCE WORKERS"
Then the monument continues in English:
"THIS PLAQUE WAS UNVEILED ON THE 25TH ANNIVERSARY OF THE LIBERATION TO COMMEMORATE THE PART PLAYED IN THIS AREA BY THE RESISTANCE AND THE ROYAL NAVY MGB 502"
A few years ago. I wrote some memoirs, a copy of which I sent to Peter Williams who passed it to Col Maurice Buckmaster who had been Head of the French Division of SOE for any comment he may have. Col Buckmaster summed up his somewhat laudatory comments in the following sentence:
TO SUM UP AN EXCELLENT SURVEY OF A SERIES OF OPERATIONS WHICH WERE OF ENORMOUS VALUE TOWARDS THE LIBERATION OF FRANCE TO WHICH RESISTANCE MADE A GREAT CONTRIBUTION BY MINIMISING THE PART PLAYED AFTER D-DAY BY THE TWO GERMAN PANZER DIVISIONS (HERMAN GOERING IN HENDAGE AND DAS REICH IN SE FRANCE) WHICH, IN EISENHOWER'S VIEW, SHORTENED THE WAR BY SIX MONTHS"
(The Das Reich Division, on its drive northwards in an attempt to engage the Allies, made the "mistake" of decimating the entire village of Oradour sur Glane in an attempt to find stolen gold - see my page on this incident of WW2 here). See copy of Col Buckmaster's letter at base of this page.
I shall now turn to the operations of MGB 503, which several times crossed from Dartmouth to Plage Bonaparte, near Plouha, in Brittany, to bring out evading airmen shot down, and some agents.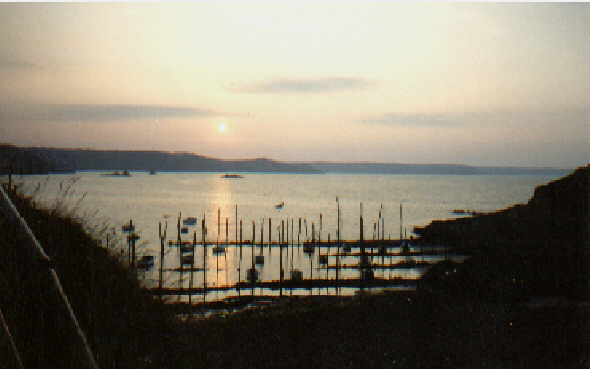 One of these drop off/pick up beaches at Gwen Segal in Brittany near Plouha. This image was taken by me in 1986.
At that time I was not aware of its huge significance in WW2. To think I have stood there fills me with a sense
of awe and admiration for what took place on these beaches, and others in the secret fight.

There were numerous escape lines operating through Belgium and France, most of them functioning on resources provided by MI9 in London, However, during 1943 several escape lines were penetrated by the Gestapo.
As the air war in Europe built up in late 1943, Allied aircrews who had been shot down and evaded capture, began to become a serious problem to patriotic nationals of the countries who were sheltering them. To relieve this pressure and to return these crews to England, British Military Intelligence slipped a number at agents into the occupied countries to help organise various underground groups into escape networks, It was late 1943, when two Canadian Army volunteers were flown into occupied France in an RAF Lysander, to set up what become the Shelburn line, one of the most daring and successful escape operations of World War 2. Downed Allied fliers were gathered from all over France and systematically sent to the towns of Guingamp and Plouha, in Brittany. From there, when the message was received that the MGB was coming, the airmen were assembled in a small house, La Maisson d'Alphonse, on the cliff top of Plage Bonaparte, before proceeding down the cliff to the beach, for their rendezvous with MGB 503. The operation involved great integrity and courage from a large number of French patriots. (La Maisson d'Alphonse was blown up by the Germans in July 1944).
The numbers brought out by 503 varied greatly. When the numbers were large. I went as an additional Boats Officer. One night, there were 39 passengers and we had to use four surf boats. Andrew Smith, the First Lieutenant of 503 and I, had to go in a second time to get all the airmen out. On the side of the cliff at Plage Bonaparte, a large plaque reads:

"COVE COCHAT BONAPARTE BEACH
DURING THE OCCUPATION, THE FRENCH EVASION NETWORK "SHELBURN" HERE EMBARKED FOR LONDON, 135 ALLIED AIRMEN AND AGENTS ON 8 SEPARATE MISSIONS.
PLOUHA JUNE 23, 1948
IN MEMORY OF 25 MEMBERS OF SHELBURN WHO DIED FOR FRANCE AND THE CREW OF MGB 503** LOST AT SEA.
**NOTE: It was actually MGB 502 which was lost. It hit a mine in the Skeggarak on a mission to Sweden, immediately after VE day. Mike Marshall, the CO of MGB 503 was commanding MGB 502 for the operation. A sad loss of my old crew and my close friend.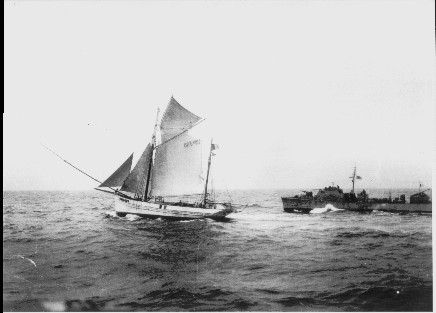 503 escorts a Tunnyboat to France. It might be a C Class Fairmile though???

After the war, General Eisenhower presented Freedom Medals to a number of brave people in France, for their courageous work. I would like to quote from him:
"IT TAKES LITTLE IMAGINATION TO UNDERSTAND THE SUBLIME QUALITY OF THE COURAGE THAT, DURING HITLER'S OCCUPATION OF FRANCE, DEDICATED FRENCH CITIZENS DISPLAYED IN UNDERTAKING TO RESCUE ALLIED FLIERS DOWNED OVER FRANCE. THEY UNDERTOOK THE WORK DELIBERATELY AND WITH THE CERTAIN KNOWLEDGE THAT THEY WERE RISKING NOT ONLY THEIR LIVES BUT THOSE OF ALL THEY HELD DEAR. THIS THEY DID FAR FROM THE EXCITEMENT AND FRENZY OF THE BATTLEFIELD. THEIR INSPIRATION WAS THEIR PATRIOTISM, THE DETERMINATION TO SEE THEIR BELOVED COUNTRY FREED FROM THE DOMINATION OF THE HATED NAZIS AND BY THEIR IDEALS OF LIBERTY AND JUSTICE"
PS: Since I gave my address, the Coastal Forces Veteran's Association in the UK, has erected at Plage Bonaparte on 9 May 1991, a commemorative brass plaque which reads:
THE CLANDESTINE OPERATIONS AT BONAPARTE AND OTHER BEACHES BETWEEN ST. CAST AND L'ABER-VRAC'H WERE CARRIED OUT BY ROYAL NAVY MOTOR GUNBOATS OF THE 15th MGB FLOTILLA OPERATING FROM DARTMOUTH DURING 1942—44.
THE MEMBERS OF THE COASTAL FORCES VETERANS ASSOCIATION SALUTE THEIR
COMRADES OF THE RESISTANCE AND ESCAPE NETWORKS HONOURING THEIR DEAD ALONG WITH THOSE BRITISH SAILORS WHO DIED IN HMMGB 502
LES OPERATIONS CLANDESTINES A LA PLAGE BONAPARTE COMME A AUTRES ENTRE ST CAST ET L'ABER-VRAC'H FURENT EFFECTUEES EN 1942-44 PAR DES CANONNIERES A MOTEUR APPARTENANT A LA FLOTILLE 15 MGB DE LA ROYAL NAVY DE LA BASE NAVALE DE DARTMOUTH
LES ADHERENTS DE LA COASTAL FORCES VETERANS ASSOCIATION SALUENT LEURS CAMARADES DE LA RESISTANCE ET DES RESEAUX D' EVASION ET RENDENT HOMMAGE AUX FRANCAIS MORTS POUR LA PATRIE El AUX MARINS BRITANNIQUES QUI TROUVERENT LA MORT A BORD DE LA CANONNIERE HMMGB 502


It is interesting, that in the CFVA booklet referring to the memorial plaque to be unveiled in France, there is a short reference to a Free French celebration in May 1991, on the banks of the River Dart.
Friendly French Invasion
The tiny Kingswear village on the banks of the River dart will soon be playing host to a full scale French Frigate, taking part in wartime anniversary celebrations. Fifty years ago this spring the Free French Forces arrived in Kingwear, to aid the Allies in their struggle to free Occupied Europe.
Among their number was a brave young partisan, Francoise Mitterand, who took part in several clandestine operations and guerilla raids across the channel, linking up with the Resistance.
One such operation was carried out by MGB 502 on the night of 26/27th February 1944, landing Mitterand and a number of partisans at Beg-an-Fry; 502 was attached to the now famous 15th MGB Flotilla.
The French Embassy in London suggested a coastal patrol boat, later changed to a mine-hunter for their courtesy call, this has now been changed to a "Frigate" which will be anchored midstream.

Finally, on 6th May 1991, at Valencay, about 150 miles south of Paris, a large number gathered for the unveiling of a monument erected to commemorate the work of the Resistance Forces and Special Operations Executive (SOE) in the liberation of France and to pay homage to those who died in the operations. The Queen Mother attended and unveiled the memorial. Peter Williams, the Co of MGB 502 was invited to attend and travelled to France in a special aircraft organised to fly the VIP party from Britain. Peter laid a wreath on behalf of the Royal Navy. After the ceremony, Peter told me of the considerable interest in MGB 502. He wrote: "As a matter of fact you will be very pleased to hear that in certain circumstances the old flotilla is very well known and I was surprised by the number of people who seemed to know all about us"

Notes on Lloyd Bott's Memories - For Peter Williams
by Maurice Buckmaster Director of French Division SOE
I was very interested to read these fascinating notes and most impressed by the accuracy of detail - at least for those parts of which I have personal experience. He certainly has had a remarkable career of great bravery and many important occupations.
Your MGB 502 was the only one of which I had indirect knowledge. The others were operating on behalf of MI9 (Escape Routes) and MI6 (?) Intelligence, of which I had no personal knowledge until after the war when I got to know Jimmy Langley of MI9 and Kenneth Cohen of MI6. The description of SOE on page 5 is quite accurate (although the ration card episode (see note below) was a very minor affair in comparison). Intelligence gathering was not our job. Note specially the last para on page 5 - I entirely agree.
Nearly all the books that have appeared about Resistance in France have been written by people who had no interior knowledge of the organisation. The best is by Ben Cowburn who was one of my 480 officers. There were no archives, for we never wrote anything down for security reasons.
TO SUM UP AN EXCELLENT SURVEY OF A SERIES OF OPERATIONS WHICH WERE OF ENORMOUS VALUE TOWARDS THE LIBERATION OF FRANCE TO WHICH RESISTANCE MADE A GREAT CONTRIBUTION BY MINIMISING THE PART PLAYED AFTER D-DAY BY THE TWO GERMAN PANZER DIVISIONS (HERMAN GOERING IN HENDAGE AND DAS REICH IN SE FRANCE) WHICH, IN EISENHOWER'S VIEW, SHORTENED THE WAR BY SIX MONTHS.
Maurice Buckmaster
Director of French Division
Special Operations Executive (SOE)
From lecture author: In my first manuscript I stated that we put ration cards into France within days of the issue there of a new rationing system. I have now deleted this reference.
COASTAL FORCES OF WORLD WAR TWO
There were four types of coastal defence craft during the Second World War. These were: Motor Torpedo Boats (MTBs), Motor Gun Boats (MGBs), Motor Launches (MLs) and Harbour Defence Motor Launches (HDMLs), with the main ones being the MTBs and the MGBs.
In 1939, there were three flotillas of coastal craft, comprising of MTB "short boats" being between 60' – 71' 6" long. These were built mainly by south coast shipbuilders: British Power Boat Co (Hythe), Vosper (Portsmouth) and Thornycroft (Southampton). They were armed with 2 torpedo tubes for either 18" or 21" torpedoes. In 1940, it was thought that a similar craft could be built to complement the MTBs, and the MGBs were created. These were armed with a variety of weapons including 0.5" Browning machine gun, 2 pdr pom pom, and a single or twin 20mm Oerlikon and, ultimately, a 6pdr Hotchkiss.
It was also realised that a large craft would be useful as the operation of the short boats was limited by the prevailing weather conditions. Fairmile designed a series of coastal craft, Types A and B were MLs, Type C was an MGB and Type D was the MTB – nicknamed Dog Boat. It first appeared in 1943 and could be fitted up as either a gun or torpedo boat, being 115' long. It was, however, heavier than the short boats and averaged a speed of 30kts at full load as compared to the short boat's 40kts. Since the Fairmile D could be either gun or torpedo boat, the designation MGB disappeared and all the craft were MTBs. The last of the D craft built had 4 18" torpedo tubes plus guns.
Coastal craft operated mainly in Channel and North Sea waters, especially in the build up to the Normandy invasion of 1944. They were also used in the Mediterranean and Norwegian campaigns. They were used to disrupt German convoys, carry out clandestine raids and landings and also to pick up secret agents in Norway and Brittany.
The coastal craft were manned by various Allied nationalities including Dutch, Norwegian, Canadian , Australian and New Zealanders. The officers were drawn mainly from the RNVR – hostilities only service.
©Royal Naval Museum Library, 2001 http://www.royalnavalmuseum.org/info_sheets_CoastalForcesWW2.htm

The information contained in this fact sheet is correct as far as we are able to ascertain from our sources. It is not intended to be an exhaustive or complete history of the subject. Please ask the library for a bibliography of further reading materials, if available.

Colin Cohen (April 2007) sent me a link to another site, which, strangely enough is already linked to mine. But with my memory being what it is, cannot recall being there before. however, as there is no link to an author, I am going to take the liberty to reproduce it here with full credits. See base of article for parent site details. Colin's father was Cmdr Kenneth Cohen.
Residents in Kingswear are determined that the vital role played by a secret wartime unit which operated from the tiny riverside village will ncver be forgotten. The four high-speed gunboats of the 15th flotilla which waged a clandestine war against the German: in occupied France during 1943 and 1944, made over 100 "hush-hush" missions to ferry In agents gathering essential military intelligence and to bring back escaping downed Allied airmen who had been kept in safe houses by the French Resistance.
They were helped by the breaking of the top secret German Enigma coding machine - (link is to my enigma page).
This enabled the gunboats to be given vital enemy recognition signals in case they were spotted at sea, the 30 knot craft would lay up offshore from Brittany beaches while specially- made surfboats would silently row in to drop off their human charges and pick up waiting escapees. The flotilla was one of five, including a Free French motor torpedo boat unit, to operate from the Dart village, but security surrounding the night-time activities of the special gunboat group was so tight that locals never knew what the Royal Navy sailors were up to. Seven years ago former parish council chairman Dick Parkes, who had spent the war fighting in Burma, stumbled across the covert link between Kingswear and the gunboats while on holiday in Brittany where he found a memorial paying tribute to the flotilla which had mounted a series of missions to Plouha, Beg-an-Fry and L'Aber Vrac'h.
He returned home determined to find out more and soon after, by co-incidence, an Australian veteran of the group got in touch by making a request to site a memorial alongside the River Dart. Today a plaque stands proudly at the entrance to the ferry landing at Kingswear and a Friends of the 15th Association, comprising veterans of the unit together with villagers in Brittany and South Devon, has just been formed.
Its aim is to safeguard the memory of the extraordinary deeds of the secret unit, to organise the maintenance of the flotilla's memorials at Kingswear, Plouha and Beg-an-Fry and to place poppy wreaths on the memorials every November. There are also plans to set up a link between local children at Kingswear Primary School and a primary school in Plouha through an exchange of letters. "It's important that our young people are made aware of what happened in Kingswear during the war," said Mr Parkes, who is the association's secretary. "We want to perpetuate the memory of what happened on both sides of the English Channel at the time and we are very lucky that the 13th Torbay Sea Scouts, which are based at Galmpton and Kingswear, have offered to maintain our memorial here."
Earlier this month - exactly 54 years after the Allies celebrated ; VE Day - the secret links were remembered at a special reunion, when over 20 flotilla veterans, met up with former French Resistance members who had travelled across from Brittany. A parade took place through the village to the parish church where local vicar, the Rev Robert Horner, gave a blessing both in French and in English, before the Brixham Royal British Legion Band played La Marseillaise and the National Anthem. Over 100 officers and men served on the 15th Flotilla at Kingswear and over half of them went to Buckingham Palace later to receive medals. The group was the most highly decorated unit in the Navy during the war.
The agents they brought back carried vital information about German defences in the run-up to the D-Day Normandy landings and plans of bunkers near Calais which contained the German V2 rocket sites. But their night-time activities passed unknown to local villagers, one of whom is Reg Little, who was a teenage Civil Defence first-aider in Kingswear at the time. "We knew about the Free French flotilla, but nothing about the 15th flotilla and what it got up to because we thought it was all part and parcel of the same thing," he said. "The 15th operated from the old paddle steamer westward Ho which was their depot ship. "We used to hear the boats going in and out at night when they started up their engines, but we thought they were just doing normal patrols. "My father-in-law Ted Willing used to keep the bar at the Royal Dart Hotel and I only found out recently that one of the chaps from the flotilla used to be given a cider bottle with gin in.it which he sipped before going out on a mission.
"But everything about the flotilla was kept very hush-hush, even long after the war. We only found out what they had got up to about five years ago." The crews used to spend most of their time in their gunboats as they were moored alongside the paddle-steamer, but they did go into local pubs to let their hair down - with strict orders not to discuss their secret activities. Teignmouth's Frank Jones, a petty officer motor mechanic who carried out seven missions on MGB 502, said: "We slept on the boat with four of us sleeping to a cabin. The boats had crews of just over 30 men. The agents just looked like ordinary people and they would stay at local hotels and come on board about an hour before we set off. We were never allowed to talk to them.
The RoyaI Dart Hotel, built by Brunel on the Kingswear quayside when the railway arrived in 1864, had been used as the local headquarters for coastal forces during the war when it operated as HMS Cicala. Its upstairs rooms were out-of-bounds to outsiders, but the bar remained open to public use. Today only a photograph of one of the 15th Flotilla gunboats - presented by veterans last year - hangs in the bar to commemorate its link with the secret missions. However, there is also a plaque for all to see on the wall of the Kingswear Lower Ferry Slipway, and dedicated in November, 1997, that commemorates the heroic exploits of the flotilla.

The Royal Dart Pub in Kingswear: Strange fact: the pub was a naval base called HMS Cicala during WW2 and was claimed as sunk by Lord Haw Haw!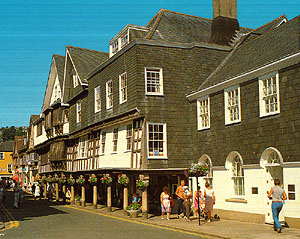 Dartmouth Museum - Click the Image to Visit Their Web Site

The top of the page concerned gives the following indication to author, source etc.
The third part of a series about "The Secret War", published in "The Western Morning News" in 1999, is presented here by kind permission of the author, Colin Bradley. This part reveals how residents of the South Devon village of Kingswear had no idea what was going on in their midst.
Colin Cohen as mentioned above, emailed me, part of which is here:
He was the SIS officer responsible for all continental war time intelligence operation, but especially in France. As SIS also controlled SOE communications, and those of the occupied allies intelligence operation during most of the war, he was effectively in charge of clandestine air and maritime operations [see the official Secret Flotillas, Clandestine Sea Lines to France … 1940-1944, Brooks Richards. London, 1996]. Maurice Buckmaster is slightly misleading when he writes 'Your MGB 502 was the only one of which I had indirect knowledge. The others were operating on behalf of MI9 (Escape Routes) and MI6 (?) Intelligence, of which I had no personal knowledge until after the war when I got to know Jimmy Langley of MI9 and Kenneth Cohen of MI6. The description of SOE on page 5 is quite accurate (although the ration card episode (see note below) was a very minor affair in comparison). Intelligence gathering was not our job. Note specially the last para on page 5 - I entirely agree.' My father must have been one of the few people in MI6 who could abide Buckmaster and on, I believe a weekly basis, would give him a briefing and extremely unofficial access to the MI6 Registry, so they had a close business relationship from the early 40s, not just after the war ...
In April 2008, I received a couple of emails from Betty Hanson. Betty is the daughter of John Motherwell. She told me about a lady, Mrs Roberts, who lived upon a houseboat. The houseboat was the refurbished MASB36. Here is copy of a letter that Mrs Roberts received from John Motherwell, in reply to some research Mrs Roberts had been doing:
August 21, 2002
Dear Mrs. Roberts, Your letter came as a complete surprise and I sincerely thank you for news of an old friend that I have wondered about for years. I served "On Loan" to the Royal Navy from the Royal Canadian Navy from the spring of 1942 until the war with Germany ended in August 1945. I started out with the 8th MGB Flotilla at Felixtowe and survived the loss of MGB 76 and was moved to MGB 80. When it was severely damaged I was transferred to the 15th MGB Flotilla at Dartmouth as 1st Lieutenant of MA/SB 36 in the spring of 1943. Lieutenant Jan Mason of the South African Naval Service was my Commanding Officer. An intelligence division of the admiralty operated us and the Flotilla consisted of MGB 318, a 115 foot Class C Gun Boat, and MA/SB 36. Before Lieutenant Mason or I joined I believe that 36 had done some cross channel work but the roll we played after I joined was to go periodically to St. Mary's in the Scilly Islands to provide backup if required to the fishing boats that were conducting surreptitious meetings with fishing boats from Brittany in the Bay of Biscay. They worked out of Helford River in Cornwall and we spent quite a lot of time there. We trained a lot of people, including some Americans, in how to handle a surf boat doing a beach landing on progh sands west of there. The later addition of MGB 502, 503 and MTB 718, all much larger boats, built up the 15th Flotilla.
We were given an important job to do during the invasion of Normandy. On June 5th in Portsmouth the Senior British Intelligence Officer, Colonel Guy Westmacott DSO Grenadier Gaurds, boarded us. We were ordered to France on June 7th but a sever storm blew up and we were unable to land the Colonel until June 8th. We spent a most hazardous night on June 7th and 8th when our anchor would not hold and we were continuously dodging out of control landing craft. We carried him from England to France and back again several times during the beachhead times. We also carried prisoners for interrogation and captured enemy secret material. As soon as Dieppe was cleared of the Germans we started to run from there to Shorebran and were soon joined by MGB 318 when we started a daily ferry service for secret material and secret people destined for the war office. At a later date, the rest of the 15th Flotilla joined us. In October 1944 I was granted leave to return to Canada and we were ordered to deliver MA/SB 36 to Poole for paying off. This we did with considerable sadness, as she served us well, and I was proud of the fact that her hull was as sound as she was when she left the British Power Boats Yard. The crew removed the Ships Bell before I knew it and after scratching their names on it, they presented it to me and I am pleased to enclose a photograph of it.
Lieutenant Gordon Bell was my First Lieutenant until the first of May 1944 when he was replace by Lieutenant Dick Knight. My Coxswain was Leading Seaman Jack "Taffy" Evans RIP, my telegraphist was Leading Tel Norman Granger, the Oerlicon Gunner AB Seaman Jack Sanderson RIP, Twin 50 Gunner AB Seaman Danny Welsh, Asdic Operator AB Seaman Victor Cooke RIP, Single 50 Gunner?, Motor Mechanic PO Percy Daft, Stoker I McPhail, Stoker II, Tim Mountain.
The Senior Officer of the Flotilla in Dartmouth was Lieutenant Commander EA Davis RNR DSO. Commander Davis had told me that he could not use MA/SB 36 for the French landings as long as the larger boats were available so I volunteered to go as crew on a landing and went as Surf Boat Officer for a landing made from MGB 502 on the night of the 24th and 25th January 1944 at which we put ashore an agent with finances for the French Resistance. The larger boats of the Flotilla were used to pick up agents and escaping Air Force men who had not been captured.
In 1959 I returned to Britain and managed to locate Jack Evans, Jack Sanderson, Percy Daft, Tim Mountain and McPail (whose first name escapes me) and we had a great reunion party in London. Jack Evans immigrated to Calgary where he was a successful printing salesman but unfortunately passed away years ago. I know that Victor Cook and Jack Sanderson also have crossed the bar, as it were, but I have unfortunately lost touch of the others. Unfortunately, Gordon Bell was killed during the war when MGB 502 was lost. (It was actually AFTER the war, by some couple of days).
I again thank you for your letter and pictures and sincerely hope that this is the information that you wanted. I was extremely pleased to hear that good old MA/SB 36 was such a useful home for you. I am 81 years old now and your letter brings back many memories from a much different time and place. Sincerely. John Motherwell, Canada.
Also, from John Motherwell, a record of a clandestine operation in France:
A Clandestine Landing in France on January 28/29th 1944

During the summer of 1943 I was promoted from 1st Lieutenant to Commanding officer of MASB 36, a 63 foot British Powerboat of the 15th MGB Flotilla based at Dartmouth. Shortly afterward, Commander EA Davis our Senior Officer examined me at sea and passed me for Coastal Forces Watch Keeping Certificate. Over a libation once we were secure in harbor I asked Commander Davis if he would let me do a French landing job in MASB 36 and he said he would if a single body job came up. That summer we went to the Scilly Islands twice to provide backup for the fishing boats doing transfers and pickup with Bretton Fishermen.
Soon the Flotilla was augmented by two new Camper and Nicholson Diesel MGB's thereby eliminating any chance of MASB 36 being used for a trip to France. I was in a catch 22 situation, being in Command with very little chance of being used. When a single body job turned up for January 28th 1944 for MGB 502, I asked Commander Davis for permission to go with them as Boat Officer. This was immediately granted and the C.O. of MGB 502 Peter Williams, whom I knew very well by this time, agreed.
January 28th was the start of the dark period of the moon. The objective of Easement 1 was to land one male on the beach in Brittany called Beg-an-Fry. A 75-MM gun emplacement defended the beach together with a heavy machine gun mounted on the point to the west, which was a couple hundred yards away.
MGB 502 crossed the German convoy route without incident and we anchored about a mile from the landing point near some rocks called Le Beufs. David Birkin our navigator provided me with courses to steer in and out but warned me that I would have to make my own wind allowances. I was given a password, "Ou es Pierre?" for the beach party and, "Pierre est dans la cuisine" for my reply. With two sailors rowing the 14 foot pram, our passenger lodged in the bow with supposedly a suitcase full of money for the underground, and myself in the stern with a steering oar and a luminous box compass and a stop watch, we set off for the beach.
It was an extremely dark night with cloud cover but fortunately with very little wind. As we entered the bay it was very hard to see where the shore was. The tide was ebbing when we hit the beach. We had a bit of a walk to where the reception party was supposed to be. We missed them because as it turned out they had come to the wrong beach. The underground agent then elected to go on by himself. I returned to the pram and was told that they had to move it twice to keep it in the water.
During the trip in and out, I didn't dare lift my eyes from the compass and watch. When we had run the exact time on the way out I told the sailor to belay rowing but we could not see MGB 502. It had turned misty and visibility was limited. I was wondering what to do next when we heard an engine start not far away. I said to my sailors, "let's get to that sound before it leaves for England". Very shortly after that we found MGB 502 and she then returned to Dartmouth undetected.
A man named Sir Brooks Richards DSC has written a book called Secret Flotillas in which he chose not to mention me even though I was the second longest serving C.O. He also wrote that the 1st Easement Operation on the night of January 28/29th 1944 was unsuccessful. Lieutenant Commander Peter Williams has written me a letter saying that he remembers me doing Easement 1 and that it was successful as the agent reached his destination.
When we visited Beg-an-Fry in 1992 as a group from the 15th MGB Flotilla I could not believe how close we could have been to the German pillbox and gun emplacements which are still there to this day. I feel sad that the two sailors that I had rowing for me on Easement 1, whose names I unfortunately can not remember, were both probably lost when MGB 502 was mined off Norway. John P Motherwell Member # 1014.
Oct 2010: Betty Hanson - can you please contact Peter Richards? He tells me: On discovering your website and letter from John Motherwell to Mrs Roberts referring to the MASB 36, I showed this to my Grandfather Norman Granger telegrapher on the MASB36, He has asked me if I could find any contact details for Betty Hanson as he would like to write and pass on a photograph of her father taken when my grandfather married. His email is prichards - at - gsmechanical.co.uk, replacing the -at- with @. I have mislaid your email address.
4th June 2012 - I received the following email from Jackie Honer: It is reference John Motherwell:
He might well have known my father,
Eric Honer RNVR
- as manyof the names he mentions are familiar as my father talked about them (only on very rare occasions and not much) he also spoke of David Birkin. Eric Honer also helped Brooks Richards in a very small way for his book Secret Flotillas, Clandestine Sea Lines to France … 1940-1944
Served in WWII 15th Flotilla - Newhaven, Dartmouth, visited Baker St. My family attended the unveiling of the plaque at Kingswear in 1991 with the French contingent.
Part of 15th Flotilla Coastal Forces
HMS Hannibal in Italy was part of RN Mediterranean Fleet
Further Info
10.08.1941 (06) 1943 HMS Attack (Coastal Forces base, Portland) (for small craft) <also based at Newhaven and Dartmouth>
07.1943 - 07.1943 Commanding Officer HM MGB 614 (motor gun boat)
07.1943 - (12).1943 Commanding Officer HM MTB 511 (motor torpedo boat)
12.1943 - (10.1944) HMS Hannibal (RN base, Taranto, Italy (additional; for miscellaneious duties <service at Bari>
22.01.1945 - (07.1945) Operations Division, Admiralty <HMS President> (for duty outside Admiralty)
I'd love to find out more ...


Crew of the MTB 607. The man with the pipe is Sub Lieut. John N Arkell (navigator on 607) who received severe facial wounds during October 1943 during action at Smith Knoll and served on MTB 607. He survived but lost an eye (died in Shaftesbury Feb 2010). Info: Andy Bradley
Chris & Margaret Cousens own their own Holiday Cottage's in Brittany and he kindly sent me these following images of Plage Bonaparte and area, all of which is mentioned above in the running of agents, guns, explosives etc to the Resistance heroes of Brittany and the rest of France. The banner on top of the page leads directly to Chris' site if you are interested, I know I am!
Plage Bonaparte on the left and Gwen Segal on the right
Shelburne monument to those small boat sailors who risked life and limb in these waters in WW2
The route Dartmouth - Plouha can clearly be seen. Another route was from Falmouth.