Spitfire Of The Seas
By Mike Kemble (and Ray Holden)

Letter from Churchill praising our Coastal Forces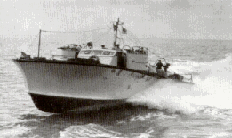 MGB60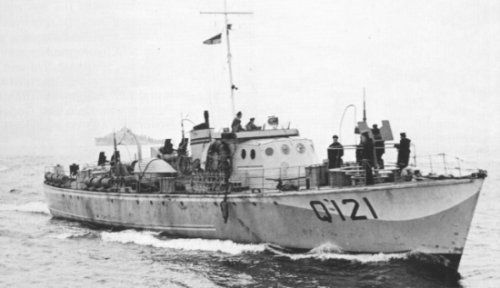 Part 1 - The Man - Norman Hine DSM - His Story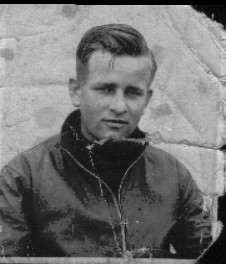 This was his false passport photo in case of capture
Norman Hine died at 1730hrs on Sunday August 10th 2003
From Ray Holden. I heard from Able Seaman Norman Hine who lives in the Ombersley area of Worcestershire . My brother Tom of HMS Kite had a school chum by that name in the days before the war and I wondered if this could be the same person. I went to see him and found that it was indeed that same person who I had not seen for sixty three years when my family moved away from the area at the outset of the war. He showed me his collection of photographs, a letter from King George VI and letters from the Admiralty. He told me the following story.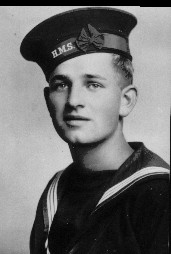 1942
A/B Norman Hine DSM. Royal Navy
I was nine years old when we moved to the Ombersley area from Crowle Worcestershire and one of my schoolmates was Tommy Holden who lived up the lane on Woodfield Farm. Tom lost his life when HMS Kite was sunk in 1944. I volunteered for the Royal Navy in 1942 when I was eighteen and my call-up came on 29th April which was Cynthia's birthday, she was the young girl who later became my wife.
I reported to HMS Duke which wasn't too far away from home, intending to join the Fleet Air Arm. Here I did my joining and kitting out routine, then started my trade course which was fine, top marks but try as I might I could not pass the educational test so they shipped me off to HMS Raleigh at Devonport to learn seamanship and gunnery and I felt more adapted to this. I volunteered for MTB's and eventually joined MGB 335 which I was told was berthed alongside at Yarmouth. I couldn't find her until I looked over the jetty and saw her lying at the bottom of the wall. She looked as big as a rowing boat and I wondered what I had let myself in for. On my first trip to sea we were engaged by German E Boats, they shot us up but the only damage was to a forty gallon drum of oil kept on deck which blew up and covered us all in lubricating oil. The following night we were ordered to sea again with a sister ship to intercept a German in-shore convoy but they didn't tell us that it had an escort of six E Boats. The German fire was very accurate and we were soon hit and the boat became a blazing inferno, luckily for us our sister ship came alongside and took off all the crew, but five were killed and eighteen of us were wounded. Back at Yarmouth we were ambulanced off to hospital where I was told that I had broken a leg and had a bullet and seventeen pieces of shrapnel in my buttock. Later we were transferred to a convalescent hospital on the front, German planes regularly machine gunned the waterfront and hospital. I was getting on fine until one day I went for a walk along the pier and the metal support on the base of my plaster got caught in the planks and I fell over, yes, I broke my bloody leg again. After a spell in different recovery hospitals I was sent to Southampton to stand by a boat which was being fitted out.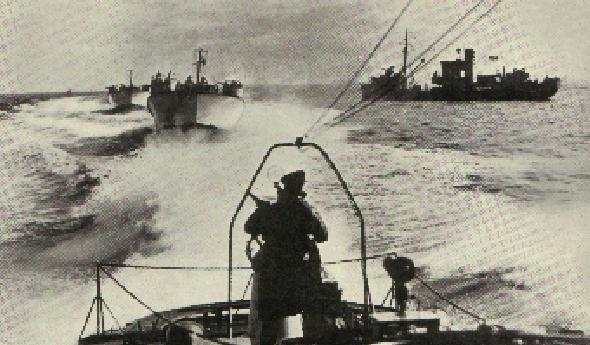 This was a Camber Nicholson boat and we took MGB 503 ( I had transferred from 503 to 502 (2002)) out on trials, then I was off to HMS Excellent the Gunnery School on Whale Island Portsmouth, this was where the elite gunners were trained. Then back to my boat which we took to Dartmouth and joined the 15th Flotilla, this was the start of my under-cover career. We did a lot of Dorey boat training, these were double ended boats used by the Marine Commandos, were issued with false passports and identity papers in case we should be stranded on the coast of France.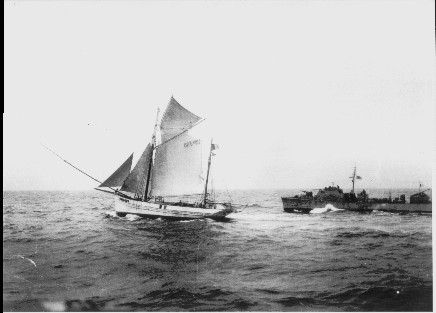 Tunny boat "Mutin" escorted by MGB503. Used for gun running to the French Resistance *See note below

Then we started our runs to France landing Agents and bringing back shot down airmen who had been taken care of by the French Resistance. Many of these airmen were American and Canadian, and the most we brought back in one trip was thirty nine. Beaches we landed on were Plouha, Bonaparte and Lezardrieux, our missions were code named ALIBI.
After the war the French inhabitants of Pleumeur-Bodon made me a freeman of their town, Cynthia and myself were treated like royalty. They took us to the cliff tops where we carried out our mission on the beaches below, I looked down on the rocks and could not believe that we had repeatedly paddled our boats between these rocks under the noses of the German gun crews. And our boat would have been anchored about one and a half miles out under the muzzles of their guns.

Some time later we were sent north to Aberdeen, Scotland for operations in the North Sea.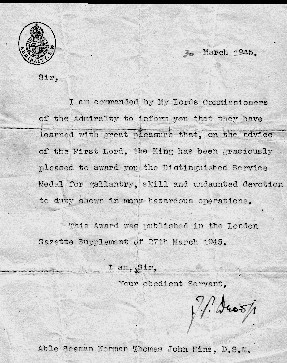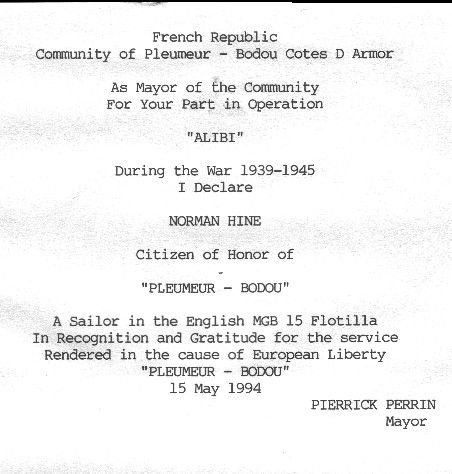 Citation for DSM and the Citation from the French
On 12th May 1945 (After the war ended!) we set sail for Sweden on a mission to take merchant seamen to form crews for British ships that had been impounded at the outset of the war. We came across lots of floating mines and we sank these with gun fire. At 0145 the following morning we struck a mine and the boat flew to bits, I found myself in the water and I could not swim so I struggled to a piece of the stern and climbed on to it. Tommy Sheehan was there and a stoker Bristow. Tommy pushed me back overboard and told me to get away from the stern which was sinking and I thrashed around until I found a piece of wreckage to cling to. Some time later I spotted a float net and on it were Tommy and Bristow so I splashed my way across to them, although this float net would keep us afloat it would not keep us dry. I always wore a one piece sailing suit filled with kapok and this is what kept me afloat and saved my life. Thirty men had disappeared and human remains floated on the water, we retrieved some paddles and looked among the Wreckage for survivors but we couldn't find any. It was soon daylight the nights are very short in the Skagerrak at this time of year.

In the stowage bin at the bottom of the net we found some cans of water with pull-rings on the top, it wasn't very palatable so we only took a sip each. It was a hot sunny day but the water was freezing cold. Bristow took to sipping sea water until he went berserk and started fighting and kicking and sank his teeth into my leg. We were undecided what to do about him but next morning we found that he had passed away in his sleep so I cut away the net and let him slide through. We drifted all day , spotted some of our planes who were obviously looking for us, we tried to signal them using the top of a water can and the sun but it didn't work, they eventually went away leaving us alone again.
That night the sea blew up and our water was washed away, I gave up the ghost and slipped into unconsciousness. But I awoke and for a while I couldn't make out were I was, I was in a small cabin and I could feel the gentle roll of the sea, where ever it was it wasn't the next world. A lady came into the cabin to say that they had found us and taken us from the water. We were on board a Norwegian Coaster and this lady who was nursing us was the Skipper's wife. They landed us at Kristiansand where there was a small hospital and they hid us in the basement as the country was still occupied by Germans. In tunnels beneath the hospital they surrounded us with electric light bulbs and the gentle glow thawed us out but it took two weeks.
Then the SAS came, they were great, they gave us cigarettes and other comforts and wrote letters for us to post home. We were soon to find out the extent of our injuries, we were both black from the waist down and the doctor told us that we would lose our toes, they would gradually drop off. This started to happen in the third week and gangrene set in with Tom , he was in such a state. Arrangements were made for us to fly home and we finally landed in Dishforth in Yorkshire.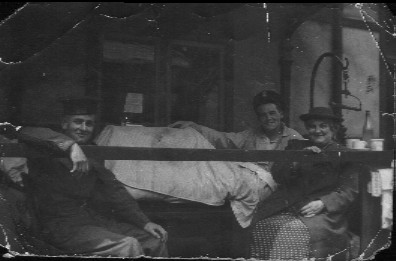 Norman in Hospital
Later we were moved to Derbyshire Royal Infirmary where they removed Toms feet and trimmed up my stumps. Tom was later sent to Stoke Manderville where he was fitted with artificial feet. I was moved around various hospitals for some months but found time to marry my childhood sweetheart Cynthia and we were blessed with a son. Eventually I was awarded forty percent disability and eighteen shillings a week and I am still a non swimmer. In 1945 I was awarded the DSM for my services, for gallantry, skill and undaunted devotion to duty, shown in many hazardous operations. The King sent me a letter congratulating me but explained that he was far too busy to give it to me himself.
Oct 2014: Another vessel that took part in the Ball Bearings Run was the motor yacht Aronia. She was registered in London in 1947. Stanhope Steamship Co. Steel 135ft. 17ft. Twin Screw Motor Yacht. Built in Marstal Denmark in 1929 for an American businessman who, due to the Wall St Crash, never took delivery of her.She was originally built as the Manchinoch.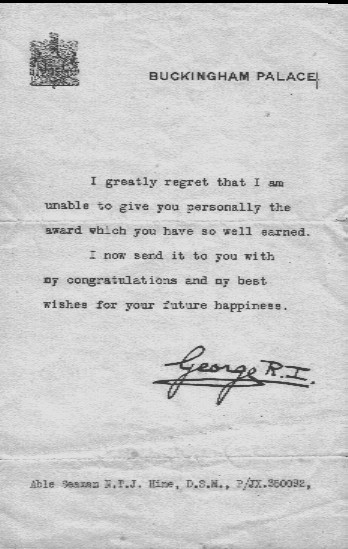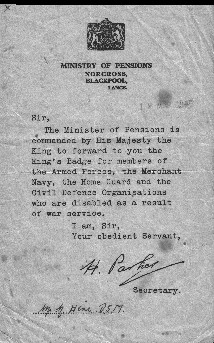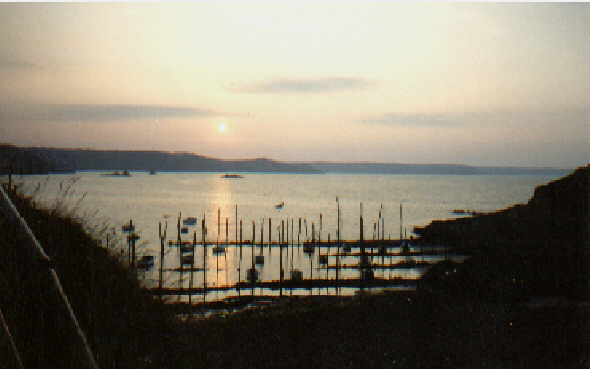 Gwen Segal near Plouha, taken by me in 1986
The following images were sent to me by Dominique Le Brun in March 2006. She is writing a book on smuggling and clandestine ops
in the Brittany region which will include the 502. The area below is where the 502 operated. Area is Began Fry
On the stele in image 2 is the following inscriptions:
French:
" En ce lieu et de nuit, pendant les premiers mois de 1944, débarquèrent avec l¹aide de résistants français, des missions alliées chargées de préparer l¹offensive de Libération. "
<![if !supportLineBreakNewLine]>
<![endif]>English:
"This plaque was unveiled on the 25th anniversary of the liberation to commemorate the part played in this area by the resistance movement and the Royal Navy MGB 502."
| | |
| --- | --- |
| I had been on my way to meet my maker, but for some reason God gave me back the rest of my life and I am truly grateful to him for the happy years I have spent with Cynthia. And although now I am much the worse for wear I still keep in touch with Tommy who keeps reminding me that I only had a manicure. | |
Norman with his Freeman of the City awarded by the French
A/B Norman Hine DSO. 11.1.2002
From Ray Holden.
Norman has just told me that before going to Aberdeen 502 and 503 were re-fitted. It was then that the crews swapped boats, don't know why. I believe that the crew of 503 were required urgently in Aberdeen so they took the first boat completed. He told me another story, A small 53 foot MTB 345 was operating in a Norwegian fiord when she was spotted by the Germans who cut off her escape route. She hid under camouflage for four days until found. She and her crew were captured by the Gestapo and after interrogation the crew was executed and their bodies tied to depth charges and dropped into the fiord south of Bergen,. Norman says that they knew that they could expect the same treatment if caught.
The boats crews on MGBs each had an escape kit which was kept for safety in the coxswains cabin, after use they were put back there. After bringing off 40 shot down airmen, many of them American and Canadian they discovered that French banknotes had disappeared from the escape kits. The culprits were arrested by their own MPs in a pub telling everyone about the undercover boat 503 and selling the banknotes which they had signed.

Part 2 - The Boats
The story of the Coastal Forces can best be told through the boats and the men who fought in them. There remain only a few of the Coastal Forces craft, Motor Torpedo Boats, Motor Gun Boats and Motor Launches, whose exploits in World War 2 so stirred the public imagination. Their actions ranged from the narrow seas of the Channel and the North Sea, to the Mediterranean and the Far East and they made a major contribution to the success of the Royal Navy in the war and to maritime history as a whole. The story of Coastal Forces is an inspiring and exciting tale. Their operations were as diverse as attacking enemy convoys and their E-boat escorts, to running agents to the enemy coasts and playing a major role in the Normandy landings and operations at St. Nazaire and Dieppe. The Naval actions at home and abroad produced many heroes and the men of Coastal Forces have one of the largest concentrations of bravery and distinguished service awards.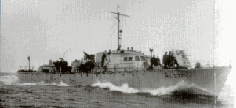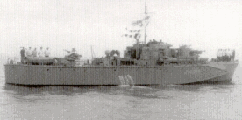 Fairmile "b" and the Fairmile "d"
During World War 2, from October 1943 to March 1944, the Gay Viking class of fast merchantmen ran the German blockade of the Skagerrak to bring vital ball bearings from Sweden to the UK. These converted Motor Gun Boats were powered by Paxman VEE RB engines. The following magazine article, published in the November 1979 issue of Marine Propulsion, tells the story.
The Blockade Runners - Fast diesel powered "coasters" ferried Britain's vital supplies during World War 2
During a five month period from October 1943 to March 1944, one of the most amazing operations of the Second World War was undertaken. This entailed the running from the UK of merchant high speed launches into Sweden to bring back ball bearings, vital to Great Britain's war effort and only available from the former country. The story had not been told until recently because of the 30-year rule on security matters and even now parts of it are still classified. Apart from the almost swashbuckling aspects of the voyages themselves, the story encompasses the development of an advanced high-speed marine diesel in the UK and a class of Motor Gun Boats (MGBs), one of which later became the world's first vessel with gas turbine machinery.
To go back to the beginning, just before the Second World War broke out, the Turkish Navy ordered eight Motor Gun Boats (MGBs) from Camper and Nicholson, of Gosport and Northam, in the UK. Larger than the contemporary Royal Navy units built by Vospers and the British Power Boat Co., these vessels were also unusual in being specified for diesel propulsion, namely with three of the 16 cylinder Paxman VRB design units rated at 1000 bhp at 1750 rev/min, the history of which is described below. The original particulars of the class are given in the accompanying table.
Before completion of the class, the Second World War had broken out and they were taken over by the Royal Navy. Three of the class (see table) were completed as intended with an armament of guns and torpedoes though the last had to be fitted with Packard petrol engines as not enough Paxman VRBs were available. The other five, before completion, were assigned to "Operation Bridport". Bridport arose because the UK was dependent on Swedish ball bearings, from SKF, and also needed other specialist equipment to keep production plants running. These were being flown out of Sweden in small quantities but the need was for far greater supplies. At this stage, Sir George Binney, a buccaneering character who had already brought out to the UK a number of Norwegian vessels interned in Sweden in 1940, suggested the use of fast motor boats.
After some deliberation by the Admiralty and Foreign Office, the five Camper and Nicholson boats were assigned to the operation and drastically altered. The hull, forward and aft of the engine room, was gutted to form holds (total deadweight 45 tons) and a new merchant-vessel-like bridge structure constructed aft of amidships. This contained accommodation, galley, radio room etc., and was surmounted by a small open wheelhouse. A lightweight mast and derrick was rigged forward and some protective armament installed.
For political reasons, the vessels were run under the red ensign with Ellerman Wilson officers and Hull trawlermen providing many of the crew - all operations were run out of the Humber. As converted, the boats' speeds came down to a 23 knot maximum, with a maximum cruise of 20 knots and a range of 1200 miles at 17 knots.

Operation Bridport
All five blockade runners were completed in 1943 - three conversions being done by Camper and Nicholson and two by Amos and Smith, of Hull - but the operations did not commence until September 1943 when adequate hours of darkness were available. The plan required the boats to sail late in the afternoon, arriving early morning two days later in Sweden having passed through the Skagerrak during the previous evening's hours of darkness. This was the most dangerous part of the voyage with German naval forces constantly patrolling the area from their bases in Norway and Denmark.
The loading port in Sweden was Lysekil and it was hoped to sail on the evening of arrival and be back in the Humber two days later in the morning. In practice such a schedule was rarely achieved for a variety of problems arose.
The first run was scheduled to commence on September 23rd 1943 but was postponed one month because of engine bearing problems, and commenced with all five vessels sailing on the evening of October 26th. Only GAY VIKING reached Sweden, the others turning back because of bad weather and mechanical problems. By October 31st, GAY VIKING had returned with 40 tons of cargo, the normal load.
During the next five months, eight further successful round trips were completed, bringing the total cargo carried over the period to 347.5 tons against the planned for 400 tons. Over the same period of time, flights by aircraft carried 88 tons to the UK. The operations were not completed without loss, MASTER STANDFAST being captured by German forces on November 2nd, without ever completing a round trip, while NONSUCH only managed one round trip due to breaking two crankshafts (centre engine on December 24th and port engine on February 2nd).
HOPEWELL completed two trips but broke its centre engine crankshaft on March 6th, while the two "Gay" boats carried out three voyages but both also suffered crank problems - GAY CORSAIR damaging its centre unit on March 8th and GAY VIKING its port unit on March 17th. Reasons behind this crankshaft problem are detailed separately but it proved to be a major trouble spot during "Operation Bridport". Nevertheless, against all adversity, the objectives were met and most of the required cargo shipped. The blockade runners proved overall to be successful with their low silhouette and relatively high speeds (certainly amongst the fastest merchant coasters ever built) and if Paxmans had had more time to test and develop their VRB engines, in excess of 400 tons could have been shipped.
Evolution of an engine family
Seven of the eight Camper and Nicholson gunboats were powered by Paxman high speed marine diesels. This engine was very advanced for its time and has a most unusual evolution, as we learnt recently when talking to A G Howe, Technical Director of Davey Paxman from 1936 to 1966.
The original concept was suggested to "Ted" Paxman by General A E Davidson of the Royal Arsenal, Woolwich. At that time, the late thirties, war was looming up and General Davidson proposed the development of a diesel engine of about 600 bhp which would be suitable for the propulsion of large tanks. Paxmans set to work and firstly adopted a vee-form despite
the dislike for this configuration by orthodox engineers (difficult to maintain etc.). The original design had the crankshaft supported in the bedplate, the conventional arrangement for the 1930s. This was soon changed to a then more un-conventional system with the bearings underslung to improve rigidity and reduce weight. The prototype, a 12-cylinder unit, was in practice installed in the Army and Navy Stores power station in London in 1938. This engine suffered a crankshaft failure some two years later (presaging one of the few problems with the design) and was replaced at the end of the war by a Paxman RPH which we understand is still operational today as a standby unit.
Despite not being used initially as a military unit, the Paxman design found favour with a number of users in roles such as mobile generators and pumping sets. Maintenance was found to be relatively easy - for example pistons could be withdrawn through the crankcase doors. The engine design itself was of a 60° vee with 7 in bore and 7¾ in stroke. Exhausts were on the outside of the engine, and a Ricardo Comet combustion system was incorporated. Normal aspiration was used and at 1500 rev/min, a bmep of 88.5 lb/in2 achieved, together with a peak pressure of about 1200 lb/in2. The maximum output rating of the design as finally evolved was 62.5 bhp/cylinder at 1650 rev/min, not a high figure by today's standards but a considerable advance on the performance of the time.

First marine application
The first marine application of this design, known as the VRB, was on an experimental motor torpedo boat (MTB) called the "TARRET". This vessel, designed by F Gordon Pratt, of Cox and King, was built for the Royal Navy by Swan Hunter and Wigham Richardsons, of Wallsend, in 1939 and was powered by two 16 VRBs, each rated at 1000 bhp. A 110 ft long vessel of all-welded steel construction, it displaced 115 tons and achieved 30 knots on trials but without armament. The hull form was a successful attempt at achieving rough weather ability - it was a semi-planing design with concave sections turning to convex at the outer chine, the latter also being carried far higher forward than was then normal. The VRBs installed were of an early type with uncooled exhaust manifolds which glowed red hot during full power trials making attention to the combustion side, in the vee, highly dangerous! Despite its success, the "TARRET" was then considered to be too slow (though nowadays 30 knots is an acceptable maximum for fast patrol boats), and lightweight diesels of suitable power-to-weight ratio could not be produced in time for general adoption in fast fighting small craft.


70 Foot MGB's
In the meantime, other applications were being developed. One concerned tanks, the original inspiration of the engine. This was the T.O.G. ("The Old Gang") series, so called because the design team comprised the same people who produced the earliest British tanks during the First World War. Six were built, each with a 600 bhp Paxman engine, but they did not prove a success. Equally unsuccessful was a plan to produce giant excavators for a proposed supply trench running forward from the Maginot Line. Each excavator was to have four engines and prototypes were built and tested, but the fall of France in 1940 led to cancellation of the plan. Nevertheless, Paxmans had received orders for 300 to 400 engines and these were later built and adapted to be fitted in tank landing craft. Some 5000 of this design were finally constructed, these being the so-called three-part engine (TP). This was a modification of the construction technique to ease mass production. The crankcase was separated from the two cylinder blocks to produce three separate structures for simpler boring. Components were mass produced at numerous factories around the UK and then supplied to Paxman's factory at Colchester. Here they were assembled in about 60 hours by a woman and a boy.
Before these developments had come to fruition however, the VRB had achieved another marine contract. Following the partial success of the "TARRET" experiment, and with British Admiralty blessing, the engine was selected to power the eight Camper and Nicholson MGBs ordered by Turkey in 1940 and based on the RN's MGB501 of 1939. In the event only seven boats were Paxman-powered, each with three 16VRBs. Because of lack of supplies, the eighth had triple Packard petrol engines.

Problems in service
The VRBs fitted in the gunboats, five of which operated as merchant blockade runners, were similar to those in "TARRET" other than they had water cooled exhaust manifolds, manufactured in cupro-nickel. There were water cooled silencers too which both considerably quietened the engines and eliminated smoky exhausts. Due to wartime pressures, the engines were given the minimum of testing (normal Admiralty specifications would have required a 2000 hour continuous test). Unfortunately this led to some detail design faults showing up in service rather than on the testbed. The initial problems concerned big end bearings with white metal being found in the lub oil but this was soon overcome. Also the tappets had wiper pads fitted, rather than rollers, and these wore badly on the cams themselves. Later they were redesigned to take rollers.
The major problem area concerned the crankshaft and in retrospect this is not surprising. At that time the majority of diesel engines of similar power output ran at speeds no higher than 750 rev/min, therefore 1650 rev/min represented a real advance into unknown territory. Four failures and one fracture occurred on the blockade runners over a three month period. The cause was torsional oscillation coupled with too small a section in way of the web and crank pin. The latter was hollow, concentrically to keep the torsional frequency as high as possible.
However, it weakened the section creating too high a stress concentration. The solution adopted was to offset the bored out section and increase the strength. Mr. A. G. Howe feels that the broken crankshafts were accentuated by the high constant speed running inherent in the blockade running operation. That the lessons were well learned is shown by the freedom from crankshaft problems in the descendants of the VRB. The family of high speed diesel engines stemming from the VRB led to the TP, described above and then to the RPH and the YH. This latter engine design formed the basis of knowledge and experience culminating in the current Ventura and Valenta range, thus completing evolution over 40 years and proving the soundness of the original VRB conception.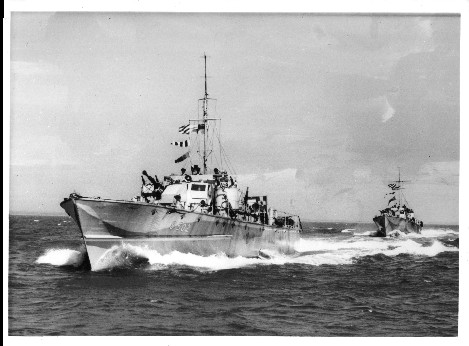 MGB 502 leads the line
CAMPER AND NICHOLSON MGBs 502 - 509
Length, o.a.

117 ft 0 in.

Beam

20 ft 3 in.

Draught, mean

4 ft 1 in.

Displacement

95 tons

Propulsion*

3 x Paxman VRB engines

Total output*

3000 bhp

Speed*

28 knots (max)

25 knots (continuous)

Complement

21

Endurance

2000 miles at 11 knots

*MGB 509 was powered by three Packard supercharged petrol engines giving a total output of 4050 bhp and speeds of 31 knots (max), 27 knots (continuous).
HISTORIES
| | |
| --- | --- |
| 502 | completed as MGB, became MGB 2002 in 1945, mined in Skagerrak 12/5/45. |
| 503 | completed as MGB, became MGB 2003 in 1945. |
| 504 | completed as HOPEWELL, became MGB 504 in 1944 and MGB 2004 in 1945. |
| 505 | completed as NONSUCH, became MGB 505 in 1944 and MGB 2005 in 1945. |
| 506 | completed as GAY VIKING, lost 5/2/45 returning from Sweden to UK, operation "Moonshine". Later raised and refitted. Known to have been in existence in 1970 as a pleasure craft in Bahamas as BAHAMAS VIKING. |
| 507 | completed as GAY CORSAIR, became MGB 507 in 1944, and MGB 2007 in 1945. Stranded and foundered off Aberdeen 24/5/45. |
| 508 | completed as MASTER STANDFAST, captured by German forces on 2/11/43 during "Operation Bridport". See Also Master Standfast |
| 509 | completed as MGB 509, became MGB 2009 in 1945. Converted to gas turbine propulsion (centre shaft) in 1947. |
Subsequent History
Operations were ceased when the nights became shorter, but a second project, "Operation Moonshine", was run between September 1944 and February 1945. This operation entailed transferring weapons and demolition material to Sweden for onward movement to the Danish resistance. The exercise proved disastrous with a total of 20 trips attempted up to January 1945 unsuccessful due to bad weather in the North Sea, fog in the Humber, etc. HOPEWELL, NONSUCH and GAY VIKING were used on this run and the latter, on February 5th, 1945, was in collision on the return trip with the HOPEWELL. She was abandoned and sank though later was refloated.
Latterly, the survivors were reconverted and armed, and commissioned as MGBs. Of the eight boats in the class, only four survived after the war, and one of these MGB 509, latterly MGB 2009, was converted in 1947 for gas turbine propulsion on the centre shaft, but that is another story.
Motor gun boats, MGB

No.12 (31t, 10/8/40) Mined, Milford Haven, 03/02/41

No.17 (30t, 19/12/40) Sunk, possibly mined, off Normandy, 11/06/44

No.18 (30t, 22/5/41) Sunk by surface craft gunfire off Terschelling, Holland,, 30/09/42

No.19 (30t, 28/7/41) Bombed and wrecked on slipway, 06/11/42

No.62 (28t, 31/12/40) Lost in collision, North Sea, 09/08/41

No.64 (28t, 11/2/41). Foundered on patrol in heavy weather between England and Ostend. Subsequently salved, 08/08/43

No.76 (33t, 14/5/42) Sunk by E-boat, North Sea, 06/10/42

No.78 (33t, 8/6/42) Surface craft gunfire off Holland, beached and abandoned. Date given as 2nd-3rd, 03/10/42

No.79 (37t, 24/7/42). Sunk in action with surface craft, Hook of Holland area, 28/02/43

No.90 (33t) Destroyed by fire, Portland Harbour, 06/07/41

No.92 (33t) Destroyed by fire, Portland Harbour, 06/07/41

No.98 Lost in air raid on coastal forces base HMS Hornet, 06/41

No.99 Constructive total loss, 04/45

No.109 (37t, 30/9/42). Mined and severely damaged on the 7th. Formally paid off, 25/02/43

No.110 (37t, 14/11/42). Sunk in action with surface craft in Dunkirk area, 43/05/29

No.313 (67t, 12/6/41) Sunk by mine or torpedo off Normandy, 16/08/44

No.314 (67t, 26/6/41) Damaged in action and sunk by own forces at St. Nazaire, 28/03/42

No.326 (67t, 18/8/41) Sunk by mine off Normandy, 28/06/44

No.328 (67t, 13/10/41) Lost during attack on enemy convoy, Dover Straits, 21/07/42

No.335 (67t, 3/10/41) Set on fire in action with surface craft, North Sea; seriously damaged. Date given as 10th-11th, 11/09/42 (See new info below - Sept 2006)

No.501 (19/5/42) Internal explosion off Lands End, Cornwall, 27/07/42

No.601 (85t, 9/3/42) Sunk by enemy action, Dover Straits, 24/07/42

No.641 (90t, 29/12/42). Sunk by shore battery gunfire from Italian mainland, Straits of Messina. Date given as 14th-15th, 15/07/43

No.644 (90t, 12/42). Mined between Marsala and Mazzara, Sicily. Sunk by own forces, 26/06/43

No.648 (90t, 1/43). Sunk by aircraft, Pantellaria, Central Mediteranean, 14/06/43

No.663 (90t, 8/3/43) Sunk by mine off Maestra Point, NE Adriatic, 10/10/44

No.2002 (93t, 5/7/43) Sunk by mine on passage Aberdeen to Gothenburg, Sweden, 12/05/45

No.2007 (93t, 28/8/43) Broke in two off Aberdeen, Scotland, after grounding (22nd), 24/05/45
From the book THE
SECRET NAVIES
The renumbered Gunboat was now ordered to proceed on a special mission. She was to embark Lt. Commander Reynolds RNR and two merchant navy masters together with a radio officer and take them to Gothenburg in Sweden. Reynolds was to arrange for the removal to Britain of three merchant ships which had been used as store ships in the British blockade running to Sweden. The commanding Officer Jan Mason had been awarded the DSC and was required to attend Buckingham Palace to receive his award, therefore Marshall volunteered to take temporary command. On the morning of 11th May MGB 2002 left Aberdeen for Gothenburg , being expected to reach her destination by 20.00 the next day. When no signal had been received from her on the evening of the 12th no one was unduly worried. But when nothing had been heard by mid-day of the 13th an aircraft search was ordered but no trace was found of her. These aircraft searches were eventually called off, MGB 2002 had vanished. Five days later the British Naval Officer in Charge at Kristiansand signalled the Admiralty to say that two survivors from MGB 2002 had been picked up by a Norwegian merchant ship from a raft. The survivors a PO/MM Sheehan and A/B Hine DSO had been adrift for four days and were in a critical condition in hospital. A few days earlier a Royal Navy contingent of two cruisers and four destroyers had sailed the same route, preceded by minesweepers to clear a passage through the Skaggerak. One of these mines set adrift had sunk the 2002. It was a sad end to a little ship which had survived so many narrow escapes from the Germans, but she is not forgotten. A memorial stone was unveiled at Beg-an-Fry to commemorate the Resistance Movement and MGB 2002 and the part she had played in this area.


This photograph of 502 was provided by Norman Hine
502 was built by Camper E.Nicholson in l942. She had a crew initially of 21 but was later re-armed and this may have led to an increase of say 4 or 6 crew. She was re-numbered 2002 and finally sunk by mine on l2 May 1945 at the entrance to the Skagerrak The C.O. was Lt.Cdr Peter Williams who was lost with all the crew except of course, A.B. Hine D.S.M. and P.O.M.M. Tom Sheenan D.S.M. (Leslie at ml108.co.uk)

See this link

for the operations concerning 502 and 503 operating out of Falmouth.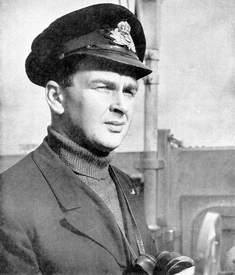 Lt Cdr Peter Scott MBE,DSC,RNVR
Footnote: Sir Peter Scott, famous naturalist, was a Commander of the S309 Gunboat during WW2.
July 15th 04: just obtained a first edition copy of Peter's book "The Battle of the Narrow Seas" published in 1945. He obviously had been writing it as he went about his duty.
"That when war comes to a country there is only one course for its people to take, and that is to fight as hard as they can until it is won.. . or lost. That it is necessary for the sacrifice, the unselfish and continuing effort and the heroism of deliberate courage to be recorded so that it cannot ever be forgotten. That the strain, discomfort and boredom which are the three predominant factors in modern warfare cannot be brought into their true perspective in a book of this kind, or it would be so long and dull that nobody would read it. That there is no glory to be had out of war that cannot be had out of some greater and more creative enterprise. That nothing will ever compensate us for the men we have lost, not even the way so many of them died. They were ready to die because they wanted to save their children and their children's children from future wars. The least and the most that any of us can do is to devote ourselves to finding a complete and lasting peace, and then to maintaining it with all our energy." Peter Scott.
August 23rd 2004. Although I am still in the process of reading Peter Scott's book the one thing that has struck me above all other incidents and stories in the book is the unbelievable casualty rate amongst the crews of these small boats! Practically every "sortie" by these boats resulted in casualties, even minor ones. Many boats limped back to harbour minus their Commander as the wheelhouse was frequently the main target for enemy guns. Skirmishes against E Boats were often conducted as VERY close quarters. The MGB would close to within only feet to a sometimes unsuspecting E boat then lash it with withering fire from oerlikon and .5 guns to be met with the same withering fire in return. Boats would be riddled with gunfire even during brief encounters. Many skirmishes took place right under French cliffs, alongside French beaches and harbours. Others on the coast of occupied Holland or sneaking into Fijords in Norway but always under the scrutiny of shore batteries which rarely failed to attempt some sort of contribution to the fray. Another aspect of these daring dash raids were the frequent accounts of the Germans causing more casualties amongst themselves brought on by the panic which ensued after an MGB or MTB had nipped in, caused mayhem and withdrew. One such eye witness report describes the withdrawing forces standing on deck watching a furious fight going on between E Boats and shore, other tell of E Boats against their own armed trawlers and, in some cases, escorts and convoy! The German was easily frightened obviously and killed their own side more so than the "enemy".
In a narrative, of which he was a part, Peter Scott describes the Raid on St Nazaire by forces which included the destroyer Campbelltown, laden with timed explosives, used to ram the dry dock gates. After the allied forces had withdrawn the Germans continued frenzied fire fights between their own sides, mistaking Todt workmen for Commando's and E boats for MGBs. Hundreds were killed AFTER the allies had withdrawn back across the channel.

Inside cover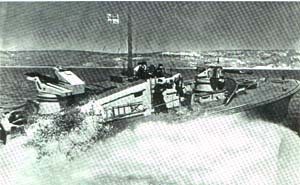 This image was sent to me by Tom Sangwin who informs me that Peter Wilkie, his uncle, served under Peter Scott
but we are unsure of his boat. I am also unsure of the identity of his CO??
My name is Tom Sangwin and I am researching my family history at the moment. My father before he died, told me that my uncle on my mothers side was on Motor Gun Boats during the war. In fact he said that my Uncle Peter Wilkie, was on Sir Peter Scotts boat, the number of which I do not know. As I was clearing out my fathers effects recently I came upon this photo (attached) which shows the crew seated on a MGB, the commander seated in front looks a little like Sir Peter Scott but I think he may be a little slim in the face, so I am not sure. It may be that my uncle was in Sir Peter Scotts flotilla and not actually on his boat, I am unsure.
My Uncle is marked with a cross above his head (not my work!). He did get a mention in dispatches and the right to wear the oak leaves, this was for supposedly helping to shoot up a German E-Boat. This was told to me many years ago but I have no reason to doubt it. My uncle died many years ago and I have since lost touch with his son's. As with most people of that time he was reluctant to talk about the war years when he was alive.
Apart from your excellent site I cannot find out the number of the boat Sir Peter Scott commanded or even confirm if my uncle was actually on his boat, are you able to provide any information at all? I am sure you get many requests for help and I am not expecting an instant reply, but if you have any information I would be very grateful.
Best regards to you, Tom Sangwin. You can contact Tom at this email address, substitute the -at- for @ to email him. marilyn.tom-at-waitrose.com

September 2006 - New Information
The Enemy
The following images were sent to me by Eric-Jan Bakker, a gentleman from the Netherlands and are of the action which sank the MGB 335. The photographer was the CO of one of the S Boots (E Boats) involved and show MGB 335 going down slowly in the action. The photographer, Heinz Nolte, mistakes the 335 for the 225 in his narrative on the last image, the composite of the individual ones below. Date is 10th or 11th September 1942. Copyright belongs to Eric-Jan Bakker.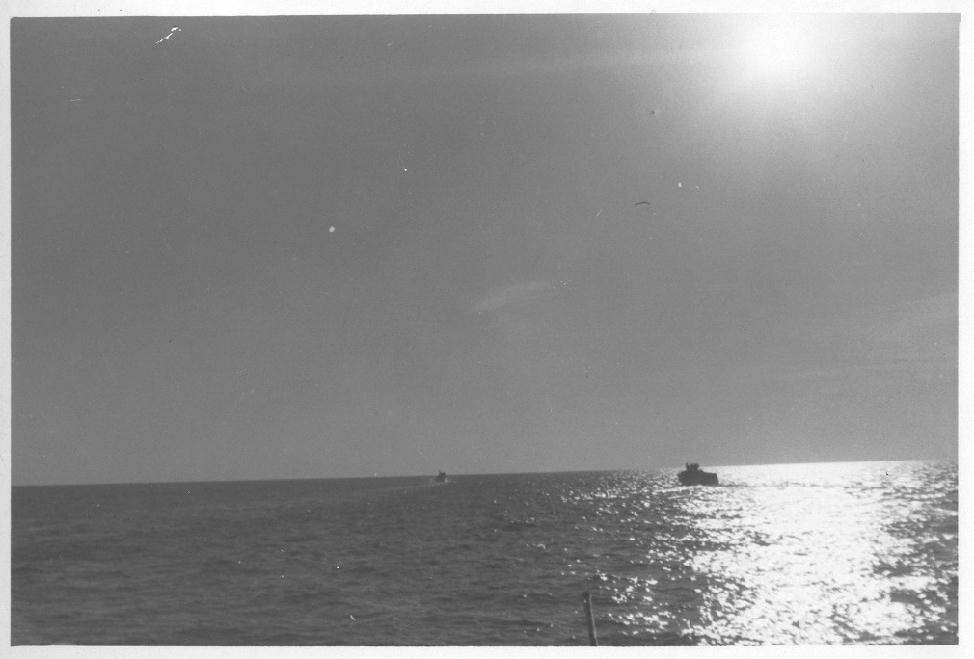 This, the first, is what I believe to be the E Boat flotilla setting out, but it could be as they neared the UK Coast (unsure on this)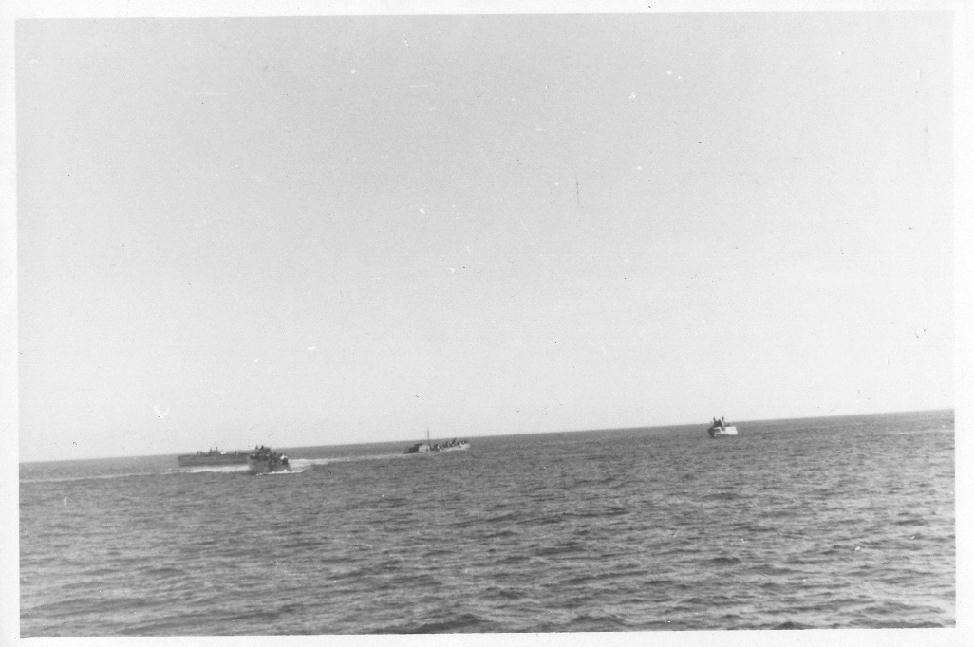 The action in which the MGB 335 sank. There appear to be two MGB's on this image, one is the 335
the return to harbour below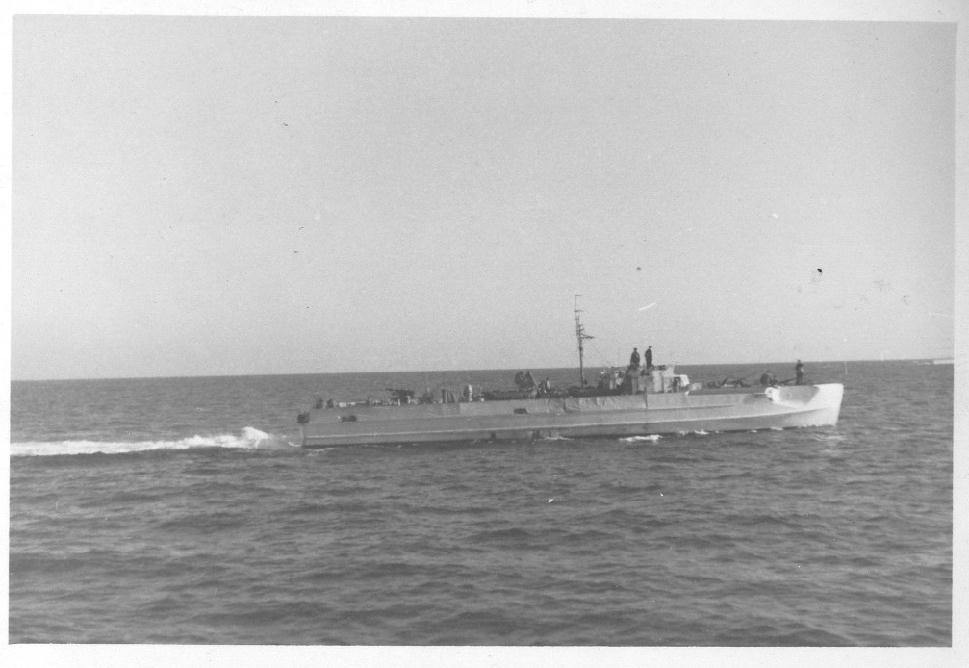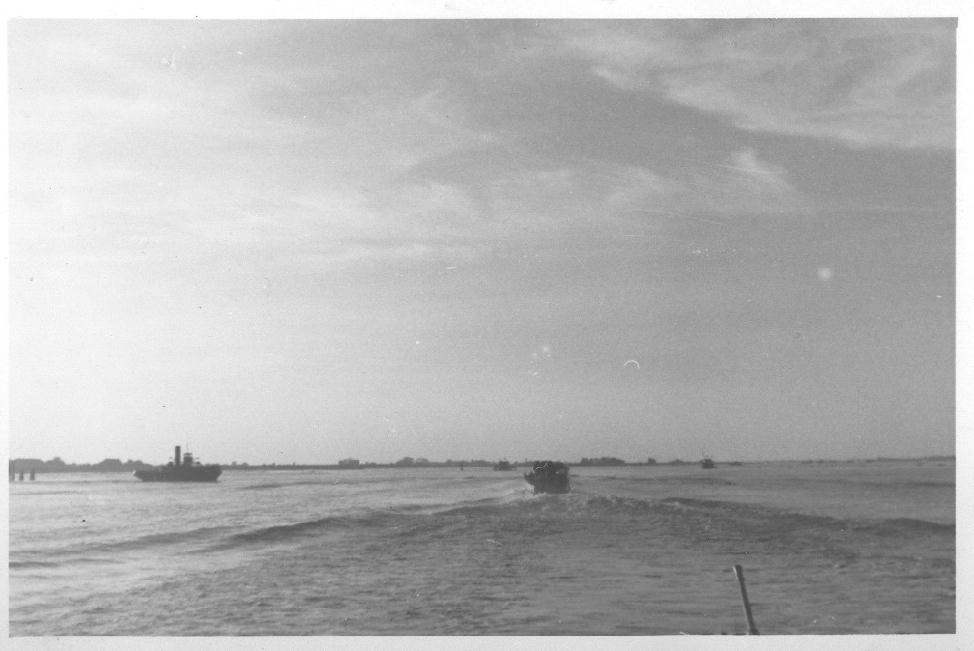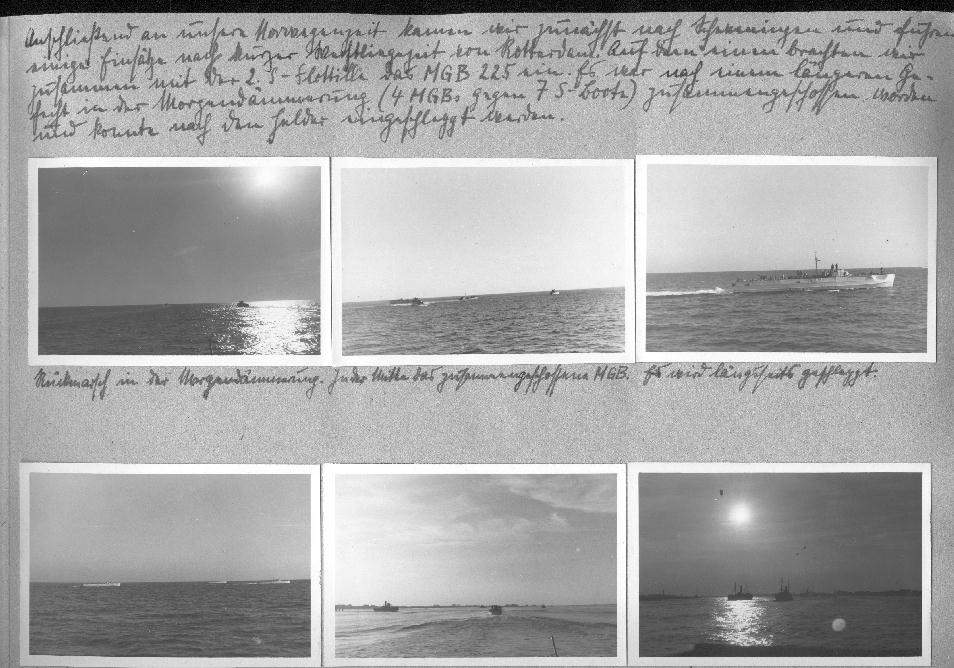 From what I can gather above he talks of the action being between 4 MGB's and 7 S Boots
April 2008: Ingmar Windmüller provided me with a translation:
Following our time we spent in Norway we came first to Scheveningen and - after a short time at a yard - departed Rotterdam for several missions. On one of these missions we took - together with the 2nd s-flotilla - MGB 225 as a prize. After a long engagement she was shot in pieces at dawn (4 MGB vs. 7 S-Boote) and taken in tow to Den Helder.


Peter Scott, in his book The Battle of the Narrow Seas describes the action on page 111 - 112 and states that there were 9 E boats:
PERFECT IN CONCEPTION AND EXECUTION

"Dickens scored his first great success on 10th September, 1942, which was a busy night for the Coastal Forces. At this time he and his flotilla were installed at Lowestoft and the tactics of combining MTBs and MGBs. in one force were to be further developed. This time the two MTBs, under the command of Dickens and Lt. J. P. Perkins, RNVR, were supported by three gunboats led by Lt. E. D. W. Leaf, DSC, RNVR. The attack on a small convoy off the Texel was perfect in conception and execution, and it was crowned with the success it deserved. A merchantman, and possibly one of its escorts as well, were quietly torpedoed while Leaf's gunboats "kept the party going."
Meanwhile several groups of E boats had been busy off the English coast and three 70 foot MGBs, led by Lt. J. B. R. Horn; DSC, RN, had intercepted one group as it retired. A long running fight followed as the MGBs pursued the E boats eastwards across the North Sea. With Home were Lt. P. A. K. Thompson, DSC, RCNVR, and Lt. J. S. Price, RNVR. For Home and Thompson it was a satisfactory reversal of the occasion when, after their victory in March, E boat reinforcements had found them short of ammunition and fuel and with an engine breakdown in Thompson's boat, so that the pursuit had been in the opposite direction. Lt. K M. Thorpe, RN, who had been waiting off the Dutch coast with a party of four "C" Class MGBs, followed the signals from Home with interest and plotted the reported positions of the enemy who would, he estimated, pass a few miles to the north. Like a cricketer in the deep field, he adjusted his position and waited for the ball to arrive. By now it was getting light, and action damage had slowed up Home's gunboats, so that the quarry had been lost. The point at which Thorpe was about to make contact was evidently a rendezvous for the E boats. Already two groups had joined, and when, in broad daylight, the "C" boats sighted the enemy the odds were already nine against four. Soon after the battle started MGB 335 (Lt. J. A. Forbes, RNVR), which had turned out of line in order to close the enemy, was hit in the engine room, stopped and set on fire. Two more "C" boats were hit, although the enemy also appeared to be suffering considerably. Evidently a further group of E boats had now joined in the action, as about twelve of them were formed in a semicircle round the disabled MGB. At bay, she was still firing back and the enemy remained four or live hundred yards away, but she was already a shambles and the casualties were mounting. it was at this stage that Thorpe decided to make a rescue bid. Under fire from twelve E boats at no more than 500 yards range in broad daylight, he laid his boat alongside and took off most of the survivors: and then as he drew away he fired at the waterline in an attempt to sink her. Unfortunately the attempt did not succeed. Although he had been alongside her for some seven minutes, two of the crew, below in the wireless office and cut off by the fire in the chart-house, had been unable to get across to Thorpe's boat. These two and the burnt-out remains of the MGB fell into the hands of the enemy. This unlucky conclusion, however; could not detract from the magnificent gallantry of Thorpe's rescue operation, for which he was awarded the DSO."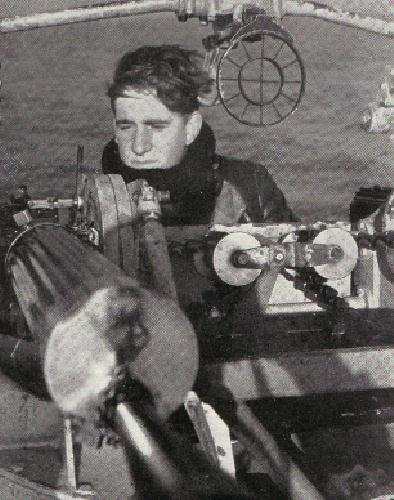 Gunner on board an MGB - a very exposed position. Oct 08: This is the father of Clive Baker. Like many personnel, he did not
talk much about his experiences in the war. Sad, because so much information is lost, forever. See below for some more images
sent to me by Clive, taken by his father, or a fellow crewman. If anyone can identify the boat, I would appreciate it, but she was one of the
Dover boats I am sure. Although the last three could possibly be Malta or Algiers, certainly The Med.
I am reasonably sure that this in actually a captured E boat. The gun is one which was equipped on such, an MG151/20, pictured below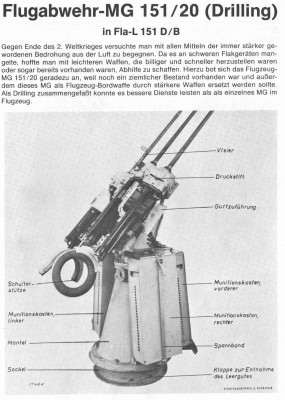 My thanks to AG Koopman from the Netherlands for the above information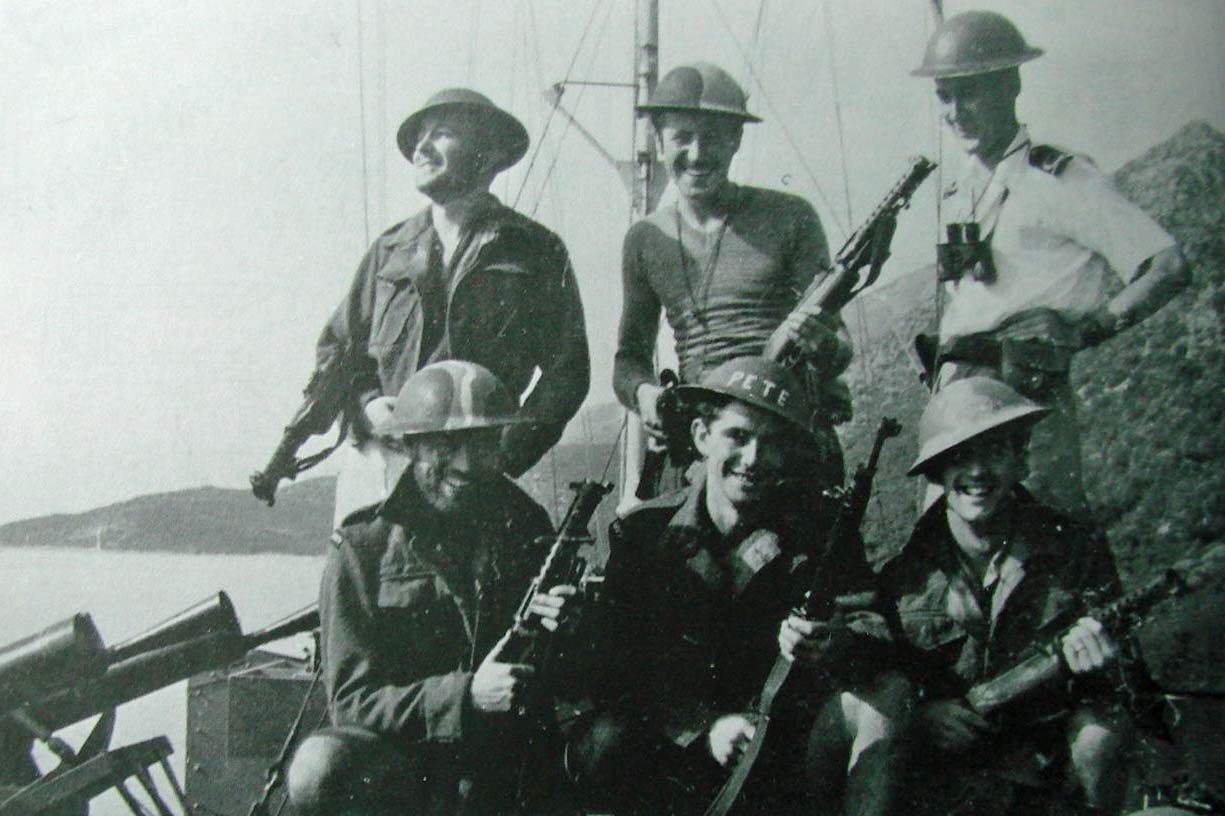 19th Flotilla MGB 643. Vahti Bay Turkey 1943. Boarding party soldiers are carrying Lanchester SMG's. The enemy called these boats 'Ants' - as they 'could never get rid of them!'.
L-R: Rear: AB Yorkie Warren, PO Coxn Benny Lynch, Capt of boat name unknown (Belgian),
L-R Front: AB Campbell, Mechanic Peter Reeves, John 'Sparks' Hargreaves


The gent in the images below was Ernest Conyard he was in MI5 during the war and, judging by the first photograph worked hand in hand with the lads on the MGBs probably operating out of Kingswear. Ernest is the second from the right. After the war he worked for MI6 out of the British Embassy in Brussels.

MGB Crew with Ernest Conyard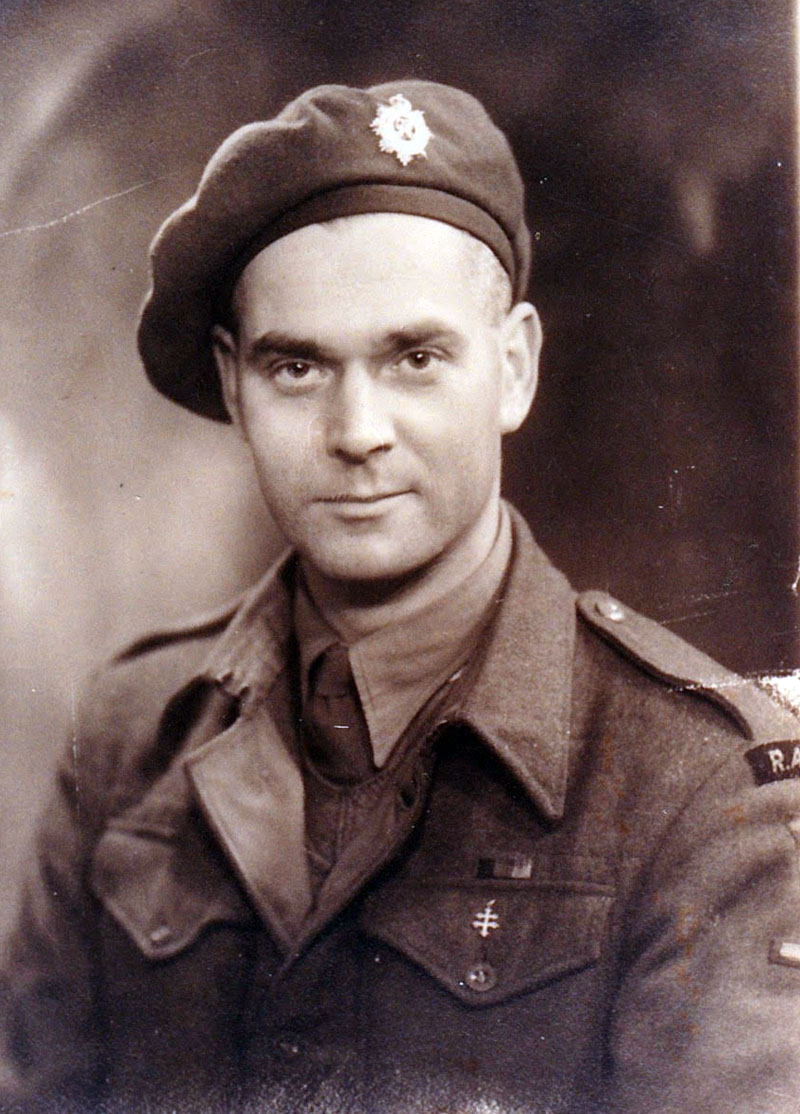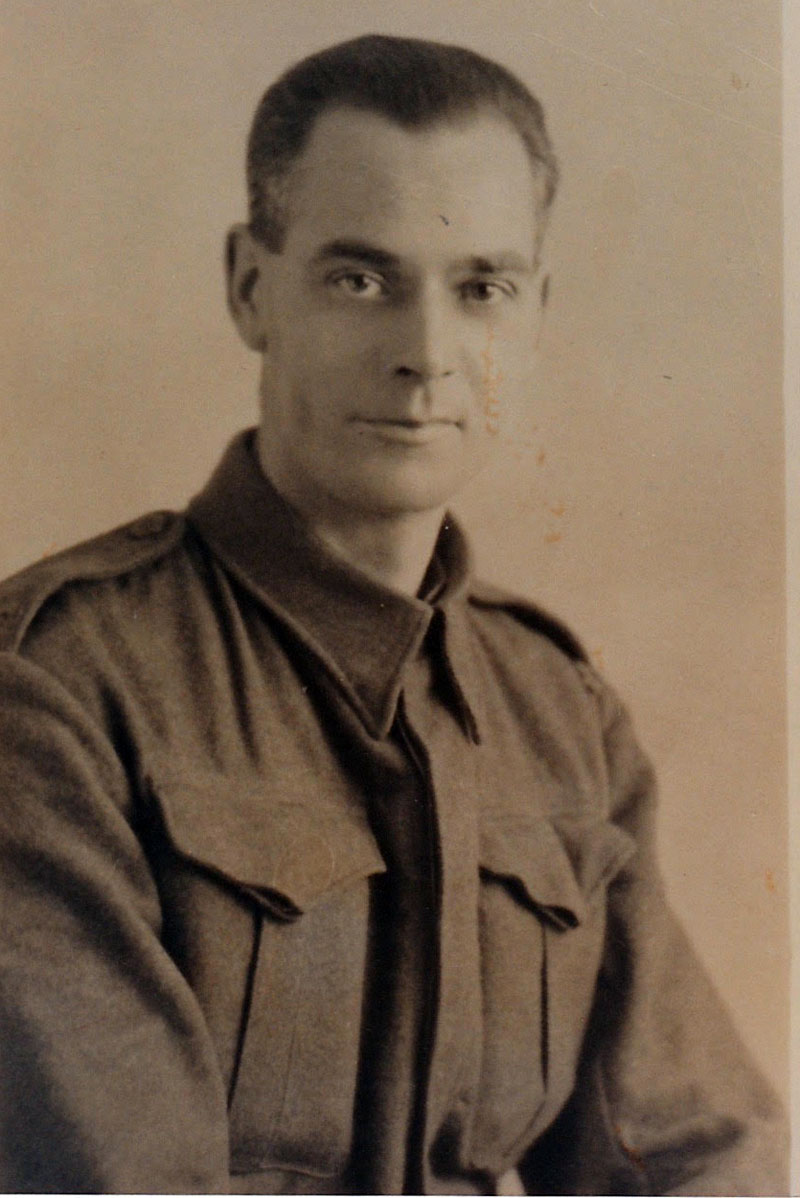 Thanks to his son Guy, for sending me these images
From Ray Holden in answer to a question about where the lads were based when ashore: Here is the info on the 15th Flotilla MGBs which was asked for. I have spoken to Norman and also Bill Webb DSM who was at one time Normans Coxswain on MGB 503. The flotilla first went to the Dart in 1941 and disbanded from there in 1945. Their HQ was at Kingwear, HMS Cicalca (hope that is the right spelling) the officer in overall command was stationed at the Naval College on the Dart. The crews rarely left their crafts, if they did it was to HMS Westward Ho, the depot ship. Bill informs me that there is a small museum at Dartmouth which hosts a fair amount of information about the flotilla including photographs. Hope this info is useful to your enquirer.
Feb 15 2003: A Message from Christopher Revell. My dear late father was in Coastal Forces throughout WWII, serving all of his time on MGB 324 up until and including D Day, mostly along the south coast, and most of the time from HMS Hornet, Gosport, and out of Dover. He was off Slapton Sands when the convoy involved in Exercise Tiger was intercepted by E boats. (This is cross referenced with Exercise Tiger: (See page 2) ) Dad remembers vividly the sky being lit up by the explosions in the distance, but because of security and no one exchanging info, his flotilla were not aware of what had occurred and therefore were not sent to investigate. They were sent to investigate as dawn started coming up and saw some terrible sights. They were told only to pick up those that were alive, but sadly they found no one, just loads of bodies floating in the sea. But they were instructed to pick up the jerry cans, of which there were thousands floating in the sea. On returning to port the army collected the jerry cans, and all the crews were told that if any of this leaked out they would be shot. What made it worse is that they were all unaware of what they had witnessed. Yes Mike, you were right re page 13 on Exercise Tiger. Our patrols were out there in place as a cover for this operation, but no one told them about it hence they did not cover it as they would have and hopefully have prevented the death of so many Americans. (And this is from the horses mouth, so to speak) I am quite sure that had they been nearby or giving covering escort they would have intercepted the E boats and the Germans would have backed off. The E boats having been instructed not to lose any boats as they could not replace them, and also they really did not like to tangle with their equivalent enemy, although their boats were faster and outgunned our MGB's and MTB's until the 'D' boats came along. I have further info if anyone interested and lots of books on coastal forces. Dad was also at Ostend when they heard the large explosion in the harbour and a number of gunboats were sunk with loss of life. Dad always believed that it was down to someone cleaning the boat using fuel, which was banned, but was an everyday practice as it was the only thing that got rid of the muck. Anyway somewhere there was a spark, and sadly the explosion occurred. Dad was also at Dieppe in MGB 324, he was also turned out from Dover with his flotilla to intercept the Scharnhorst and Gneisenau, but due to the bad weather had to turn back, although they did see the smoke stacks in the distance, and somewhere along the line the history books have chosen not to record this. Glad he did not make it, otherwise I don't think I would have been around. Dad was also involved in the attack on the Schwabenland where he lost his best friend, this is mentioned in Sir Peter Scott's book 1945 book 'Battle of the Narrow Seas'. After D Day dad was put on MTB 751, one of the large 'D' boats, he was an able seaman but classed as 'Guns' as he was in charge of them all. For information MGB 324 is now a houseboat at Shoreham, we have been all over her and can confirm this as the number is stamped all over the interior of the hull, but sadly the boat is now in some disrepair and I do not think will be long for this world. Sadly no 'D' boats still exist, certainly none to date have been located.
From Ray Holden Feb 16 2003. Saw Norman this morning, just back from a fortnight in a care home. He told me that MGB 324 was a "C" class boat and that they too heard the explosions and saw the flashes in the sky, the 15th Flotilla was just round the corner in Dartmouth. They were sent out at dawn to look for survivors, but survivors from what they didn't know. I asked him if he saw any jerry cans and he said he didn't, but these could have come from one of the landing craft and drifted off to be picked up by other boats, he said that there were quite a few out there. Sounds like a complete balls up doesn't it.
From: Patrick Holland, Perth, Western Australia. May 2003. I really enjoyed looking at your WW2 web site and read the article about MGBs with particular interest because my cousin, Able Seaman " Gus "HOLLAND served on MTB 494. On 6 / 7 April 1945, MTB 494, 493, 497 and HMS Cubitt were involved in an engagement in the North Sea with German E-Boats. Following the battle, awards were made to 17 officers and men. Unfortunately, my cousin died from his wounds on the 7th. April 1945. I wondered if you could please tell me where I can find out more about MTBs in WW2. I 'm particularly keen to find a photo of MTB 494 and could you please tell me where the details of the awards for that action would be kept.
From "Jackie" Feb 2004. There is also a plaque in the slipway at Kingswear by the red phone box across the river from Dartmouth to the crews of the MGB's.
From Kelvin Seaton Mar 04:My father Arthur Cookson served on an MGB in Africa, off the gold Coast I am told. Does anyone remember him? Kelvin Seaton Vivarini advertising Direct Dial 01564 732702
From Reg Moule Feb 05: Came across this site whilst trying to locate SS Crispin, troop ship First World War. I am a retired fire-fighter who served 28 years with Hereford & Worcester Fire Brigade 26 of which were at Kidderminster where Cynthia Hine was our "cook" Norman was a regular visitor to the Station both socially and as a good friend to many of "The old Timers" who I was recruited to replace. A more unassuming and modest person you could not wish to meet. I never was aware of his history, only that he used to joke about his feet but never told of the reasons. It was only when we met Cynthia in town one day that we learned of his failing health & when he passed away several members of the Stations Crew both past & present including myself attended his service at the tiny little hall near to his house, it was standing room only and it was here that I was told of this modest mans actions during the war. How I regret not getting to know about such peoples sacrifices for others. Cynthia has promised me a read of his book that he wrote, I will read it now after seeing this timely reminder. Keep up your good work, we owe these people much more than we can ever repay. regards, Reg Moule
From Brian Parker of Exmouth. Feb 2005: I have a French son in law and his Grandmother (still alive and fit) was involved with the resistance movement as part of this network. Allied airman were passed down the line from Paris to Plouha in Brittany where arrangements were made to have them collected by gunboats of 15th Flotilla. The airmen's last waiting place before going down to the beach (codenamed 'Bonaparte') was at Grandma's house known as Maison d'Alphonse. In July 1944 there was an incident at the house involving the First Lieutenant from the gunboat (the film director Guy Hamilton), the local resistance leader and german patrols. This resulted in maison d'Alphonse being destroyed by the Germans. When my daughter was married one of the guests was a Mr Milner ( I think from Warwickshire?) who was an officer on one of the MGB's whom grandma has kept in contact with ever since the war.
May 16th 2005: Received an email from Will Doran whose uncle, Anthony McNulty, died aged 19 on the 502. Will sent me the following two memorial images taken in Portsmouth.
November 25th 2005: Hi Mike, my name is Julian Barker. I have just spent the past hour reading your web site information. My father Tom Barker (chief petty officer) was in charge of the engine room on 503, he told me of the sinking of 503 and knew the two survivors well, my dad was on leave when the 503 was sunk, it left a deep impression and I think he felt he should have been with them. Tom Barker passed on in July, 2002 at the age of 88, a day or so before he passed on, I had walked into his darkened bedroom to see if he was asleep, he was awake and very lucid, he told me his mates had just paid him a visit, I like to think they will all meet again someday. He had emigrated to San Diego, California in 1967 and I still live here. I went on a visit back to England a month after my dads death as a way of mourning his loss, I visited Dartmouth and even got to meet one of his shipmates, Tommy Chapman and his wife, while I was at his house he phoned Billy Web and we spoke for a while about my dad, he remembered him well, I also spoke with Norman Hine, who my dad had told me about, unfortunately Norman was recovering from a stroke and was unable to hold a conversation, but I'm sure it made his day to know that my dad had never forgotten him. My dad and I were unaware that we could have made contact with his crewmates while he was still alive, he would have loved to have seen your website and of course would have loved to have spoken with Norman, Billy and Tommy Chapman. I was fortunate to have my dear dad for as long as I did, I have very fond memories of him and still have his DSM awarded by the King at Buck House on April 14th. 1943. Just a piece of trivia, Francoise Mitterand was one of the French resistance that were picked up by 503 and brought to safety at Dartmouth, I heard that from a contact while I was in Dartmouth, not from my dad.
To Dave who emailed me today, 29th November 2005. I tried to reply to your email with several results of a search but your email address is being refused. I cannot get my reply through.
From Tim McQuoid-Mason. January 2005. I have cold shivers running up my spine - I came across your web site by accident and can't believe I could be so close to communicating with people who might have known and fought beside my father, Jan Mason to some or John Mason to others or John McQuoid-Mason to us. He died in 1979 but his wife Myra is still alive and very alert at the ripe old age of 86. He was a very secretive man and obviously sworn to secrecy as he would never disclose to us what he actually did in the war and why he was awarded a DSC. If you are able to give me any information in this regard I would be greatly appreciative. I have read 'Secret Navies" and seem a photo of a painting when they ran away from the Germans whilst under attack - does anyone know where this painting might be ? Contact Tim directly on the following email address, replace AT with @ to send directly to him. tmcquoidATbigpond.net.au
From Jeff Westwood. January 31st 2006: My dad Tony (Albert) Westwood was a AB on MGB 79 and was a survivor after the boat was sunk of the Hook of Holland and being pulled from the sea by the Germans (quite lucky as it appears being able to swim was not a prerequisite to join the navy during the war) saving his life. He then spent the rest of the war in a prisoner of war camp until its end and finally after having to walk from Poland to the Czech republic and finally back home to England but with severe trauma. He never talks about the days in the navy as I think most of the memories have gone or blanked out. As he reaches his twilight years I would love to hear more about this remarkable man and the men who served with him. Dads skipper was Lieutenant David James who after escaping from his camp completed a book written by Lieutenant Commander Robert Hitchens "We Fought Them In Gunboats" which I have a very tattered copy which has a description of how many of the boats were lost until his death by a stray shell on April 13th 1943. (Battle of The Narrow Seas, page 129 refers).
From Jimmy Howie. August 11th 2006: He emailed me with the sad news that Norma's coxwain, Billy Webb, DSO; passed away on 11th August 2006 at Warrington General Hospital.
From Garry Rhodes. August 12th 2006: My uncle, John Daglish, served on MGBs and as a child, along with my brother I would listen to his many tales, sometimes I must admit ( particularly the older I got ) wondering whether such tales were completely true or not. (I come from a generation whose parents and immediate uncles etc had all fought in World War II. and any family gathering resulted in a great many wartime tales). On September 16th 1983 my Uncle John sadly died from a heart attack, aged 61, ( a calendar week from his brother Harold dying, also from a heart attack). In the weeks prior to my Uncle Johns death ( I'd be 26 years old ) he started to tell me more and more about his war time exploits, how I now wished I 'd listened more carefully, and I think it was around this time he showed me his copy of The Secret Navies, suddenly I realised his tales were very much true. (Not that I ever disbelieved them). Sadly his unexpected and sudden death happened before I found out much more.
I'd treasured as a child some photographs Uncle John had given me showing his MGB, I remember the wartime censor had been busy as Uncle John always explained the blacked out marks on the boats mast were the censors attempts to disguise sensitive equipment. From memory there were three largish photographs, all taken from the boat and very clearly showing some crew members. A much smaller poorer quality and somewhat battered photograph clearly showed an E Boat under tow, Uncle John used to explain it was one they had captured. How true this is I quess I'll probably never now find out. When Uncle John died he left his medal to my young cousin ( his third nephew ) and I subsequently gave all the photographs previously mentioned to my cousin. ( one day I'll ask to borrow them back and have photographic copies of them made )
In two weeks time I'm off to Normandy and Brittany, and through some recent research I'm realising this is where Uncle Johns MGB(s) operated. (he never ever mentioned any specifics or locations). Visiting the Flambards Village in Cornwall a few years ago, I learnt more of my Uncles exploits through an exhibition there at the time on the SOE, and MGB ' secret operations' (the 15th Flotilla). With tears welling up I realised his picture was there on show (the first time I'd seen such).
Through your interest ( fascinating website ) it might just be that someone is still out there who knows of my Uncle John either personally or indirectly. I guess the chances of anyone still being alive who served alongside him are remote but not impossible. (they'd be in their late 80's / 90's now). For your information my Uncles details are:
John Daglish, born 16th April 1922, resident during his naval service (home address) Sidmouth Street, Salford, Lancashire, then after the war in the 1950s moving to Coniston Avenue, Eastham Way Estate, Little Hulton, Worsley, Manchester, and from circa 1968 up to his death Ordsall Avenue, Little Hulton, Manchester. He joined the Royal Navy on 15th August 1941.
He had the rank of Ordinary Seaman up to August 1942 then Able Seaman. He received the Distinguished Service Medal on 19th April 1945, possibly at Buckingham Palace although he never talked about this, nor did he ever tell me (and boy did I ask a lot) why he'd got it. His service such as I have found out, included MGB 21 March 1943, MGB 17 March to July 1943, MGB 124 July 1943, MGB 17 again April to June 1943, MGB 502 July 1943 to March 1945, MGB 507 March 1945 to April 1945, MGB 2007 (renumbered 507) April to May 1945.
At some stage around May to July 1945 ? he suffered a terrible arm injury when a hawser ? cable wrapped around his arm and I think he went overboard. ( a colleague Seaman I believe lost his nose in this same accident ) From 19th July 1945 to 24th April 1948 he was in a variety of hospitals including a time in Switzerland, luckily his arm although deformed for the rest of his life was saved. I understand his records state he was " physically unfit for naval service " by 24th April 1948. Tales I can still remember ( how true they are well maybe others could confirm that ) include his boats kidnap of the relief Light house keeper during an operation around the Friesien Islands ? the women spies being sick on the boats Christmas turkeys and sailing into German occupied French ports with his boat displaying Kriegsmarine flags from the masts. He also talked about operations with ' Surf Boats ' and sailing on the ' German ' side amongst ' E ' boats on some operations whilst they and the E boats were under attack from his own side !
He regailed me with many other tales of what happened, but was always vague and thinking back now, he never ever hinted at what must have been terrible and very dangerous times, not just the wartime and hazardous operations but the hostile and probably frequent inclement sea and weather conditions he sailed in. (now I am much older I realise why he didn't tell me a young lad the true horror of war).
Along with my younger brother Andrew, we both looked upon Uncle John and his brother Harold, (who he lived with up to their deaths) as very close Uncles and also rather specially as (almost) 2nd and 3rd Dads alongside my own dad. (still here, ex RAF, Icelandic Service). My Uncle John had another brother Ronald, (my Uncle Ronnie) who died in January 2005.
The sole surviving family member is my mother Frances Rhodes ( Daglish ), my Uncle Johns sister. Any help or information you can offer on my Uncle John and his naval service (or more probably details on the MGBs he served on) would be very gratefully received, my home telephone number is (deleted). (I will return any call). I have his number if required.
I realise you must get lots of enquiries of this nature and I appreciate you may not be able to enter into personal correspondence. If you wish to put this email up on your website in full or in part I have no objection to you doing so. Thanks for your website and the wealth of information it carries. All best regards, Garry Rhodes. (also for my brother Andrew who found your excellent website).
July 31st 2011: Garry: For You: I am one of the admins for the Coastal Forces Veterans web site cfv.org.uk. We recently received a request from Mr John Cairns, a lecturer at HMS Sultan, who is trying to trace details of MGB 17 lost off Normandy on 11th / 12th June 1944, having come across the graves of two of its members in Bayeux War cemetery, whilst leading a recent Battlefields tour to Normandy. We have had some success from a variety of sources in obtaining some basic details of the boat along with certain members of her crew. Whilst searching the internet I came across a reference to a further member of crew not previously known to us, via a contact of yours, Garry Rhodes, who commented within your MGB page about his Uncle John Daglish, who served aboard MGB 17 at the time in question, and who mentioned the existence of some photographs originally belonging to his Uncle.
admin -at -cfv.org.uk - replace -at- with @ to contact Kevin directly.
As I have stated to others on many occasions, these heroic men are leaving us and taking their amazing stories of heroism and daring do's with them, never to be known. It's a sad loss to history that all this information is being lost, forever.
Can You Help? Steve Litt sent me this email in Jan 07: I have been on your web site I am trying to find out for my mother what happened to MTB 671,her late husband George Hill from Oxford served on it and it was lost in action 04/1944 I have been looking on other site and have found that they had be in action that day but did'nt come back it was thought sunk by E boats, my mother was never told what happened to him!! what a sad lose at 20!! What a brave man he was she also often talks about Peter Scott book she has lost it, is it still available? Don't let these brave men's operation go un-told we owe them our LIVES - Many thanks Steve Litt. I have told Steve where he may find the book but there is only a very small mention of the incident, 6 weeks after it happened. If you have any info for Steve please email him at steve.litt2-at-btopenworld.com replacing -at- with @.
And, in reply:
MTB 671
In Len Reynolds excellent book "Dog Boats at War" p 100 he describes how, in the middle of the night, 671 ,617 and 632 wait for 3 larger Mowe class destroyers to came to the ideal intercept position. Just as he was about to to order ' flag 4' (fire torpedoes) the 3 targets turned towards the Dog Boats and star shell burst overhead, followed by a barrage from all their forward guns.....Larry Toogoods 671 was hit first in the charthouse then in the engine room by large shells' he goes on to detail the sinking and blowing up and attempted rescue and the only 2 survivors. John Peake. Australia. John Peake's father served on the B Class Fairmiles in the Solomon's, hence his interest.
May 2010: Also on the subject of the 671:
Telegraphist FREDERICK THOMAS WHARTON

P/JX 405825, H.M.M.T.B. 671, Royal Navy
who died age 19 on 24 April 1944
Son of Samuel T. Wharton and Bertha A. Wharton, of Wycombe Marsh, High Wycombe.
Remembered with honour
HIGH WYCOMBE CEMETERY
posted on http://www.ww2talk.com/forum/war-cemeteries-war-memorial-research/25335-m-t-b-671-crew-research-can-you-help.html#post288507
John Peake also discovered the following information: The story of Norman Hine. MGB 502 and the other MGBs and the clandestine operations, is written on by Lloyd Bott CBE, DSC of the 15th MGB flotilla in Monograph #116 published by The Naval Historical Society of Australia entitled ' coastal forces and communications with France before 1944" a 12 page document. I have downloaded and printed this off and will be adding it, on a separate page, in the near future. There is also a letter from Maurice Buckmaster, the boss of the SOE, authenticating the text.
An Email received on 2 August 2007: With regard to Norman Hine and the above, I am the son in law of Tommy Sheehan the other survivor of MGB 5002. Unfortunately Tommy too passed away in October 2004 after a long debilitating illness. Both he and Norman kept in touch and visited each other regularly and I know that he felt Norman's death badly. With regards to Norman's story I would just like to add that Tommy actually lost both legs above the knees, and spent some considerable time in Roehampton, a place he visited on a regular basis for the rest of his life. However this did not hinder his life or his post war career as a manager of a firm of Riggers in the London Docks (he was born and bred and lived the early part of his life in Wapping, East London). Tommy is pictured in bed along side Norman in the picture of Norman in hospital in his story. I, through Tommy, had the pleasure and honour of knowing both Norman and Bill Webb, two of the most unassuming characters you would ever wish to meet. Regards Roy Russell.
From Jean Hayden Australia - January 15th 2008: My father was killed in the Skagarak May 12th 1945, while serving on board the Bacchante, which I see by reading on your site it must have been MGB 502? My mother was 2 months pregnant with me when news of the boat hitting a mine came through to her. Thankfully my father knew of me and actually named me, if a boy Malcolm, a girl Jean. My mother met him while she was serving in the W.R.A.F. and with her and her family coming from Plymouth in Devon, and my father John Hayden (known as Jack) from Manchester, and being war time very little contact was made with his family. I grew up knowing very little about my father or 'my other half' of family, so a year ago decided to use this marvellous means of computing, to see what I could find out.
Through Genes Reunited and searching my family tree I have now been in contact with cousins and a half brother to my father, who have sent me photos etc. The most recent mail I received from him was a letter he had found. It was sent to his parents (my fathers stepmother and father) from a Tommy Sheehan, after he was discharged from hospital, and probably a couple of years after the war. Apparently Tommy was a mate of my dads, and had written to tell of what had happened, I cried all the way through reading it, and thought if only I had this information earlier, perhaps I could have visited Tommy when I was on holidays over there in 1978 and again in 2002. I emigrated to Australia in 1966. I remember as a child going up on Plymouth Hoe for the opening of the war memorial there, and wearing my father medals. I never did see them again after that, as my mother told me that they had been stolen a few years later. Would you know if I could get replicas of them and if so where would I apply?
July 2008: Kenelm James wishes to contact Jeff Westwood. His message: My late father, Lt James, was also pulled from the sea by the Germans and taken to pow Camp, from where he subsequently escaped. I would love to get in touch with Jeff - do you have any way I could reach him. kenelm.james-at-trafficlink.co.uk - replace -at- with @.
Dec 2009: My uncle, Richard Faulkner (a downed B-17 crewman), was rescued by MGB 501 from Beg-An-Fry on April 16, 1944 with 2 male British SOE, 1 American airman (Ken Williams, a downed P-47 pilot) and 2 French woman (rescued from Castree prison by the British agents). During the return to England, 3 German E boats attacked 502, killing a gunner, Able Seaman William Alfred Sandalls. The commander asked my uncle to take control of the machine gun during the attack, which he did. Sgt Faulkner is 85 years old now and memory in full tact, better than mine! Come to find out 44 years after the war, Ken Williams had been living only 40 miles away from my uncle in central New York state. The two men had a reunion in 1988 and still keep in touch. Is there any more information of that night or the people involved that can add to his story? I am writing a book about his evader story and welcome any additional information. Thank you, Denise. you can contact Denise directly on skin01 - at- bellsouth.net - replacing the -at- with @ to complete the address.
October 2011. My name is Rod Andrews and my grandfather (Leading Stoker Alfred Andrews) served on and lost his life on the aforementioned Gun Boat. I remember my dad telling me about this and how it happened after the war, and never gave it much thought. Yesterday I 'googled' his name and serial number – found his memorial plaque (which has the title of the Gunboat he served on) – then found this site. Its been truly amazing reading about the exploits of the flotilla, and quite eerie looking at photos etc that probably contain a direct relative that I never knew. Thanks so much for putting this together, I cant wait to show my dad.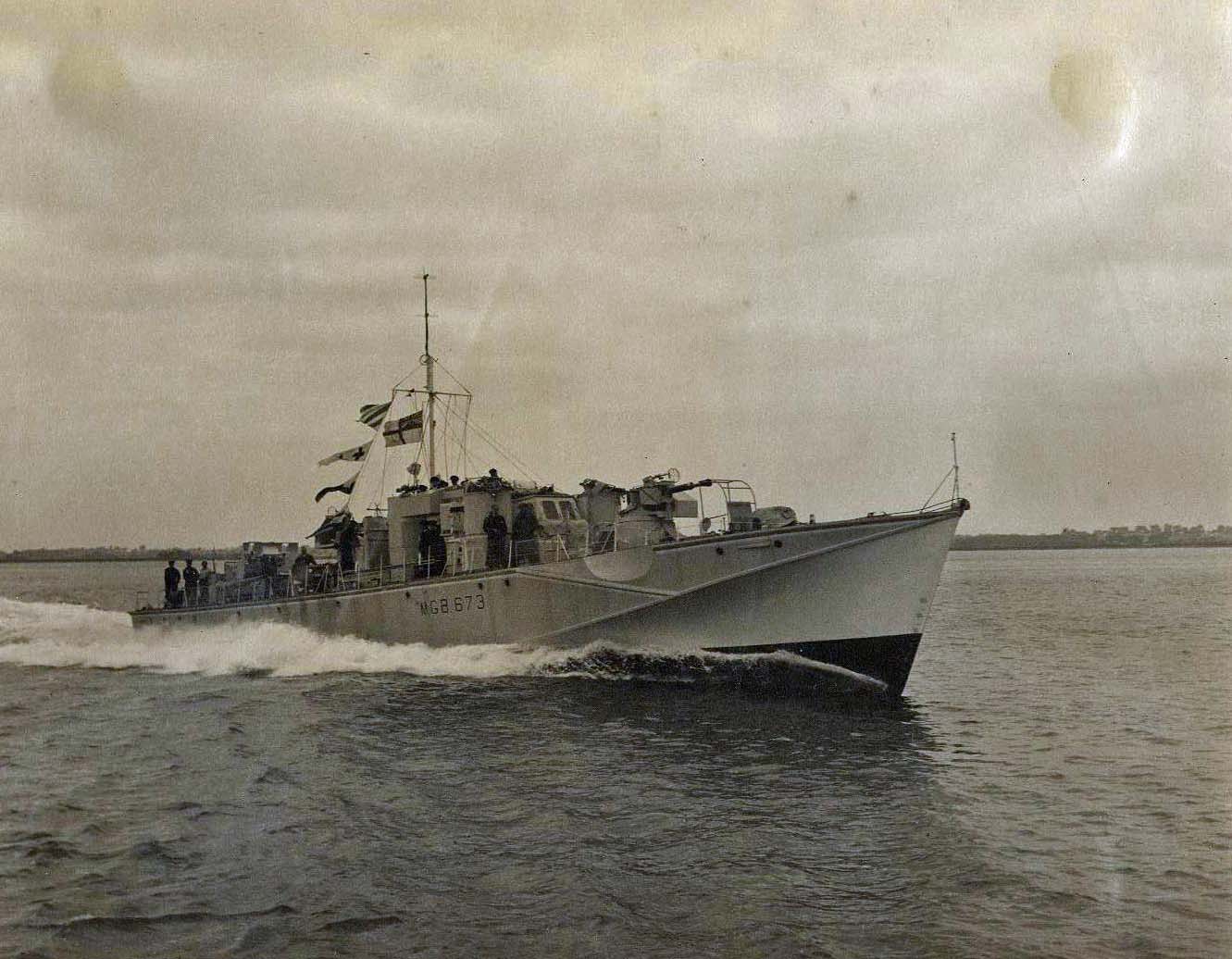 MGB673 (From an original owned and copyright - Alan Brooks)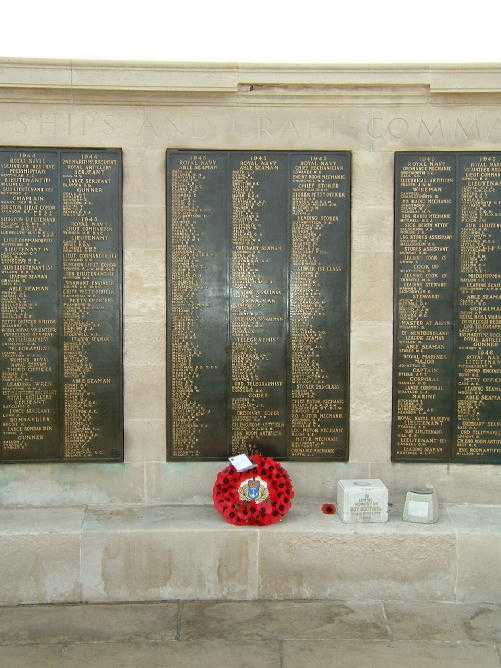 Three images from Gordon Thomas. Top Left Dartmouth Castle at the estuaries mouth followed by two images of Kingswear.

Although definitely NOT an MGB, I have included this photo of an MTB which was sent to me. You can clearly see the differences. Sorry: forgot who sent it! This is a retouched version provided by

John Nightingale

from the original which was in here. Dartmouth is to the rear.
On May 28th 2007 I visited Kingswear, see my page on Coastal Forces for the images I took and also the following page for the area as it is now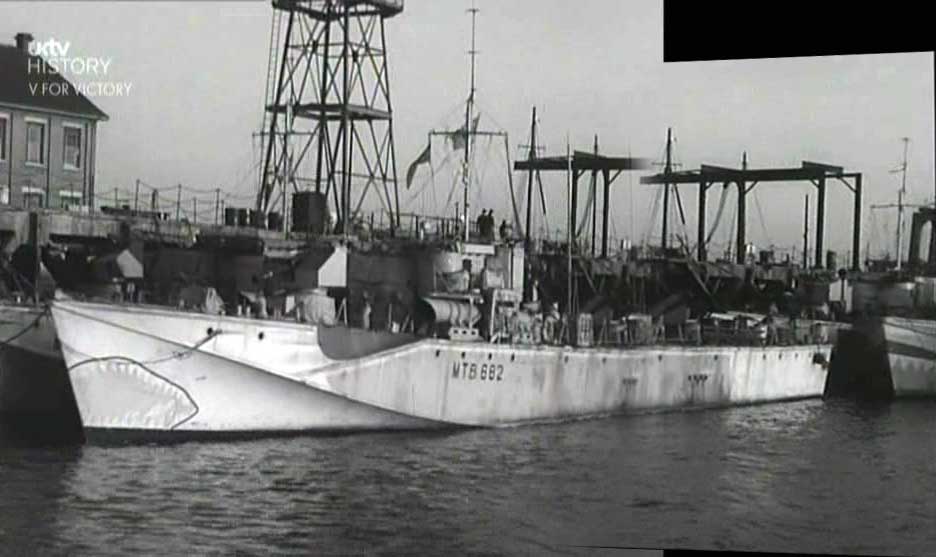 This image of the MTB 682 of the 55th Flotilla was sent to me by Trevor Shore and is now converted to a houseboat in Shoreham.
MTB 682 is mentioned in Sir Peters Scott's book on page 196 in D Day operations in the Channel.

The MGB P580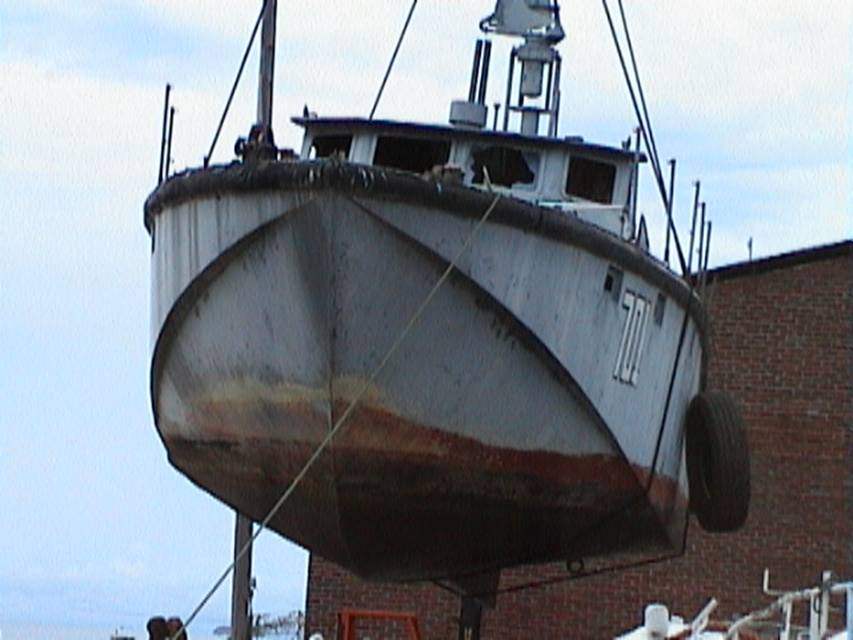 See also following paragraph - This boat was bought by Alan Pitman from the Malawi Defence Force who obtained it from the Portuguese Navy. He believes that this is the P580 and was built in the United Kingdom on a date as yet unknown, but possibly of WW2 vintage. If anybody has any info on this MGB, could you please contact Allan, copying it to me? Allan can be contacted on the following amended email address.Pitmanalan- at - ymail.com. Replace the -at- with @ for the proper address.
Displ 66 tons. Dim (ft) 58 x 13.1 x 3.3 gun 1-20 mm. engs 2 Cummins 500 bhp, 15 ks
March 2019 - Abraham Risseeuw tells me:
P580 has nothing to do with ww2. It was built for the Portuguese navy with the name Castor in 1964 and stationed on Lake Malawi. Transferred to Malawi in 1968 as John Chilembwe 701. I'll leave it there for posterity!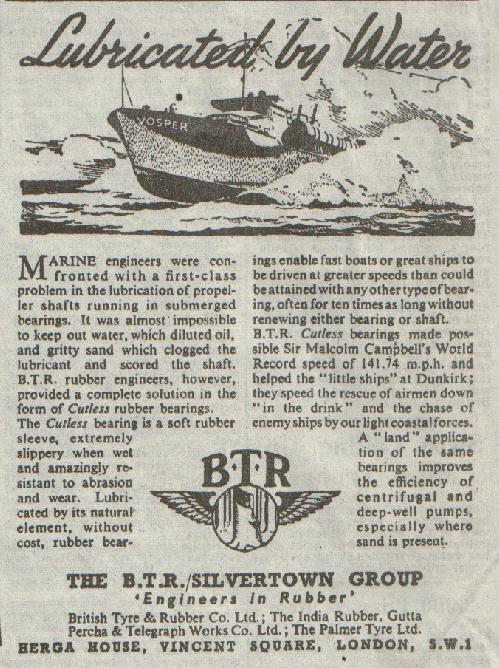 Observer June 12th 1944

See also Motor Launch 150
COASTAL FORCES OF WORLD WAR TWO
There were four types of coastal defence craft during the Second World War. These were: Motor Torpedo Boats (MTBs), Motor Gun Boats (MGBs), Motor Launches (MLs) and Harbour Defence Motor Launches (HDMLs), with the main ones being the MTBs and the MGBs.
In 1939, there were three flotillas of coastal craft, comprising of MTB "short boats" being between 60' – 71' 6" long. These were built mainly by south coast shipbuilders: British Power Boat Co (Hythe), Vosper (Portsmouth) and Thornycroft (Southampton). They were armed with 2 torpedo tubes for either 18" or 21" torpedoes. In 1940, it was thought that a similar craft could be built to complement the MTBs, and the MGBs were created. These were armed with a variety of weapons including 0.5" Browning machine gun, 2 pdr pom pom, and a single or twin 20mm Oerlikon and, ultimately, a 6pdr Hotchkiss.
It was also realised that a large craft would be useful as the operation of the short boats was limited by the prevailing weather conditions. Fairmile designed a series of coastal craft, Types A and B were MLs, Type C was an MGB and Type D was the MTB – nicknamed Dog Boat. It first appeared in 1943 and could be fitted up as either a gun or torpedo boat, being 115' long. It was, however, heavier than the short boats and averaged a speed of 30kts at full load as compared to the short boat's 40kts. Since the Fairmile D could be either gun or torpedo boat, the designation MGB disappeared and all the craft were MTBs. The last of the D craft built had 4 18" torpedo tubes plus guns.
Coastal craft operated mainly in Channel and North Sea waters, especially in the build up to the Normandy invasion of 1944. They were also used in the Mediterranean and Norwegian campaigns. They were used to disrupt German convoys, carry out clandestine raids and landings and also to pick up secret agents in Norway and Brittany.
The coastal craft were manned by various Allied nationalities including Dutch, Norwegian, Canadian, Australian and New Zealanders. The officers were drawn mainly from the RNVR – hostilities only service.
©Royal Naval Museum Library, 2001 http://www.royalnavalmuseum.org/info_sheets_CoastalForcesWW2.htm

The information contained in this fact sheet is correct as far as we are able to ascertain from our sources. It is not intended to be an exhaustive or complete history of the subject. Please ask the library for a bibliography of further reading materials, if available.
*Note on Tunny Boat "Mutin"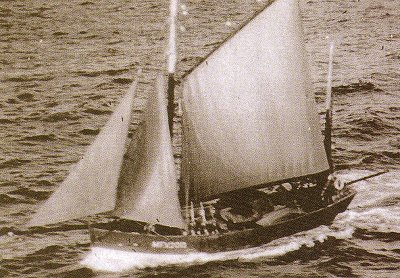 I find your website concerning the Motor Gun Boat, and I seen your picture with the tunny boat escorted by MGB 503, and concerning the tunny boat, it's the cutter "MUTIN" built in 1926 by FLORIMOND-GUIGNARDEAU shipyard in the Sables d'Olonne (same type of tunny) sailed since 1927. Appointed at the Pilot School of Saint Servan , near St Malo, until 1964 except the period 1939 to 1946 she was in England and she was use by the SOE. Actually the French Navy use the Cutter in LANVEOC, near Brest for the formation of French Officer. Lecul Mathieu. September 20th 2008.
Gross Tonnage: 57 metric Tons
Length Overall: 33 metres
Breadth: 6.35 metres
Draught: 3.40 metres
312 m² of sails
11 Crew & 15 passengers maximum
Captains during WW2 Helford River SOE:
Jean Piron
Richard Larning
Tom Long
Richard Brooks
Fred Sherrington
Bill Turner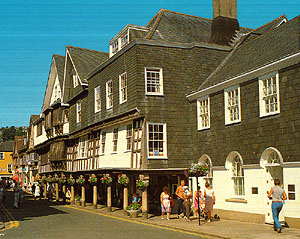 Dartmouth Museum - Click the Image to Visit Their Web Site
Lost Medals: MOD Medals Office Bldg 250 RAF Innsworth Gloucester GL3 1HW