In World War 2 German listening posts were quite adept at cross bearings and finding locations based on the interception of radio signals. During the occupation of Holland, agents were quickly captured due to this expertise. In 1944 German listening posts along the Atlantic Wall, France, picked up prolific signals emanating from American Forces in the South West of England. They were listening in on Exercise Tiger. Using Slapton Sands, the American Forces were about to practice for the D Day Landings at Utah Beach. Slapton Sands resembled Utah Beach in many ways including the cliffs which lay behind the 1800 year old shingle barrier and beach.
In 1943, 3000 local people and their animals and all their belongings had been evacuated from the Slapton and Torcross area for almost a year whilst the beach was used for practice landings. One old man committed suicide rather than leave his home. Live ammunition was being used and a local hotel was destroyed in the landings.
Operation Tiger involved 30,000 soldiers, including troops from the Infantry Division, 279th Combat Engineers and 70th Tank Battalion, US Army. Landing craft were used to deploy the soldiers, and their equipment, onto the beaches, were they were supposed to beat the enemy. A convoy of ships set sail from local ports, including Dartmouth and Plymouth. Escorts were provided by the Royal Navy. HMS Scimitar, a destroyer, was to take the lead and a corvette, HMS Azalea, bring up the rear. The first signs of anything going wrong was that HMS Scimitar was rammed and holed by another vessel and was ordered to remain in port. Nobody thought to inform the Commander of the operation of this fact. The convoy started without an escort and the corvette, HMS Azalea, had no radio contact with the Landing Craft - it was not deemed necessary! A typing error in the frequencies has come to light as a probable cause - the ships did not have the same information!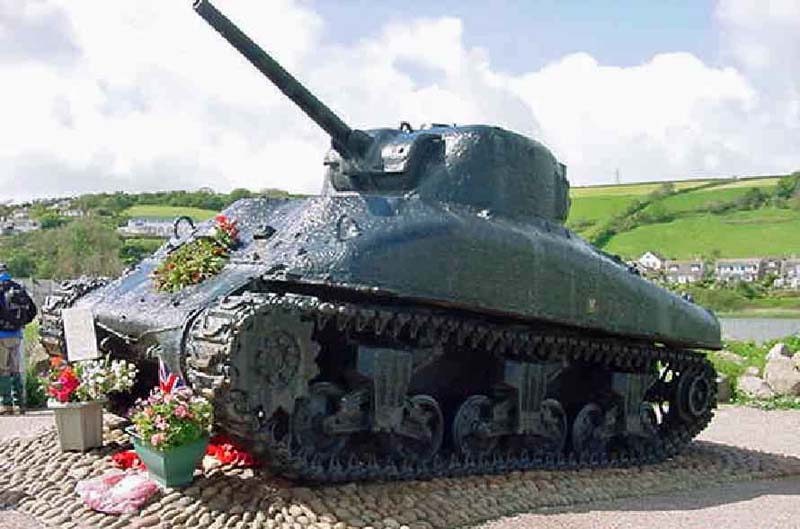 apparently this Sherman was not part of Ex Tiger but an earlier exercise
On this page there are several "versions" of what happened. However, I must trust to the dedicated research carried out so painstakingly by Ken Small, and think that his book is probably the nearest to the truth as we are ever likely to hear. There are many eye witness reports in his book which I trust a damn sight more than so called "official" history. Over the next few weeks I shall be adding some more images and some extracts from Ken's book so keep coming back to check updates please. I also have now attached (Aug 2008) an email from a journalist who is quite strong in his views on this. It is on page 2 and was received by me in December 2006.
As the convoy sailed into Start Bay, westernmost corner of Lyme Bay, German E Boats found them and opened fire on a defenceless convoy, killing 749 soldiers. This was the evening of 27 April 1944. German Intelligence had listened to the American radio traffic and dispatched 9 E Boats from their home port, Cherbourg, creating this large scale disaster. Landing Craft 507 and 531 were sunk, 289 was badly damaged. The losses were 4 times more than lost on D Day itself at Utah. General Eisenhower ordered all bodies recovered, especially 10 officer personnel who had on their possession actual maps of the Utah Beach. All bodies were recovered, with the whole sorry episode hushed up the mission was still secure.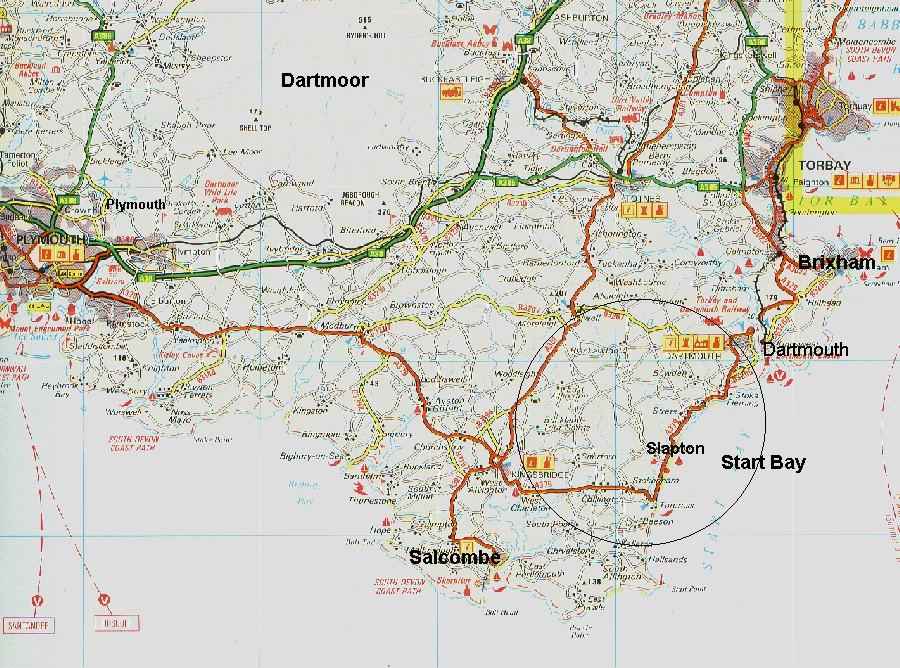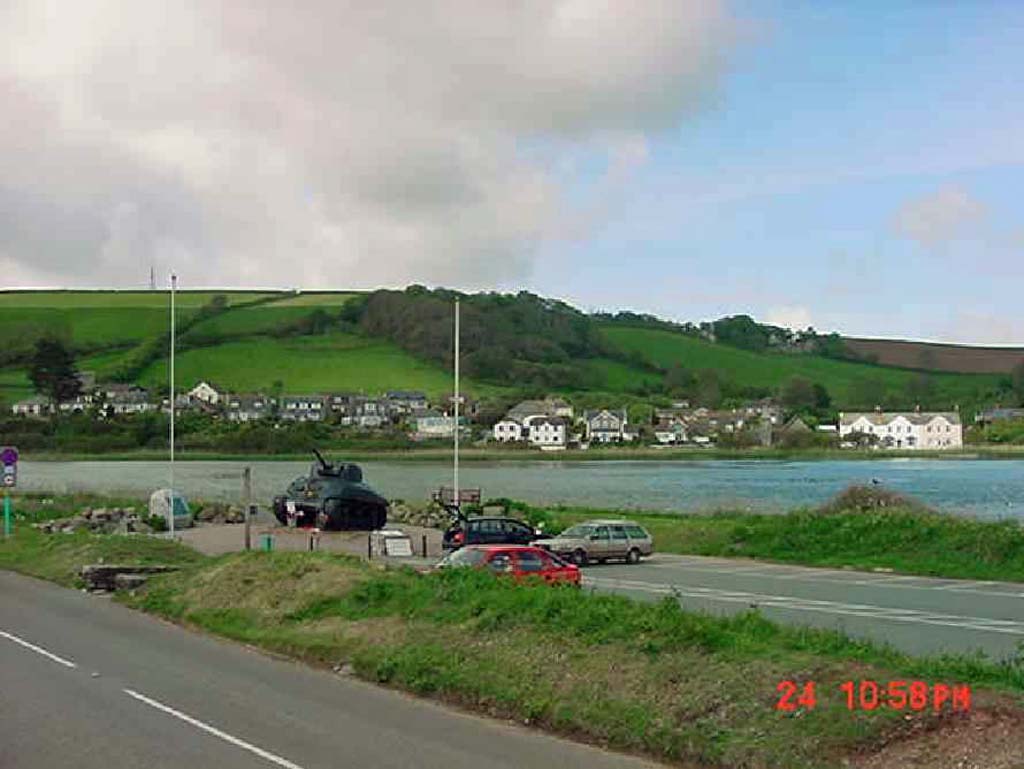 Slapton Sands in 2001, at Torcross end. The car with the boot up is Ken Smalls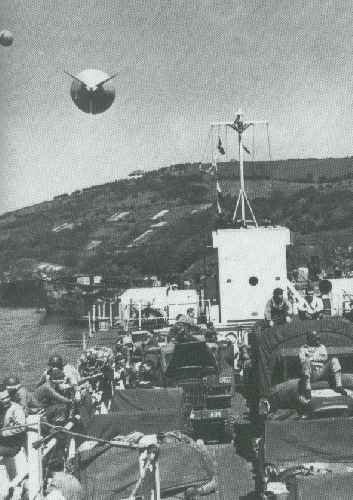 American Servicemen relaxing aboard an LST with the rolling Devon Countryside behind them. Ken presumes this was
taken BEFORE the disaster. (Image by permission of Ken Small)
WHAT HAPPENED?
It was two hours after midnight on 28 April, 1944. Since the moon had just gone down, visibility was fair. The sea was calm. A few hours earlier, in daylight, assault forces of the U S 4th Infantry Division had gone ashore on Slapton Sands, a stretch of beach along the south coast of England that closely resembled a beach on the French coast of Normandy, code-named Utah, where a few weeks later U.S. troops were to storm ashore as part of history's largest and most portentous amphibious assault: D-Day. The assault at Slapton Sands was known as Exercise Tiger, one of several rehearsals conducted in preparation for the momentous invasion to come. So vital was the exercise of accustoming the troops to the combat conditions they were soon to face that commanders had ordered use of live naval and artillery fire, which could be employed because British civilians had long ago been relocated from the region around Slapton Sands. Individual soldiers also had live ammunition for their rifles and machine guns.

In those early hours of 28 April off the south coast in Start Bay, Lyme Bay, a flotilla of eight LSTs (landing ship, tank) was ploughing toward Slapton Sands, transporting a follow-up force of engineers and chemical and quartermaster troops not scheduled for assault but to be unloaded in orderly fashion along with trucks, amphibious trucks, jeeps and heavy engineering equipment. Out of the darkness, nine swift German torpedo boats suddenly appeared. On routine patrol out of the French port of Cherbourg, the commanders had learned of heavy radio traffic in Lyme Bay. Ordered to investigate, they were amazed to see what they took to be a flotilla of eight destroyers. They hastened to attack.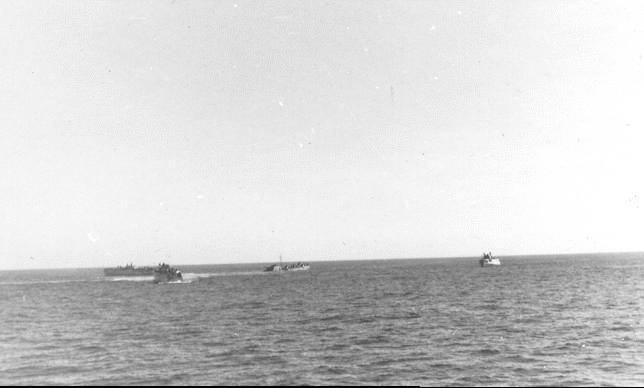 German torpedoes hit three of the LSTs. One lost its stern but eventually limped into port. Another burst into flames, the fire fed by gasoline in the vehicles aboard. A third keeled over and sank within six minutes. There was little time for launching lifeboats. Trapped below decks, hundreds of soldiers and sailors went down with the ships. Others leapt into the sea, but many soon drowned, weighted down by water-logged overcoats and in some cases pitched forward into the water because they were wearing life belts around their waists rather than under their armpits. Others succumbed to hypothermia in the cold water. When the waters of the English Channel at last ceased to wash bloated bodies ashore, the toll of the dead and missing stood at 198 sailors and 551 soldiers, a total of 749, the most costly training incident involving U.S. forces during World War II. Whilst all this was unfolding, MGB's of our Coastal Services could see flashes from the battle, whilst on patrol, but were not ordered to intercept the E boats or investigate and knew nothing of the tragedy taking place nearby. MGB's. Norman Hine's story - click the link.
Allied commanders were not only concerned about the loss of life and two LSTs -- which left not a single LST as a reserve for D-Day -- but also about the possibility that the Germans had taken prisoners who might be forced to reveal secrets about the upcoming invasion. Ten officers aboard the LSTs had been closely involved in the invasion planning and knew the assigned beaches in France; there was no rest until those 10 could be accounted for: all of them drowned. A subsequent official investigation revealed two factors that may have contributed to the tragedy -- a lack of escort vessels and an error in radio frequencies. Although there were a number of British picket ships stationed off the south coast, including some facing Cherbourg, only two vessels were assigned to accompany the convoy -- a corvette and a World War I era destroyer. Damaged in a collision, the destroyer put into port, and a replacement vessel came to the scene too late. Because of a typographical error in orders, the U.S. LSTs were on a radio frequency different from the corvette and the British naval headquarters ashore. When one of the picket ships spotted German torpedo boats soon after midnight, a report quickly reached the British corvette but not the LSTs. Assuming the U.S. vessels had received the same report, the commander of the corvette made no effort to raise them. Whether an absence of either or both of those factors would have had any effect on the tragic events that followed would be impossible to say, but probably not. The tragedy off Slapton Sands was simply one of those cruel happenstances of war. I received an email in October 2008 from Lois Behrens Orjuela who tells me that (her) father died here and that his body was never recovered. Lt. Cmdr. John W. Behrens was on LST 531.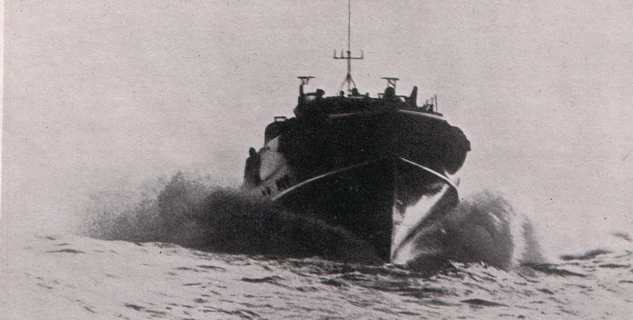 E Boat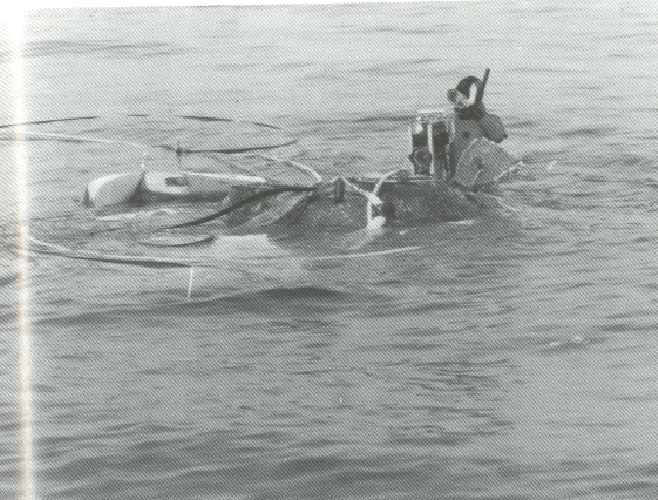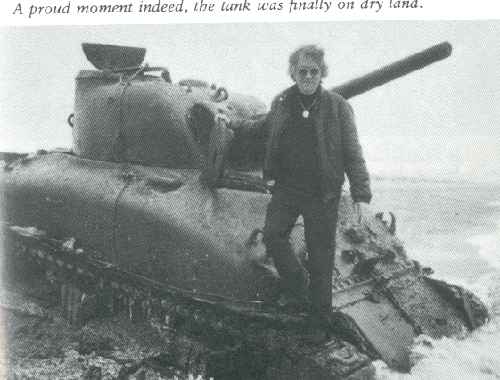 Proud Moment No 1: The Sherman surfaces after all this time! (Images by permission of Ken Small)
Proud moment No 2: The Tank finally on dry land. Ken is pictured - a happy man!

Meanwhile, orders went out imposing the strictest secrecy on all who knew or might learn of the tragedy, including doctors and nurses who treated the survivors. There was no point in letting the enemy know what he had accomplished, least of all in affording any clue that might link Slapton Sands to Utah Beach. Nobody ever lifted that order of secrecy, for by the time D-Day had passed, the units subject to the order had scattered. Quite obviously, in any case, the order no longer had any legitimacy particularly after Gen. Eisenhower's Supreme Headquarters, Allied Expeditionary Force, in July 1944 issued a press release telling of the tragedy. Notice of it was printed, among other places, in the soldier newspaper, Stars & Stripes. With the end of the war, the tragedy off Slapton Sands -- like many another wartime events involving high loss of life, such as the sinking of a Belgian ship off Cherbourg on Christmas Eve, 1944, in which more than 800 American soldiers died--received little attention. There were nevertheless references to the tragedy in at least three books published soon after the war, including a fairly detailed account by Capt. Harry C. Butcher (Gen. Eisenhower's former naval aide) in My Three Years With Eisenhower (1946).

The story was also covered in two of the U.S. Army's unclassified official histories: Cross-Channel Attack (1951) by Gordon A. Harrison and Logistical Support of the Armies Volume I (1953) by Roland G. Ruppenthal. It was also related in one of the official U.S. Navy histories, The Invasion of France and Germany (1957) by Samuel Eliot Morrison. In 1954, 10 years after D-Day, U.S. Army authorities unveiled a monument at Slapton Sands honouring the people of the farms, villages and towns of the region "who generously left their homes and their lands to provide a battle practice area for the successful assault in Normandy in June 1944." During the course of the ceremony, the U.S. commander of the North Atlantic Treaty Organization, Gen. Alfred M. Guenther, told of the tragedy that befell Exercise Tiger.

All the while, a detailed and unclassified account of the tragedy rested in the National Archives. It had been prepared soon after the end of the war by the European Theatre Historical Section. For anybody who took even a short time to investigate, there clearly had been no cover-up other than the brief veil of secrecy raised to avoid compromise of D-Day. Yet, in at least one case -- WJLA-TV in Washington -- the news staff pursued its accusations of cover-up even after being informed by the Army's Public Affairs Office well before the first program aired about the various publications including the official histories that had told of the tragedy. Yet why, a long 43 years after the event, the sudden spate of news stories and accusations?
That had its beginnings in 1968 when a former British policeman, Kenneth Small, moved to a village just off Slapton Sands and bought and operated a small guest house. Recovering from a nervous breakdown, Mr. Small took long walks along the beach and began to find relics of war: unexpended cartridges, buttons and fragments from uniforms. Talking with people who had long lived in the region, he learned of the heavy loss of life in Exercise Tiger. Why, Mr. Small asked himself, was there no memorial to those who had died? There was that monument the U.S. Army had erected to the British civilians thanking them for vacating the region during the run up to D Day, but there was no mention of the dead Americans. To Mr. Small, that looked like an official cover-up. From local fishermen; he learned of a U.S. Sherman tank that lay beneath the waters a mile offshore, a tank lost not in Exercise Tiger but in another rehearsal a year earlier. At considerable personal expense, Mr. Small managed to salvage the tank and place it on the plinth just behind the beach as a memorial to those Americans who had died. The memorial was dedicated in a ceremony on the 40th anniversary of D-Day. This tank had a missing plate underneath the hull which had gone unnoticed until they tried to "launch" it. The tank filled up with water, turning to steam on the hot engine, mistaken for smoke, and went straight to the bottom.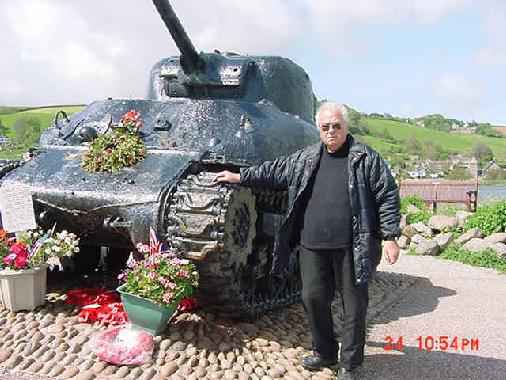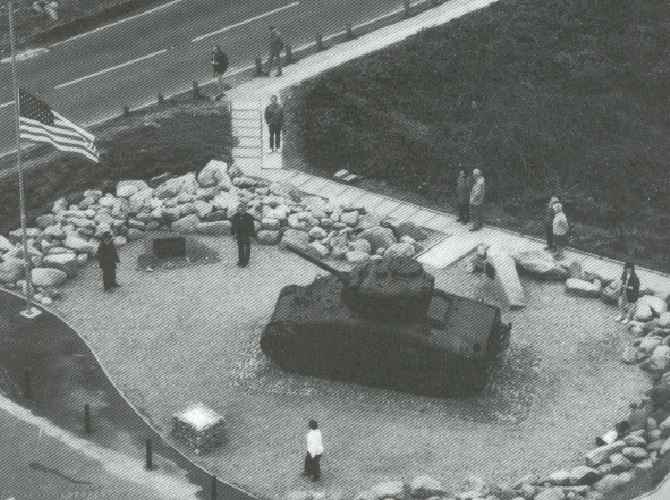 May 25 2002. I met Mr Small (pictured above) alongside this tank on this date. Incidentally, we were both born in the same town, Hull in Yorkshire. I had travelled down with my wife and daughter to Tiverton, the next morning continuing down to Slapton Sands to take the images posted below for myself. I was delighted to meet him and after a brief talk I took his photograph alongside his Sherman and bought from him an autographed copy of his book "The Forgotten Dead". He has also given me permission to reproduce, on here, some images and notes from his book. My 470 mile round trip was well worth it, if only to meet Mr Small in person. I have read this book and my first impression is one of a cock up on a monumental scale! Due to typing errors, the radio frequencies for the escorts and the "covering craft" were wrongly given in the mission orders. Tales of heroism and of complete chaos; of American soldiers, as young as 19 in some cases, slipping from life rafts and succumbing to the cold deep sea. Of LSTs floundering about in circles, not knowing what they were supposed to do , officers killed outright and leaderless men jumping into the flaming sea. Of life boats with rusted up tackle - the soldiers unable to launch them due to the rusted release pins. So many soldiers died due to complete incompetence and severely disabled equipment. Soldiers who were ordered not to return fire on the E boats as "it may give positions away". Another point from Ken's book is the complete and utter intransigence of the British Authorities from Local Council to Westminster and the friendly warmth and help from the American authorities. In particular Beverly Byron in Congress. I am dismayed and amazed by the lack of support from the (modern) British Army (3 RTR) which was probably the RAC Centre Regiment at Bovington Camp Dorset, at the time. From "We will be delighted to help" to their 11th hour pull out with no explanations. As an ex "tankie" myself (1 RTR), it leaves me a bit shame faced. Almost leaving Ken in the lurch, with no backup to remove the tank from the channel, until a kind civilian helped out with the right gear. The Royal Navy did assist by providing a ship to raise the tank from the seabed and get it to within hauling distance of the shore. As I go through the book again, I will make notes of those who helped Ken realise this beautiful dream and give them due credit below. I would also like to add here my own greetings to those wonderful people of Kansas who made Ken so happy and welcome on his trip to the function.
That ceremony prompted the first spurt of accusations by the British and American press of a cover-up, but they were soon silenced by publication of two detailed articles about the tragedy: one in American Heritage magazine co-authored by a former medical officer, Dr. Ralph C. Greene, who had been stationed at one of the hospitals that treated the injured; the other in a respected British periodical, After the Battle. Those were carefully researched, authoritative and comprehensive articles; if anybody had consulted them three years later, they would put to rest any charges of a cover-up and various other unfounded allegations. Kenneth Small, meanwhile, wanted more. Although persuaded at last that there had been no cover-up, he nevertheless wanted an official commemoration by the U.S. government to those who had died. Receiving an invitation from an ex-Army major who had commanded the tank battalion whose lost tank Mr. Small had salvaged, he went to the United States where the ex-major introduced him to his congresswoman, Beverly Byron, who as it turned out is the daughter of Gen. Eisenhower's former naval aide, Capt. Butcher.
With assistance from the Pentagon, Rep. Byron arranged for a private organization, the Pikes Peak Chapter of the Association of the U.S. Army in Colorado, where the 4th Infantry Division is stationed, to provide a plaque honouring the American dead. She also attached a rider to a congressional bill calling for official U.S. participation in a ceremony unveiling the plaque alongside Ken Small's tank at Slapton Sands. Information about that pending ceremony scheduled for 15 November, 1987, set the news media off. There were accusations not only of a cover-up, but also of heavy casualties inflicted by U.S. soldiers, who presumably did not know they had live ammunition in their weapons, firing on other soldiers. Nobody questioned why soldiers would bother to open fire if they thought they had only blank ammunition ... or why a soldier would not know the difference between live ammunition and blanks when one has bullets, the other not. Nor was there actually any evidence of anybody being killed by small arms fire. (As an ex serviceman myself, I knew when I had "live" ammo or not!)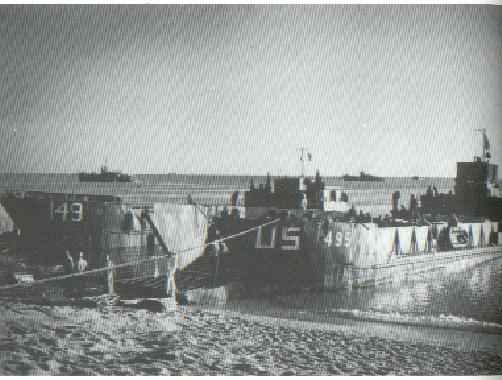 LSTs 149 and 495 on Slapton Sands
(Image reproduced with permission of Ken Small)
There surfaced a new an allegation made earlier by a local resident, Dorothy Seekings, (This was almost certainly a hoax - mk) who maintained that as a young woman she had witnessed the burial of "hundreds" of Americans in a mass grave (she subsequently changed the story to individual graves). Dorothy Seekings also claimed that the bodies are still there. At long last, somebody in the news media -- a correspondent for BBC television--thought to query the farmer on whose land the dead are presumably buried. He had owned and lived on that land all his life, said the farmer, and nobody was ever buried there. That tallies with U.S. Army records that show that in the first few days of May 1944, soon after the tragedy, hundreds of the dead were interred temporarily in a World War I U.S. military cemetery at nearby Blackwood. Following the war, those bodies were either moved to a new World War II U.S. military cemetery at Cambridge or, at the request of next of kin, shipped to the United States. Yet many like Ken Small continued to wonder why it took the U.S. government 43 years to honour those who died off Slapton Sands. Those who wondered failed to understand U.S. policy for wartime memorials.
Soon after World War I, Congress created an independent agency, the American Battle Monuments Commission, to construct overseas U.S. military cemeteries, to erect within them appropriate memorials and to maintain them. Anybody who has seen any of those cemeteries, either those of World War I or of World War II, recognizes that no nation honours its war dead more appropriately than does the United States.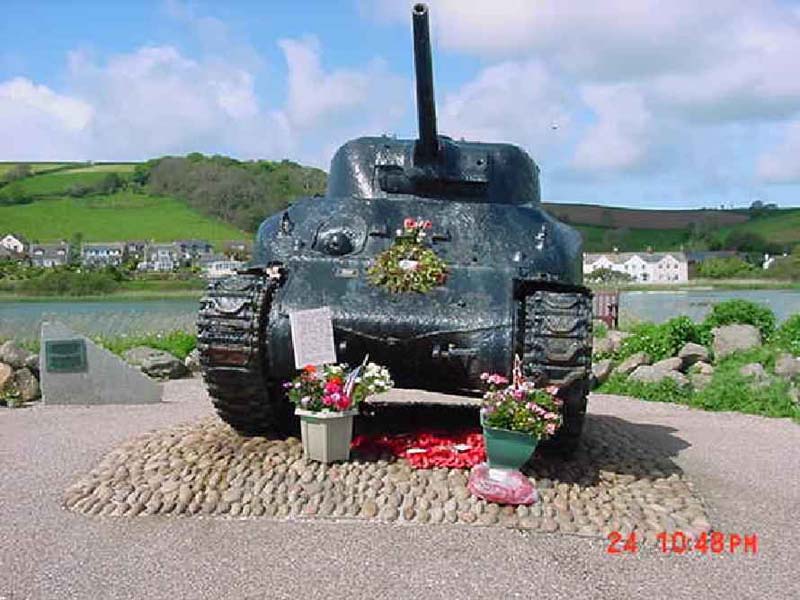 Only the American Battle Monuments Commission, not the U.S. Army, Air Force or Navy, has authority to erect official memorials to American dead, and the American Battle Monuments Commission limits its memorials to the cemeteries, which avoids a proliferation of monuments around the world. Private organizations, such as division veterans' associations, are nevertheless free to erect unofficial memorials but are responsible for all costs, including maintenance. Soon after the end of the war, veterans of the 1st Engineer Special Brigade, which incurred the heaviest losses in Exercise Tiger, did just that, erecting a monument on Omaha Beach to their dead, presumably to include those who died at Utah Beach and those who died in preparation for D-Day. At Cambridge, there stands an impressive official memorial erected by the American Battle Monuments Commission to all those Americans who died during World War II while stationed in the British Isles. That includes the 749 who died in the tragedy off Slapton Sands, and there one finds the engraved names of the missing. Long before 15 November, 1987, the U.S. government had already honoured those soldiers and sailors who died in Exercise Tiger.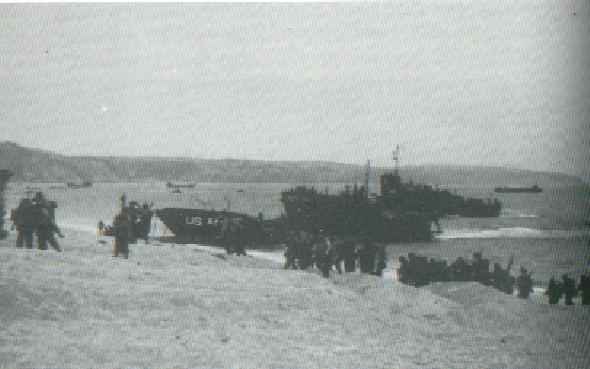 Troops off-loading from LCVP from LST's 624 and 85 on Slapton Sands. LCI 85 was lost during the
Normandy invasion in June '44. (Image reproduced by permission of Ken Small)
Media Responses (NOT necessarily my opinion!)
It was a disaster which lay hidden from the World for 40 years . . . an official American Army cover-up."

That a massive cover-up took place is beyond doubt. And that General Dwight D. Eisenhower authorized it is equally clear."

Generals Omar N. Bradley and Eisenhower watched "the murderous chaos" and "were horrified and determined that details of their own mistakes would be buried with their men."

"Relatives of the dead men have been misinformed -- and even lied to -- by their government. "

It was "a story the government kept quiet ... hushed up for decades ... a dirty little secret of World War II."
What was that terrible event so heinous as to prompt those accusations of perfidy 43 years later from the British news media from some American newspapers and in a particularly antagonistic three-part report from the local news of the ABC affiliate in Washington D. C. WJLA-TV? There is an old saying in the media: 'never let the truth come in the way of a good story'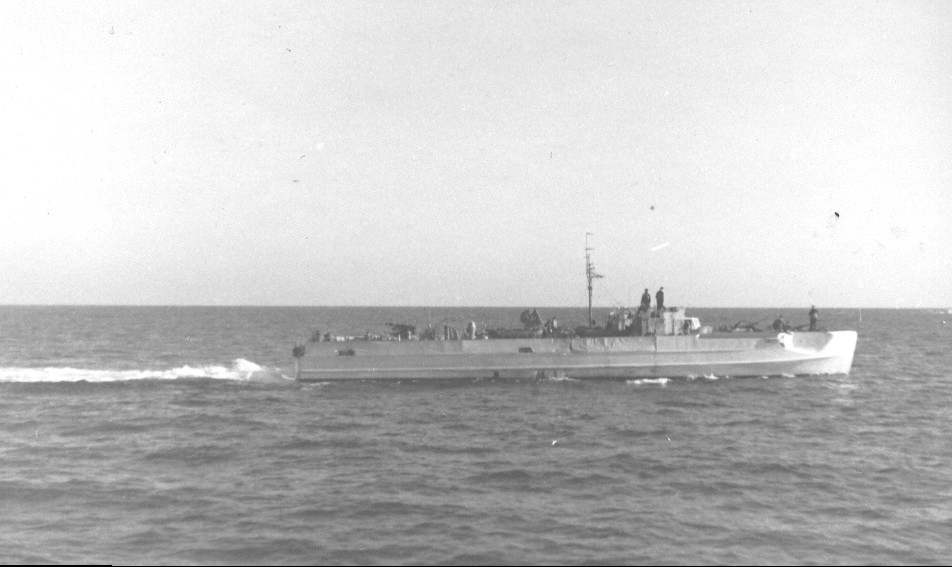 In preparing for the Normandy Invasion, the United States Army conducted various training exercises at Slapton Sands in Start Bay and in the nearby Tor Bay, beginning on December 15, 1943. Slapton was an unspoilt beach of coarse gravel, fronting a shallow lagoon that was backed by bluffs that resembled Utah Beach. After the people in the nearby village were evacuated, it was an almost perfect place to simulate the Normandy landings. The training was long and thorough. The culmination of the joint training program was a pair of full scale rehearsals in late April and early May.

TIGER was the code name of the training exercise for the Utah Beach assault forces under Admiral Don P. Moon. It was held from April 22-30, 1944. The troops and equipment embarked on the same ships and for the most part from the same ports from which they would later leave for France. Six of the days in the exercise were taken up by the marshalling of the troops and the embarkation of the landing craft. During the night of April 26-27, 1944, the main force proceeded through Lyme Bay with mine craft sweeping ahead of them as if crossing the channel. Since German E-boats, which were high-speed torpedo boats capable of operating at speeds of 34-36 knots, sometimes patrolled the channel at night, the British Commander in Chief, Plymouth, who was responsible for protecting the rehearsal, threw patrols across the mouth of Lyme Bay. (According to another version - above, these patrols were already in place and NOT as cover for an operation that maybe they did not even know about!) These patrols consisted of two destroyers, three motor torpedo boats and two motor gunboats. Another motor torpedo patrol was sent to watch Cherbourg, the main ports where the German E-boats were based. The E boats, according to a German sailor, slipped through this screen without even seeing them. Following the "bombardment" on Slapton Sands, the exercise "landings" were begun during the morning of April 27, and the unloading continued during the day and the next when a follow up convoy was expected.

LST 289 - Ex Tiger , and below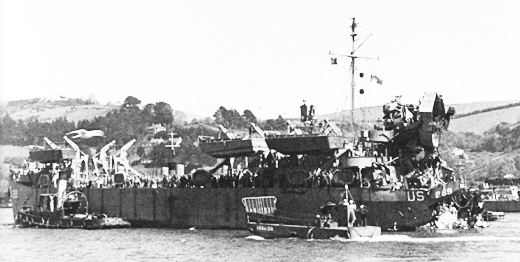 This Convoy T-4 consisted of two sections from two different ports. The Plymouth section, LST Group 32, was composed of USS LST-515, USS LST-496, USS LST-511, USS LST-531, and USS LST-58, which was towing two pontoon causeways. The Brixham section consisted of USS LST-499, USS LST-289, and USS LST-507. The convoy joined with HMS Azalea as escort and proceeded at six knots in one column with the LSTs in the same order as listed above. When the convoy was manoeuvring in Lyme Bay in the early hours of April 28, they were attacked by nine German E-boats out of Cherbourg that had evaded the Allied patrols. No warning of the presence of enemy boats had been received until LST-507 was torpedoed at 0204. The ship burst into flames, and survivors abandoned ship. Several minutes later LST-531 was torpedoed and sank in six minutes. LST-289, which opened fire at E-boats, was also torpedoed but was able to reach port. The other LSTs plus two British destroyers fired at the E-boats, which used smoke and high speed to escape. This brief action resulted in 198 Navy dead and missing and 441 Army dead and missing according to the naval action reports. Later Army reports gave 551 as the total number of dead and missing soldiers. The final training exercise FABIUS took place between May 3-8, without any enemy attacks. LST 508 missed the action and survived due to a pre exercise collision in the channel with a freighter. Consequently her crew lived on instead of ...... (see email copy reprinted below)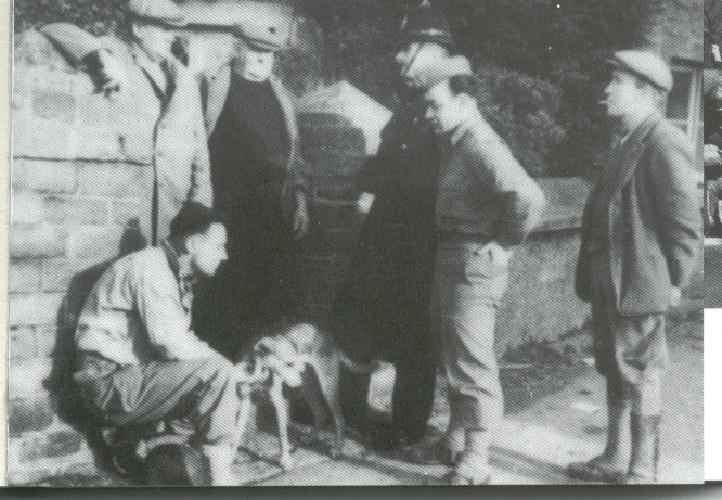 Two American GI's talk to locals near Slapton - Identities Unknown (Image reproduced by permission of Ken Small).
Looks like Edward G Robinson in the front centre!
To keep the Germans from possibly learning about the impending Normandy Invasion, casualty information on Operation TIGER was not released until after the invasion. On August 5, 1944, Supreme Headquarters, Allied Expeditionary Force released statistics on the casualties associated with the Normandy Invasion, which included information about the German E-Boat attack on April 28. This information was also published in the August 7 issue of The Stars and Stripes, the daily newspaper of the U. S. Armed Forces in the European Theatre. The Textual Reference Branch, National Archives and Records Administration, 8601 Adelphi Road, College Park, MD 20740-6001, holds the originals of both these sources. Over the years, details on the training exercises and the resulting losses have appeared in such published sources as Samuel Eliot Morison's The Invasion of France and Germany, 1944-1945 (1957), volume XI of his 15-volume History of United States Naval Operations in World War II, and Roland Rupenthal's Logistical Support of the Armies (1953) and Gordon Harrison's Cross-Channel Attack, which are both part of the multi-volume series United States Army in World War.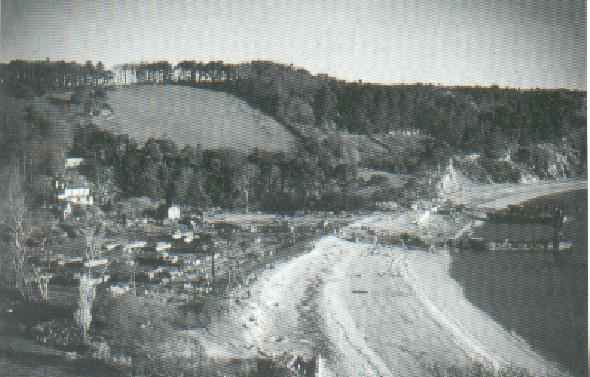 Blackpool Sands near Slapton. Not to be confused with Blackpool NW England, in Lancashire!. 2 LSTs can be seen.
(Image reproduced by permission of Ken Small)
This report printed in the above paragraphs also makes the mistake of claiming that it was actually Omaha beach that these exercises were in place for - conflicting reports; conflicting information. I amended it to read Utah. I think it is apparent that Eisenhower and his General's DID hush up news of this disaster - but only so that military security and secrecy could be maintained - how many more lives would have been lost if the Germans found out anything? Eisenhower himself said that if the maps were not found, the whole "show" was off. According to information contained above and on the net, the "secrecy" surrounding this exercise was in fact "made public" after the successful Normandy landings. (See email below on this account, relatives were told nothing). I am no expert and do not claim to be, but this is one incident that may never be successfully and satisfactorily sorted out.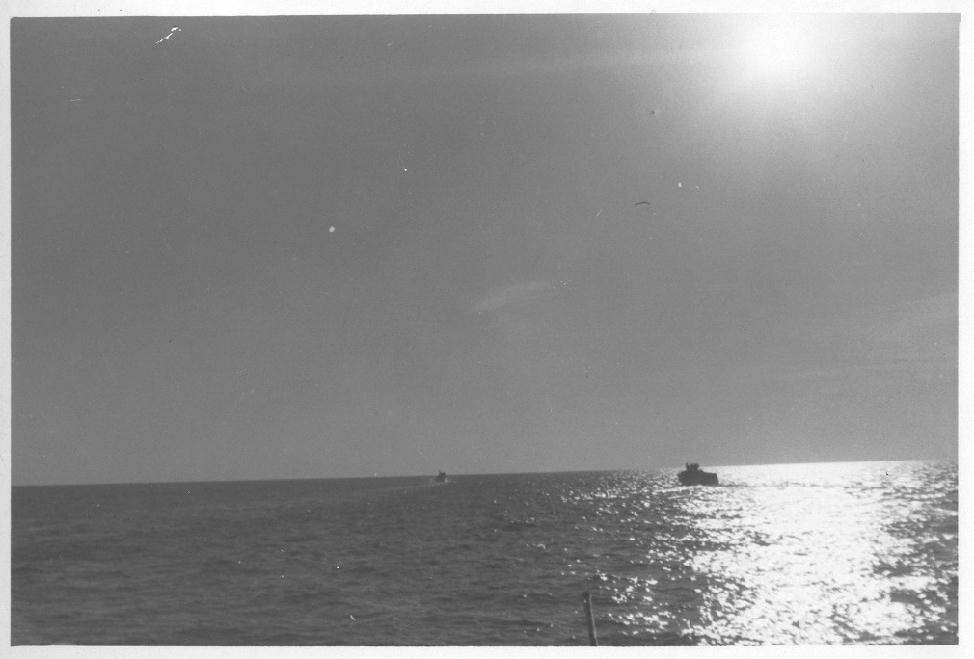 Events according to www.exercisetiger.org
What began as a top secret naval operation to prepare US Army and Naval forces for the June 6th D-Day Invasion, would end with one of the highest losses ever suffered in combat by the US Army and Navy in WW II.
At 0135 on the morning of April 28th, 1944, eight Tank Landing Ships (LST's) and their lone escort, the British corvette HMS AZALEA, were en route to the landing area. Slapton Sands was selected because its beach looked every bit like the beaches at Normandy that would be code named Utah and Omaha by the allies. The eight LST's of LST Group 32, formed convoy T-4. they were the support group for elements of the 4th & 29th Infantry, 82nd Airborne and 188th Field Artillery Group already ashore at Slapton Sands.
The LST's were carrying the 1st Engineer Special Brigade, the 3206th Quartermaster Company from Missouri, the 3207th Company and 462nd and 478th combat truck support companies as well as other elements of the US Army's engineer, signal, medical and chemical corps along with some infantry. Miles south in the mouth of Lyme bay, lay the bulk of the Tiger naval force. Protected by the cruiser USS AGUSTA and the new British "O" class destroyers HMS ONSLOW and HMS OBEDIENT as well as the Tribal Class destroyer HMS ASHANTI and a covering force of motor torpedo boats. Anchored along with LST's 55 and 382 they would be of no help to the ambushed LST force of T-4. Attacking in the pitch black night, 9 German Navy "E" boats (torpedo) struck quickly and decisively. Without warning LST 507 was torpedoed first. Explosions and flame lit the night. At 0217 LST 531 is torpedoed. It sinks in six minutes. Of the 496 soldiers and sailors on her, 424 of them died. It would be on this ship that the state of Missouri would lose some 201 of its boys of the 3206th. LST 289 tried to evade the fast German "E" boats but was hit in the stern. LST's 496, 515, and 511 all began firing at their attackers, LST 289 joined in returning fire while lowering landing craft to pull it out of harms way.
At 0225 the LST 499 radioed for help. Minutes later the lead ship, LST 515 sent out an urgent and chilling message. " 'E' boat attack". Radio stations along the coast pick up the dramatic calls for help, unaware of the top secret operation underway, the calls go unanswered. Only after an alert radio operator heard the words "T-4", did the Naval Command realize the calls were from "Tiger" and send help. By 0240 the horror was slowly realized. Two LST's sunk, a third lay crippled. Of the 4000 man force nearly a fourth were missing or killed . Official Dept. of Defence records confirm 749 dead , 551 US Army and 198 US Navy. The death toll makes "Tiger" the costliest battle to U.S. forces at that point in the war after Pearl Harbour. On April 28th, 1944, the LST's darkest yet finest hour occurred. When, for one hour, the men and ships of Convoy T-4 fought the greatest naval battle ever faced by an LST force in history. Against superior enemy warships, the Tiger amphibious force held its own. The German attack did not stop Exercise Tiger. Landing operations resumed later on the 28th. It is a credit to the tenacity and determination of the soldiers and sailors involved in Exercise Tiger, that the D-Day invasion at Normandy occurred as planned. The events surrounding Exercise Tiger were officially declassified in early August 1944, two months after the Normandy Invasion. On April 28th 1996 Secretary of The Navy John Dalton stated in his remarks "Tiger….was the LST's finest hour."
In Peter Scott's book "The Battle of The Narrow Seas" published in 1945 he makes a vague reference to the disaster at Slapton. As he was on the planning staff at Portsmouth "Plot" prior to D Day, he would have been ideally placed to learn of this catastrophe. He refers to E boat successes prior and during D Day. He writes " Only once in that time did the E Boats achieve anything of consequence. That was during an invasion exercise when they got in amongst a convoy of landing craft in Lyme Bay and wrought serious devastation and heavy loss of life; it was their sole success although they were at sea night after night". Even in this brief reference Scott gives the E Boats undue credit. The vast majority of American losses were from alleged friendly fire from their own forces on the beach! At the time of writing his book (1945) he must have known of the real reasons over 900 US servicemen met their deaths.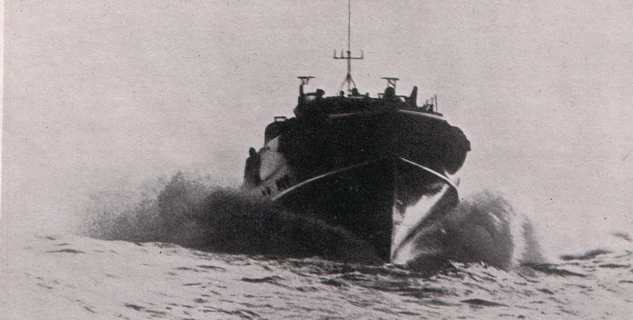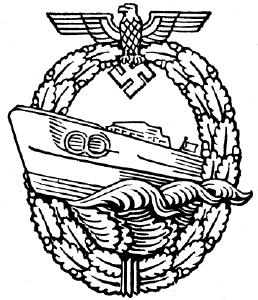 From Ray Holden: (www.hmskite.com)I saw a ITV documentary about Slapton, that is how I came to hear about it. Veterans of Slapton appeared on it, one of them was coxswain of an LST. These veterans openly cried when describing how they were pinned down on the beach by friendly fire. They even described from what direction the machine gun was firing. Dozens of men were killed and apparently were posted as being killed in action. In my own personal opinion this is where the cover up came in. From me: I hope my American friends will forgive me but this seems to be "nothing new". How many times do we hear of US forces bombing Allies and their own? Gulf War - all British losses down to "friendly fire" and Afghanistan - how many "friendly" deaths? Iraq too - "friendly" deaths. I suspect that the "dozens" of US soldiers that allegedly died by friendly fire can only be resolved by exhuming bodies and checking for bullets - I doubt if survivors of these families would like to find that out! Apparently some American soldiers were also killed by Royal Naval gunfire when they crossed lines they were supposed to remain behind - or did their officers not pass the orders on? More mystery? On this I have since found a newspaper report dated 1997 in which witnesses clearly state that they saw US soldiers being "mown down" by their own troops!
Oral Histories - Exercise Tiger, 28 April 1944 ( www.history.navy.mil/faqs/faq87-3g.htm )
Recollections by LT Eugene E. Eckstam, MC, USNR, (Ret.), a medical officer on USS LST-507. Adapted from:"The Tragedy of Exercise Tiger," Navy Medicine 85, no. 3 (May-Jun 1994): 5-7.

More lives were lost in one exercise practicing for D-Day than during the invasion of Utah Beach on 6 June 1944. That rehearsal was called "Exercise Tiger." Planning for the greatest amphibious operation in history required many such exercises, each designed to test the readiness of plans for the invasion of Normandy and the efficiency of the troops. Duck, Fox, Muskrat, Beaver, and Trousers preceded Tiger, and Fabius followed. Each was larger than the last, and the later ones used live ammunition.

Because it resembled Utah Beach, these exercises used Slapton Sands, a beach on the English Channel east of Plymouth in (Start Bay part of) Lyme Bay. Other smaller exercises were held many places in southern England, especially at Woolacombe.

Exercise Tiger involved some 300 ships and 30,000 men. Thirty of the ships were LSTs (Landing Ship Tank), which loaded at Plymouth, Brixham, and Dartmouth. The first units landed at H-hour, the morning of 27 April 1944. H-hour was delayed 1 hour, causing landings and shelling to coincide. And not all ships got the message.

Convoy T-4 consisted of eight LSTs bringing up the rear and due to land at H + 24 hours. I was on LST-507, which was last in line. The convoy circled Lyme Bay at 4 knots. Only one British escort vessel accompanied us, another remained in Plymouth with a hole in its bow. Much later, a replacement was sent, hut too late to effect the tragic outcome of Exercise Tiger. German E-boats (torpedo boats) plied the Channel and Lyme Bay several times a week and the night of 27-28 April was one of them.

I was a brand new Naval Reserve medical officer, fresh out of an abbreviated senior year and internship, totally unprepared for what was to follow. I knew only about the role of such physicians on LSTs and this training was short.

My first assignment in January 1944 was Great Lakes Naval Training Station in Illinois. I followed the other physicians on the North Shore electric train to the Great Lakes Naval Hospital and checked in. The next morning I found the difference between Hospital and Mainside! I was assured all the paperwork would be transferred. It wasn't, as I later discovered.

At the recruiting centre, Mainside, we examined an average of 1,700 recruits a day. In a week I became an expert in haemorrhoids, hernias, and right ears. Then I, and perhaps 50 other new physicians, reported to Lido Beach, Long Island. A few thousand hospital corpsmen of all ranks were there too. Thus, individual outfits of Foxy 29, the code name for our medical unit, were formed by taking two physicians and an assortment of 40 corpsmen. We were supposed to drill and train our "men." After the brass saw hilarious marching formations colliding, the Marines took over.

Our training at Lido Beach was the introduction to the LST and its uses as a medical evacuation ship. We had some exposure to gas warfare, and endured unpleasant contacts with several chemical agents. Units shipped out at regular intervals on LSTs. We left on 10 March 1944.

As LST-507 was dropping off cargo and loading supplies in various English ports, our medical unit was sent to Fowey for a week of intensive training on chemical warfare and general first aid. This all added up to very little preparation for an invasion with major casualties.

When our medical unit reported back to LST-507, it was in Brixham and had loaded some 290 Army personnel. The tank deck held 22 DUKWs (amphibious trucks) with jeeps and trucks topside, all chained to the deck and fully fuelled. Army troops were everywhere.

Loading occurred 24 April 1944. We and two other LSTs sailed from Brixham on the afternoon of 27 April to join five LSTs coming from Plymouth. Only recently I found that our British escort had been warned about E-boats in the area, but the U.S. forces had not been given the correct radio channel to monitor. We sailed along in fatal ignorance.

General Quarters rudely aroused us about 0130. I remember hearing gunfire and saying they had better watch where they were shooting or someone would get hurt. At 0203 I was stupidly trying to go topside to see what was going on and suddenly "BOOM!" There was a horrendous noise accompanied by the sound of crunching metal and dust everywhere. The lights went out and I was thrust violently in the air to land on the steel deck on my knees, which became very sore immediately thereafter. Now I knew how getting torpedoed felt. But I was lucky.

The torpedo hit amidships starboard in the auxiliary engine room, knocking out all electric and water power. We sat and burned. A few casualties came into the wardroom for care and, since there was ample help, I checked below decks aft to be sure no one required medical attention there. All men in accessible areas had gone topside.

The tank deck was a different matter. As I opened the hatch, I found myself looking into a raging inferno which pushed me back. It was impossible to enter. The screams and cries of those many Army troops in there still haunt me. Navy regulations call for dogging the hatches to preserve the integrity of the ship, and that's what I did.

Until the fire got so hot we were forced to leave the ship at 0230, we watched the most spectacular fireworks ever. Gas cans and ammunition exploding and the enormous fire blazing only a few yards away are sights forever etched in my memory.

Ship's company wore life jackets, but the medics and Army personnel had been issued inflatable belts. We were told only to release the snaps and squeeze the handles to inflate. Climbing down a cargo net, I settled into the 42 degree F. water, gradually getting lower as the life belt rose up to my arm pits. The soldiers that jumped or dove in with full packs did not do well. Most were found with their heads in the water and their feet in the air, top heavy from not putting the belts around their chests before inflating them. Instructions in their correct use had never been given.

I recall only brief moments of hearing motors, of putting a knee on a small boat ramp, and then "awakening" half way up a Jacobs ladder. I was on the only American ship, LST 515, to rescue survivors. This was at dawn, about 0600. I had been in the water over 2 hours fully dressed and insulated. Those that had stripped to swim, only God knows where they died. Drowning and hypothermia were the two major causes of death. I often wonder if many "dead" victims were really in a state of hibernation, and what would have happened had we been able to immerse them in warm tubs. But who ever heard of a tub on an LST in wartime? We couldn't even do a reliable physical exam under the circumstances.

Both dead and alive were taken to Portland. The dead went on to Brookwood Cemetery near London where they were buried individually. The rumour of mass graves is false. We got dry clothes, courtesy of the American Red Cross and then an exam at an Army field hospital in Sherborne. An Army physician, Dr. Ralph Greene, was there and later did the first American research on Exercise Tiger.

After a month's leave, all were reassigned and most boarded other LSTs for the invasion of Normandy. Others were given shore assignments. For me, Normandy was a piece of cake. LST-391 made one run carrying Rangers Headquarters Staff to Omaha Beach. We took 125 injured from Utah Beach to England. The Army tent dispensary at the beachhead had done an excellent job with these men. Our supplies contained only about six 20 cc syringes with 1½-inch needles. We gave 1 cc (20,000 U) of penicillin every 3 hours to each of the next 20 men with the same syringe and the same needle, but with no withdrawal of the plunger. After a brief boil, syringes and needles were reloaded. There was no other way to keep the schedule. In England, the medical group was detached to stage for the Pacific.

When I got home, I tried to re-establish my pay and insurance records. Great Lakes Naval Hospital did not transfer my life insurance to Mainside! And me with a fairly recent bride.

All the files of Eugene E. Eckstam, who has done extensive research on Exercise Tiger, are/have been/being transferred to the Centre for War & Peace, Department of History, University of Tennessee, Knoxville, Tennessee.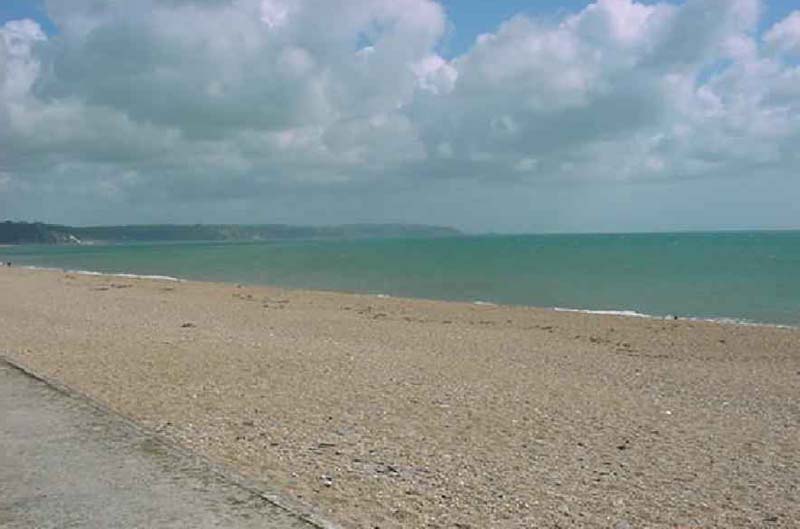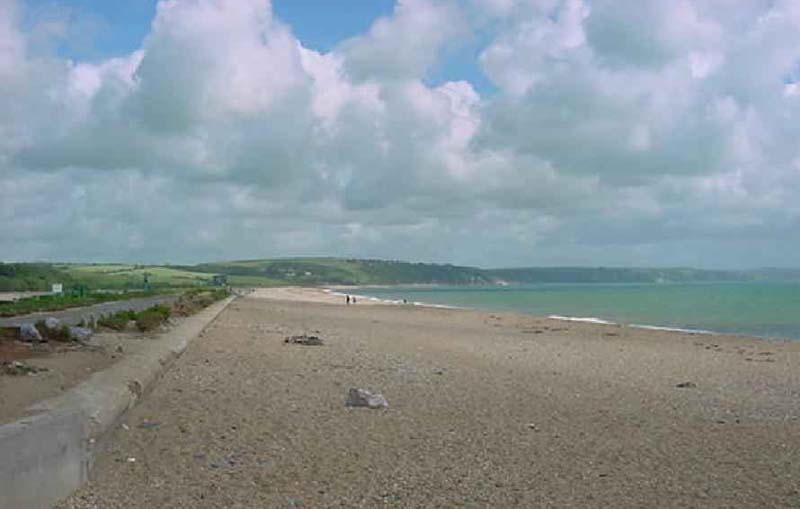 The following images were taken by me on 25th May 2002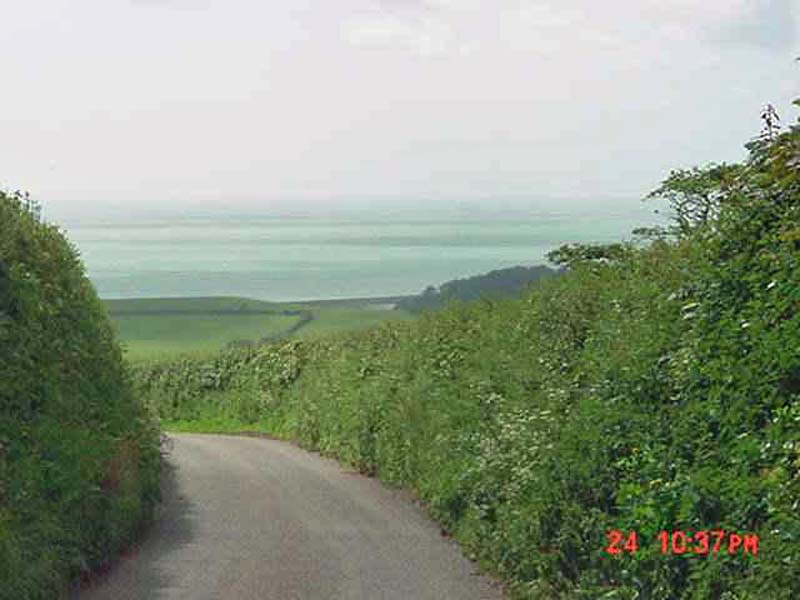 Approaching Slapton; this was my first view as I came over the hills behind the village.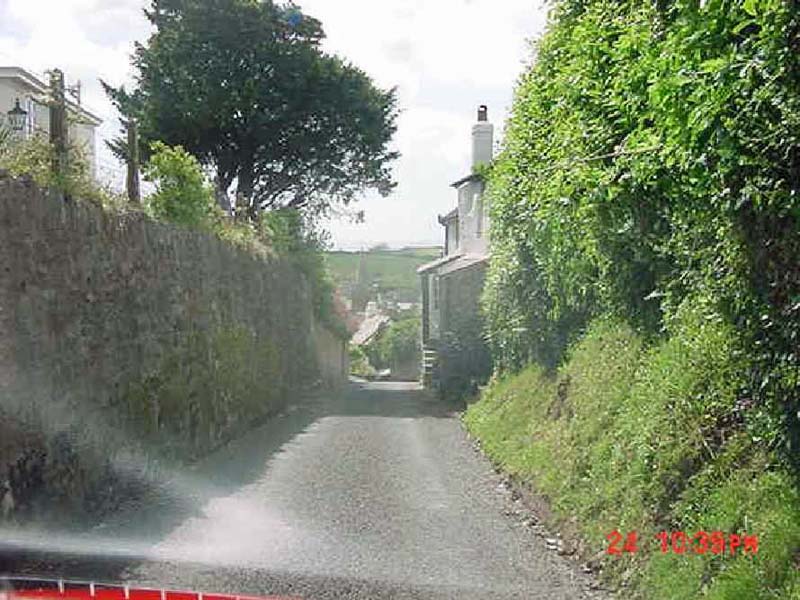 I then dropped down into the village through lanes that could not have changed since the Americans were here in 1944.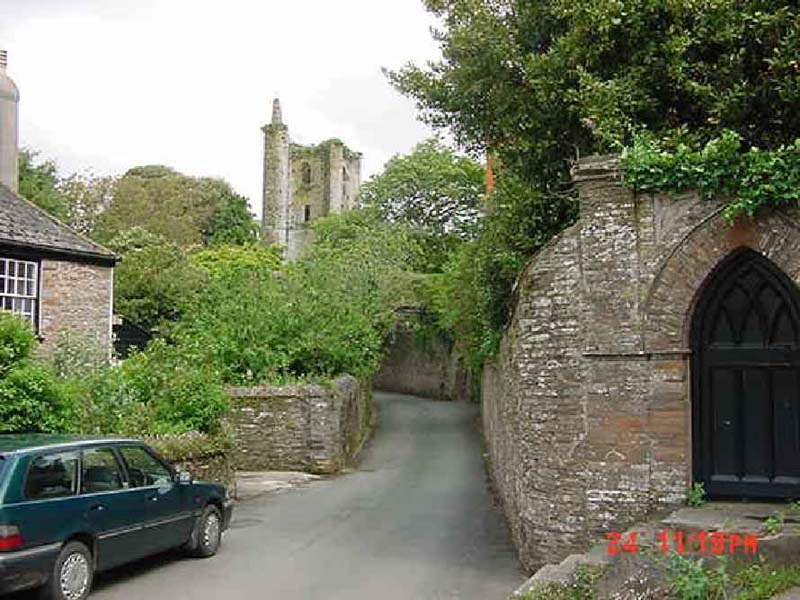 Looking back towards the way I entered the village down windy narrow lanes.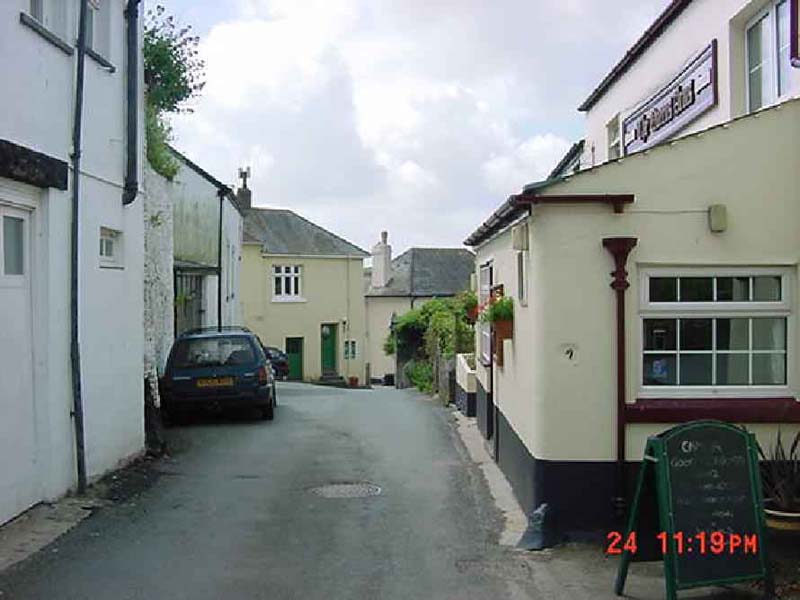 Heading into Slapton, past the Queens Arms on the Right to take the next left...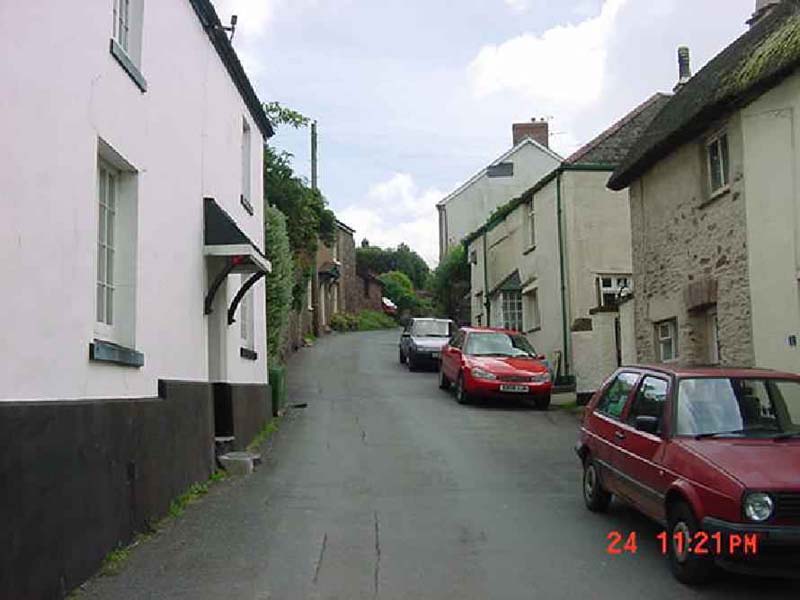 This was the route down to the sands and causeway, the scene of the disaster.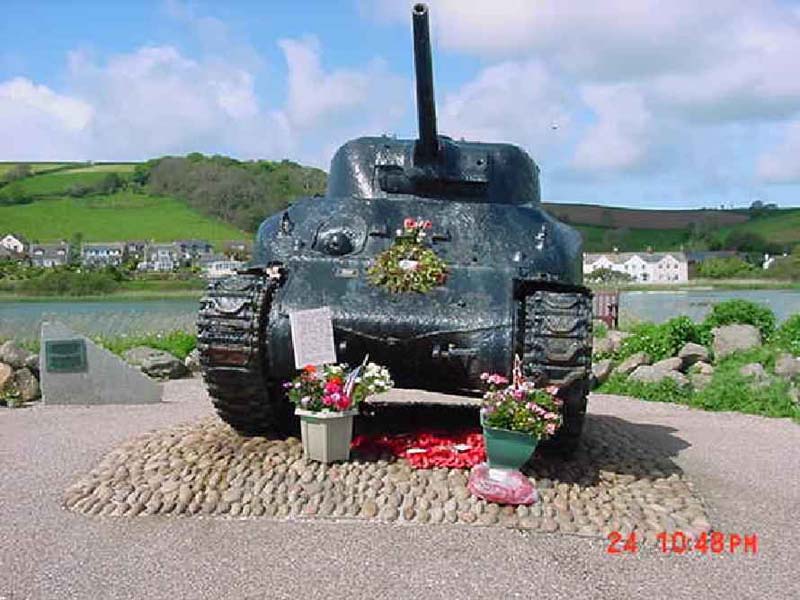 The rescued Sherman tank raised from the bay by Ken Small with help from local contractors. It has come to
light that this actual tank may not have been involved in Ex Tiger itself but an earlier exercise, I have had neither confirmed.
Not that it matters, a Sherman is a Sherman so to speak.

A handwritten memorial to a young GI who actually died in France, Austin Chestnut's name is scratched
upon a window ledge facing this memorial. He died on 9th July 1944.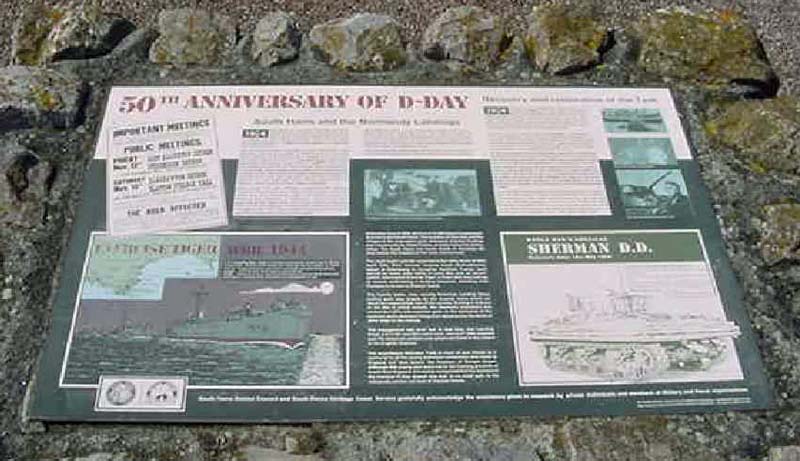 explanation of the events.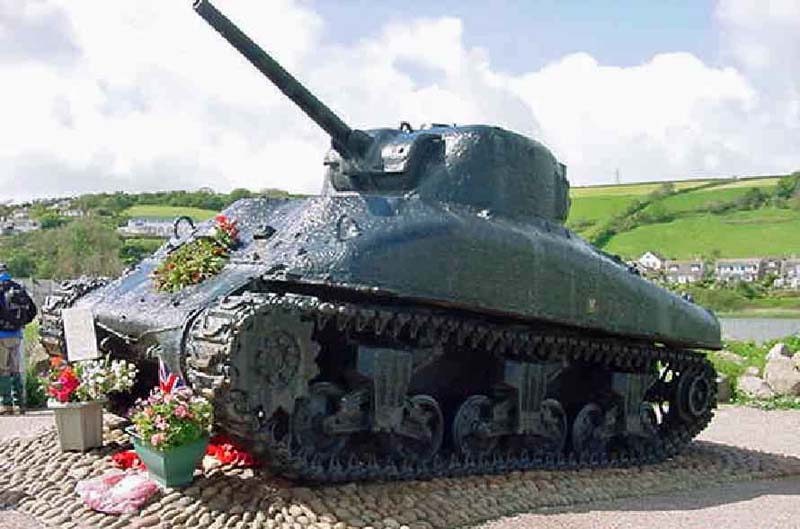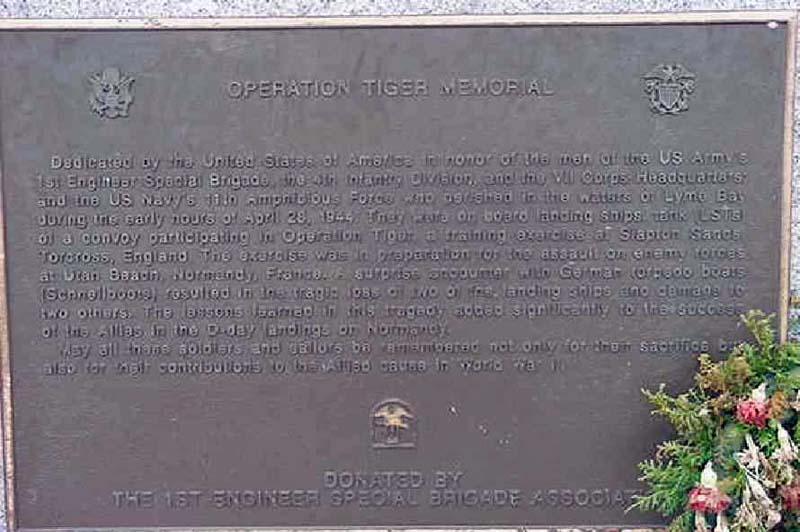 1st Engineer Special Brigade Memorial to Exercise Tiger.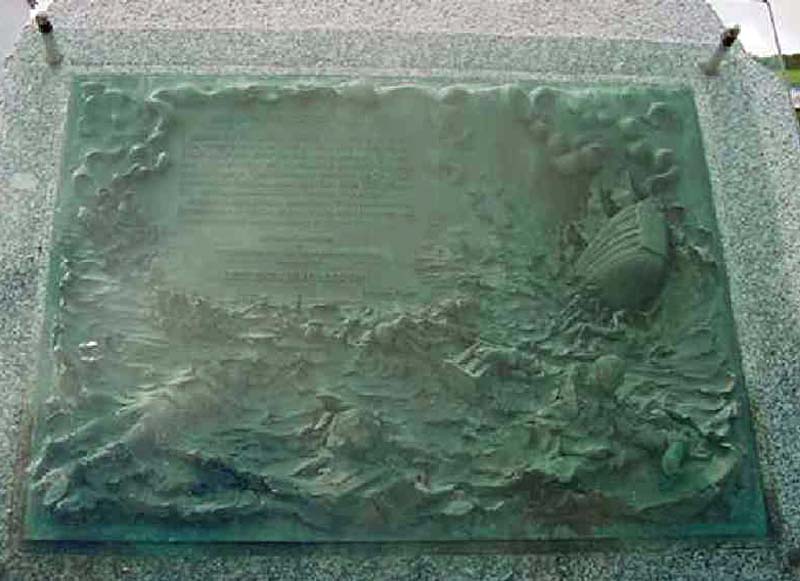 A memorial in relief, covered in plastic, presumably to protect it.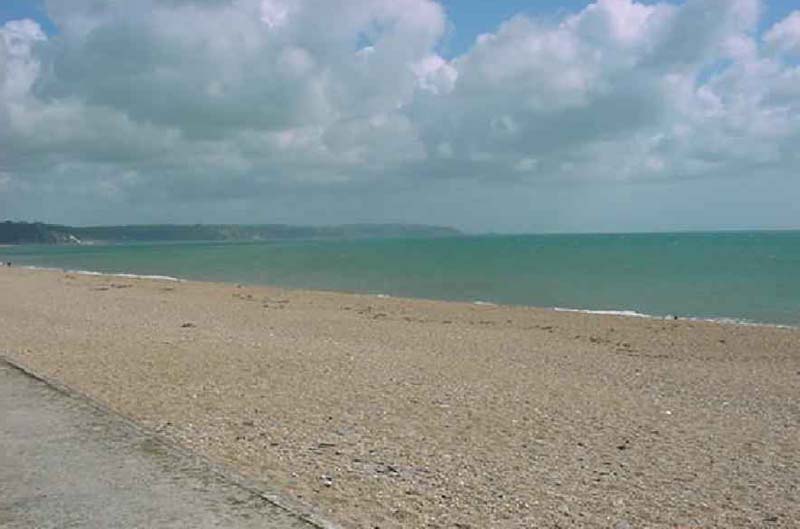 Slapton Sands looking east from Torcross and below.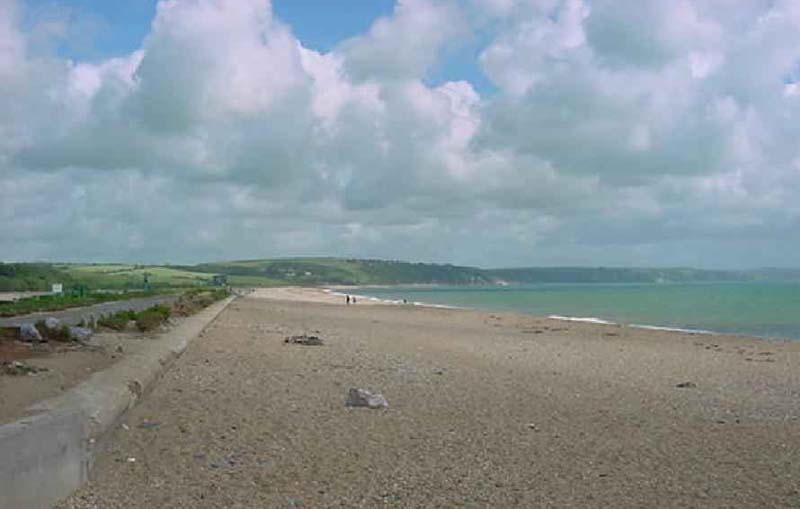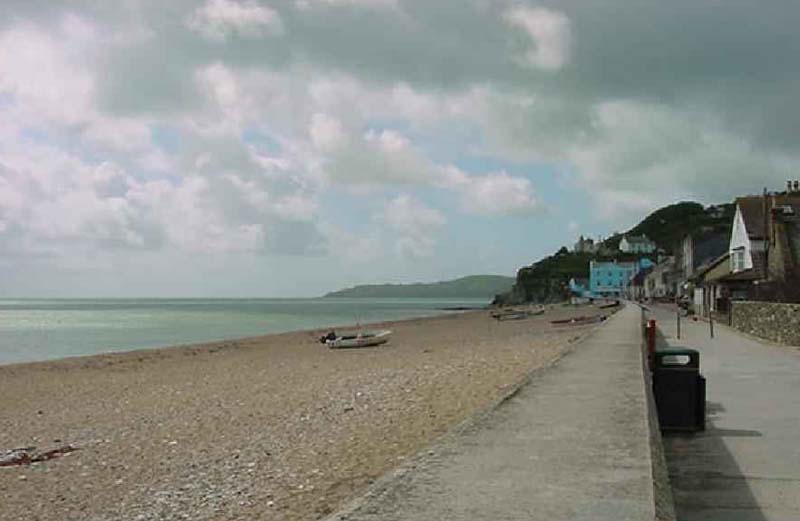 Looking west at Torcross where the Sherman is situated.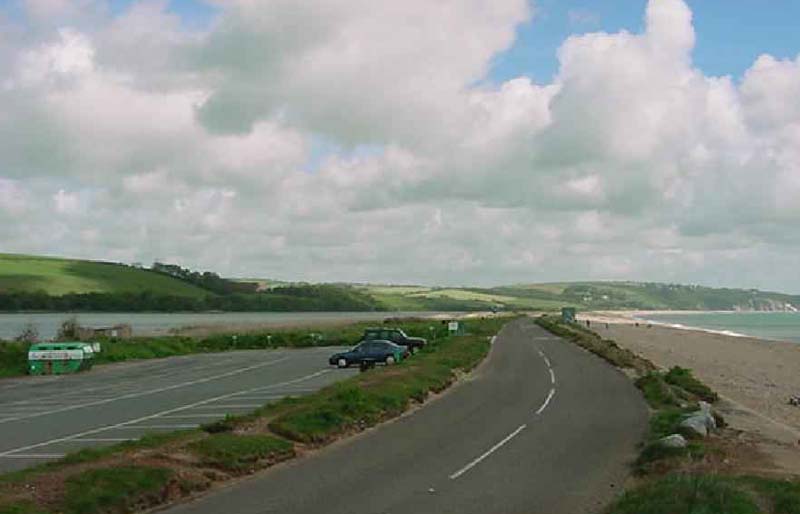 The road along the Causeway looking east.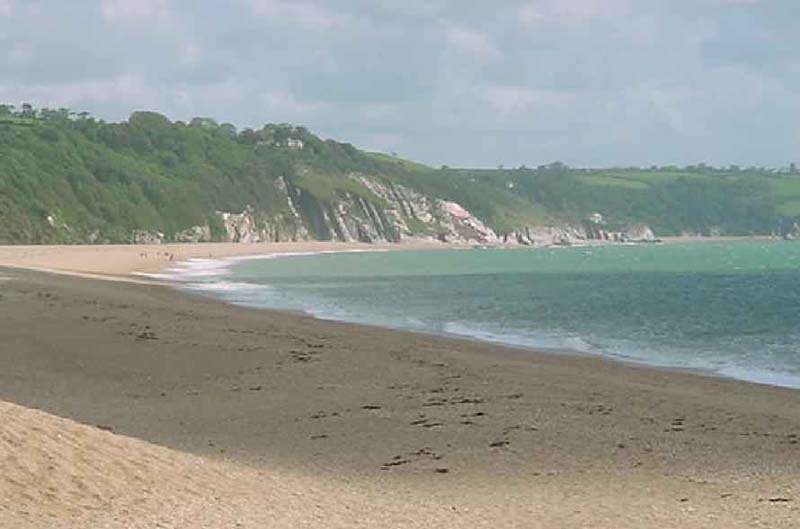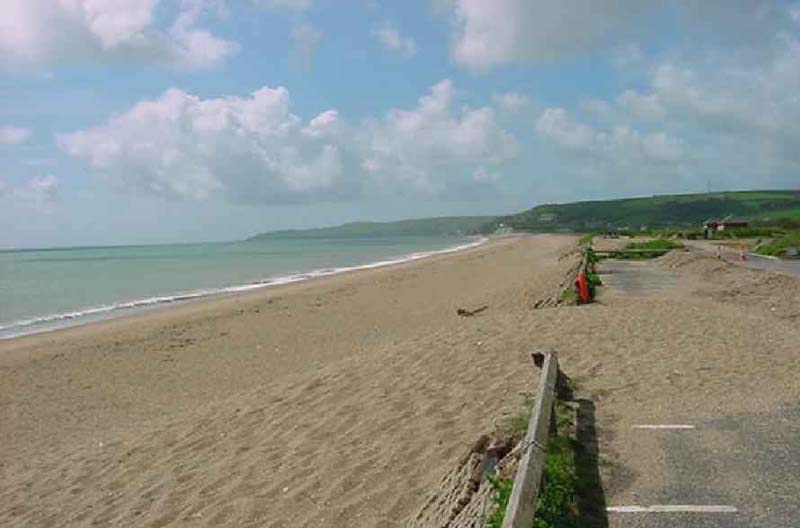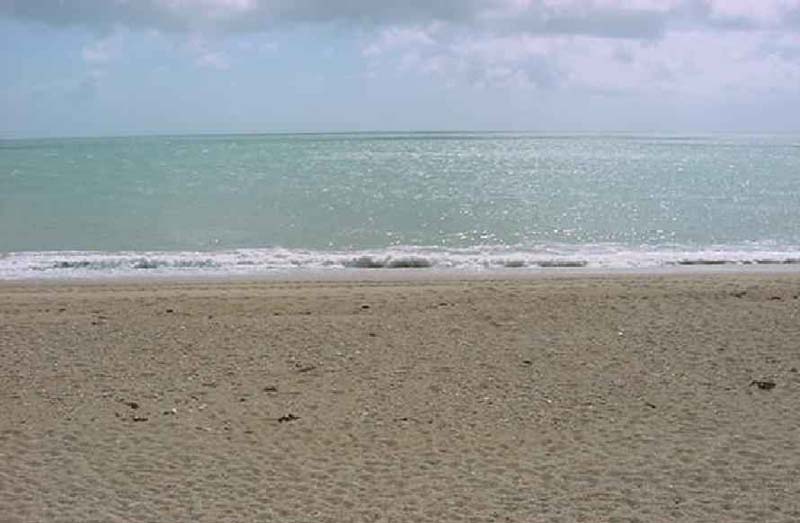 Looking directly across to Cherbourg in France from which direction the fatal E Boats were to come from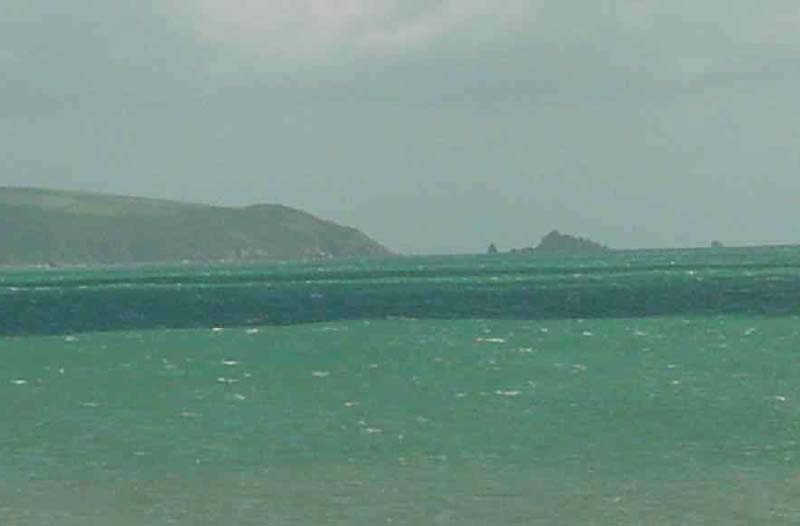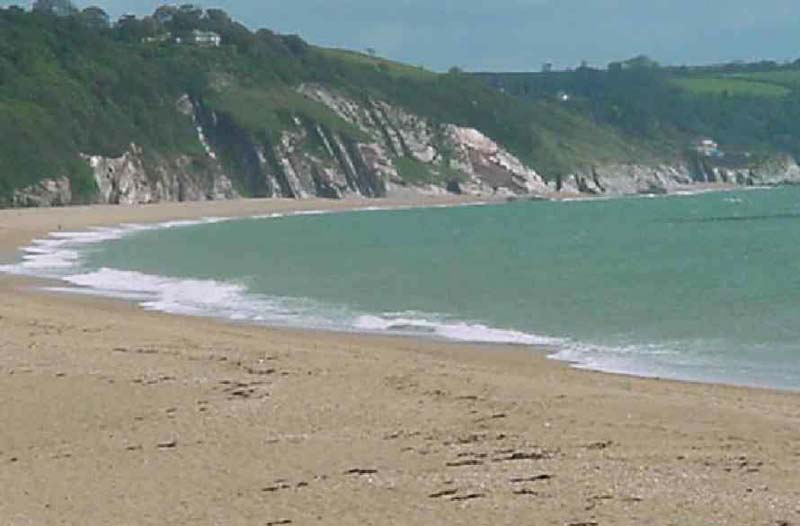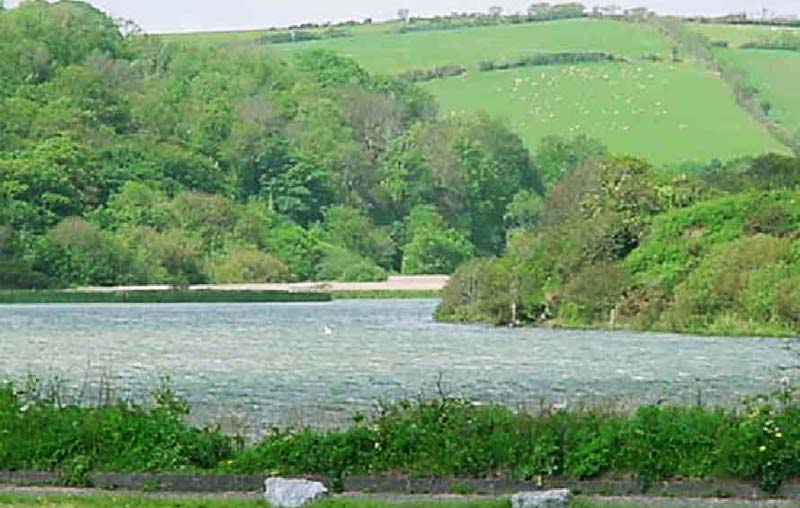 The view, behind the Causeway and Memorials, of the Wildlife Reserve.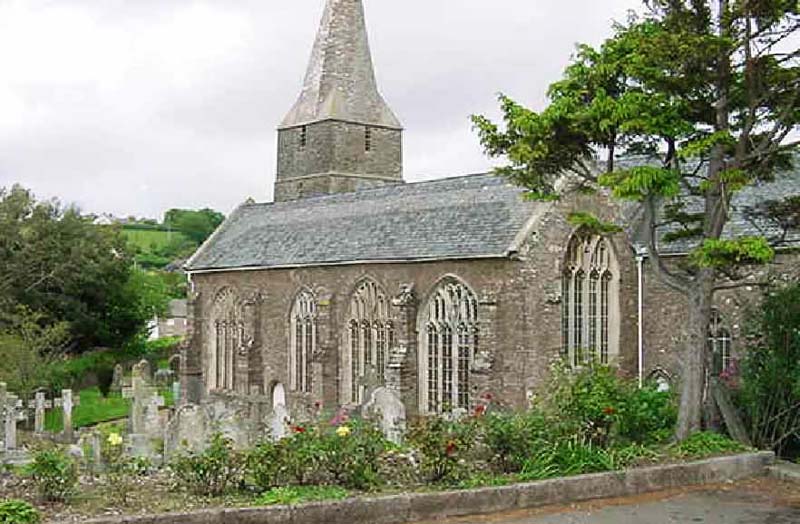 Slapton Village Church.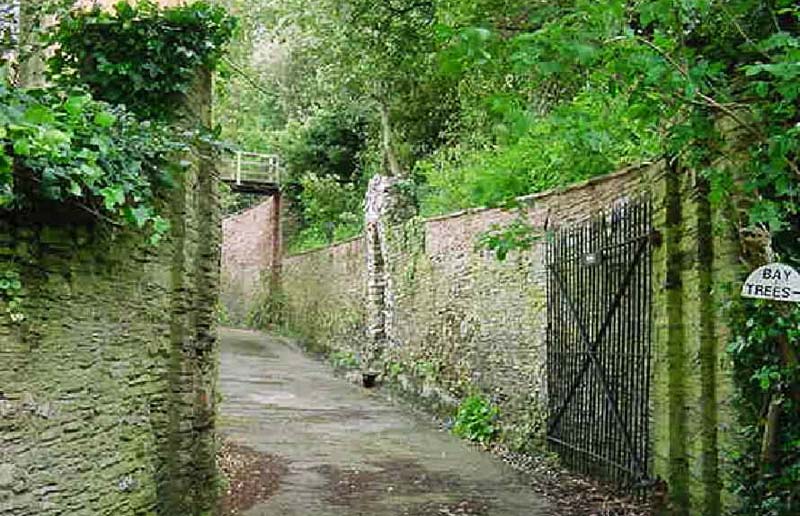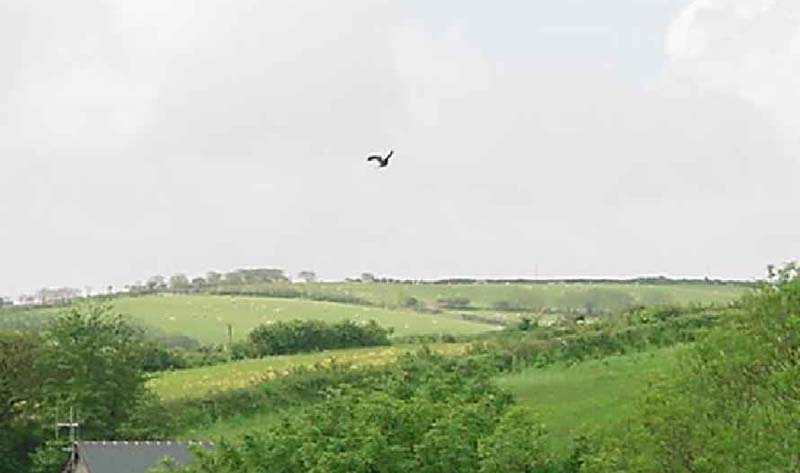 Scenes around and about Slapton.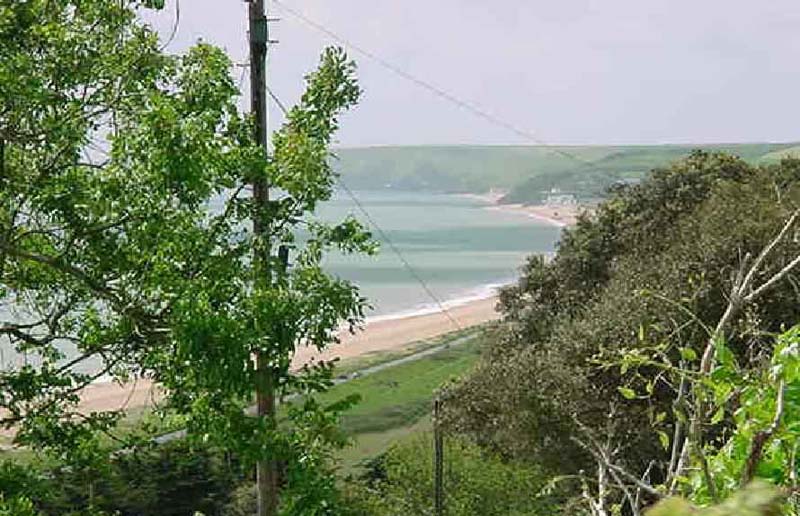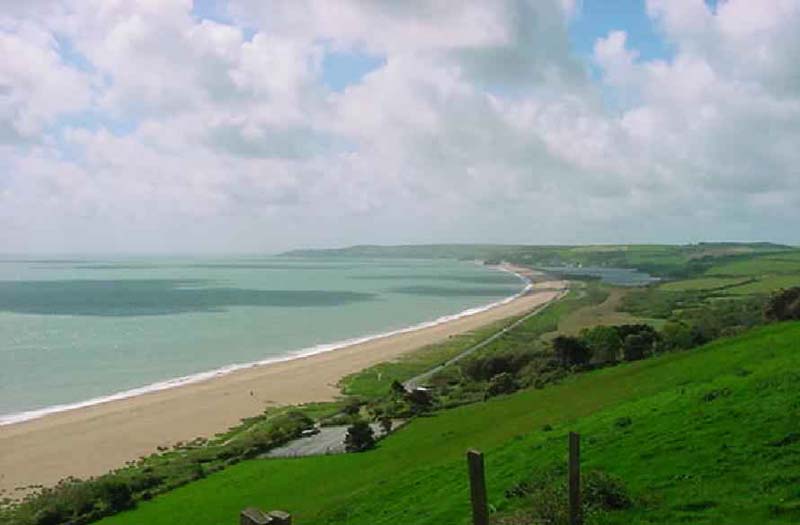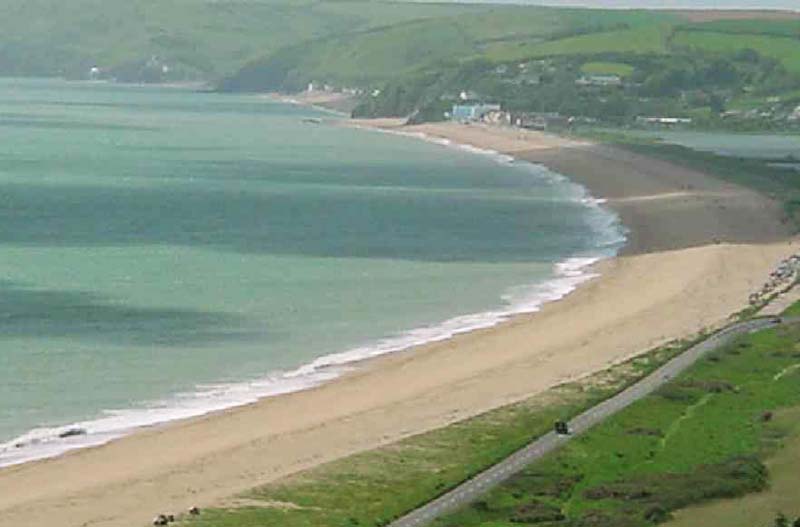 As I drove away from Slapton, eastwards towards Dartmouth, I stopped above the cliffs and took these final images

My first ever book, features a Chapter on Exercise Tiger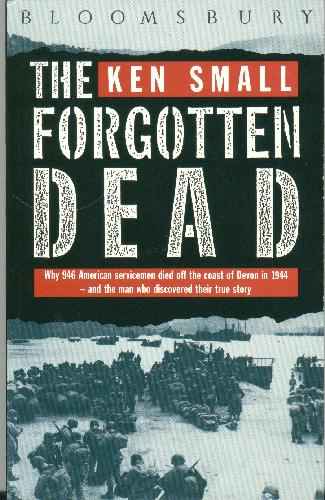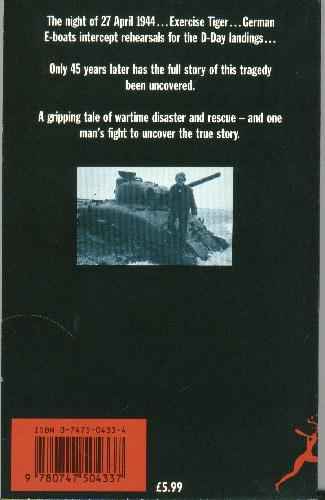 I have just finished reading this book (010602) and I thoroughly recommend it to everyone visiting this site
Sadly, Ken Small died during early March 2004. RIP Ken.
If you wish to purchase this book please contact Ken Small's Estate directly at the following address:
Dean Small
54 Start Bay Park
Strete
Dartmouth
Devon TQ6 0RY
England
dean.torcross@btinternet.com
The price is £9.99 PLUS Postage
Ken Small gave out this postcard with each signed book. On the rear, apart from his name, address and phone numbers
he added: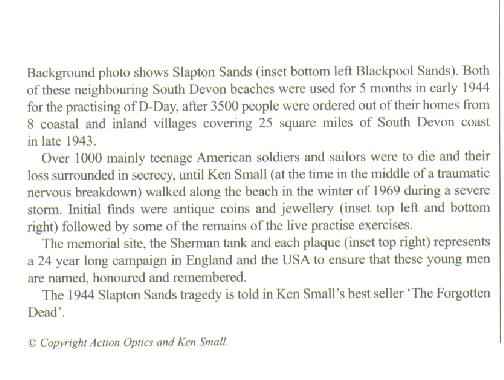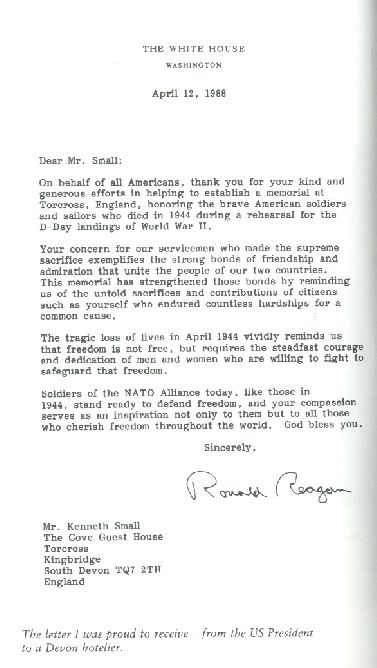 Copy of the letter Ken received from President Reagan. As stated earlier, the Americans bent over backwards to assist Ken,
for the most part whilst here in England all Ken got was bureaucracy and "red tape" from the "more than my jobs worth" boys.
The Ships
(each image is linked to another site)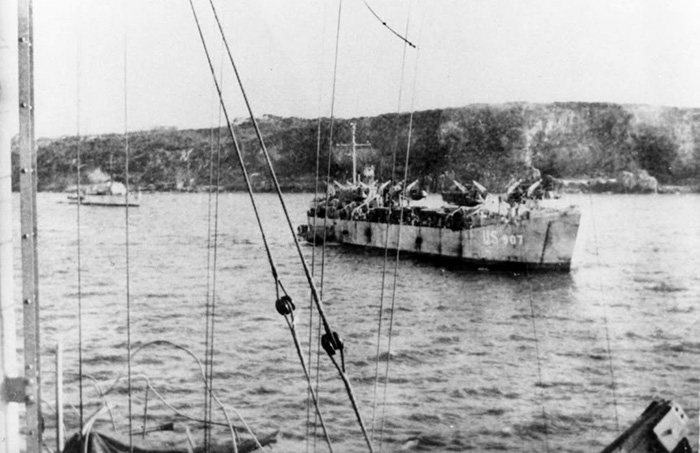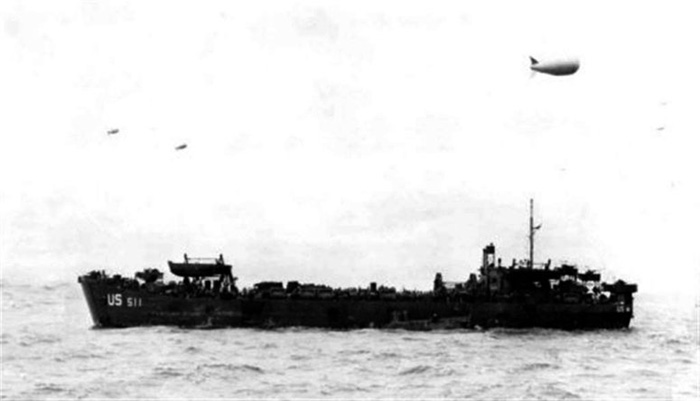 499 507 511

515 LST 531 (No image)
April 28 2019 - 75th Anniversary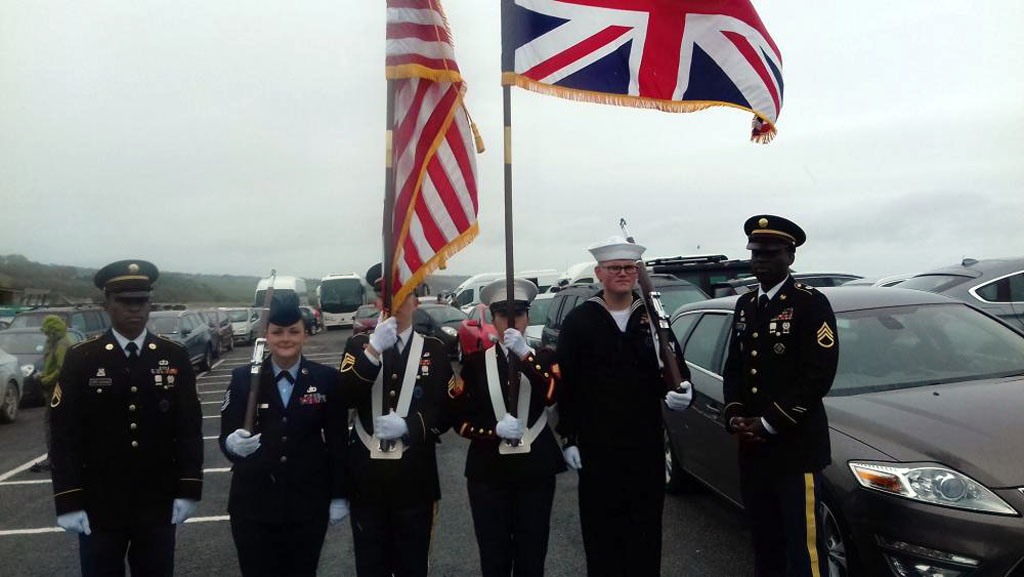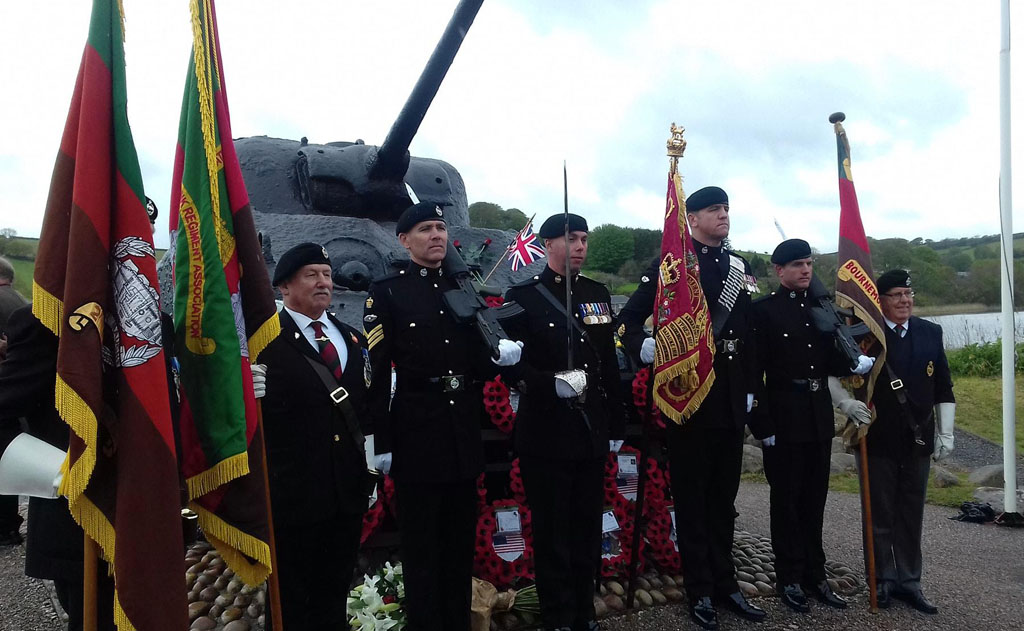 A former colleague (Tony Hart) from 1 RTR attended and supplied these images
Email from Deb in Kansas (her father was on LST 289) - "Good additional material for my children to use in educating history teachers who are not aware of this exercise. Also, my father states he was sworn to secrecy and it was NOT brought forth to the public following WWII. There are many families who lost relatives that will state the same thing. What they were told was not the truth about the situation of their loved ones death."
Email Received 18 Dec 02. Hi Mike, Just by chance, via Google, I came across your report on Ken Small's book. I now live in Sarasota, Florida, but spent a large part of my life in Paignton Devon. My Wife and I ran a small Guest house there. One day, out of season, we had an American Gentleman knock on our door looking for accommodation. It turned out that he was involved in the Tiger fiasco and had come over to retrace his wartime steps. His name was Harold Wilson and he was a professor at Florida University in Talahassee ( small World Huh? ) As we were fairly quiet at that time we had the chance to run him around to his old haunts. His stories, and the way he reacted to seeing Slapton again, were amazing. He said nothing had changed. Every corner we took on the coastal road..............he knew what was around the corner. It was like he had never left. We kept in touch for a while and then got no replies to our letters. When we moved over here about 10 years ago we tried again, but got no response. We still have a son and his family living in Paignton and on one of our return trips we went to Slapton and met with Ken and purchased one of his books. We have lent it out to many American friends and they are all amazed that this had happened, totally oblivious of the sad loss of life in "practice " in 1944. I was also saddened to read in your pages that the US STILL have not learned much from their mistakes in the past, Friendly fire is still a major cause of death to America's allies. Hopefully they get it right next time, God forbid that there is a next time, but that seems unlikely. Congratulations on an excellent Web page, wishing you continued success, George Layland.
Email received 15th March 2004. Having logged on to and read your page about Exercise Tiger, I write, representing my older Brother John who is almost 80 years old and as a 19 year old serving in the British Naval Coastal Forces on the night of the 28th April 1944, he was serving on HMS RML 532 and was within 5 miles of the attack on the LST convoy. He also spent 2 hours of the following morning in the waters of the channel recovering the bodies of young American soldiers. Jim Cullen.
Email received 16 March 2004. I was a Lieut. (XO (Executive Officer & Navigator) on LST 508 that was ordered and scheduled for the Tiger Exercise, but on the way to pick up Army, was in heavy fog in the English Channel where it was struck by a freighter in convoy going in the other direction. The bow anchor was torn off and the bow door damaged. It would not open, thus the LST 508 returned to Falmouth for repair. Orders were obtained to permit burning and welding all night. Repair could not be made in time and the LST 507 took our place. And as you reported was sunk. And yes, it was all kept secret. Our pay records went down with the LST 507 and we received no pay for a couple of months. As I recall the LST 508 was on way from Falmouth to Plymouth to pick up our load for the Tiger Exercise, but failed do to the collision in the fog as mentioned in my prior message. (As I recall our orders were marked SECRET and the ship's log would have not indicated the destination prior to arrival, thus even with the log I could verify that Plymouth was correct.) Our ship's officers and crew felt great sadness hearing of the loss of LST 507 where many were close friends. When back in Falmouth, England my commanding officer, Lt. John G. Holmes, of LST 508 reported to our Flotilla Commander who was surprised at seeing him. Our ship, LST 508 was about to be reported lost based on the collision report. No doubt some of this confusion resulted from the sinking and damage of those in the Tiger Exercise. As you may imagine the talk on the LST 508 "What if. . .?" when it was learned the LST 508 had been sunk. Cdr. E. F. Freeman, USNR (Ret.)
March 17th 2004. I have just been informed by Sophie Pierce of BBC Radio Devon that Ken Small died earlier this week. Rest in Peace Ken.
February 12th 2006. Unsigned Email. I was fortunate to have read your website on Operation Tiger of 1944. My interest in this is due to my Dad being among go those torpedoed that awful night. My Dad survived but many of his fellow soldiers did not. He kept the watch of that day. Do you have a list of the soldiers on that exercise or a way to check names on such a list? My Dad passed away a few years ago and I sure would like to find out more about that awful night. He told me that he was hanging onto a piece of wood to stay afloat all night long in the freezing water and was finally picked up in the morning by a British ship. He thought that after his recovering in Britain they may send him home after such an ordeal. Instead he was part of the Normandy invasion. My Dad was a great man and I miss him everyday. He was proud to serve his country. May he rest in peace. (See Op Tiger home site linked below).
further updates can also be found on page 2 - see below


Click on the banner to visit Exercise Tiger Association Site
The E Boats
My thanks to Erich For The Information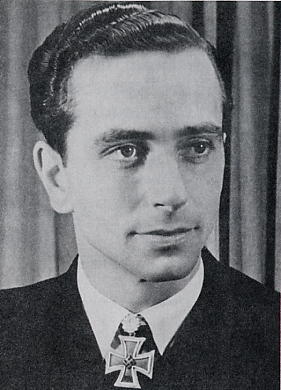 Klug
5th S-Flottille commanded by Korvettenkapitän Bernd Klug through June of 44. On hand at Cherbourg were:

S-84
S-100
S-112
S-136
S-138
S-139
S-140
S-142
S-143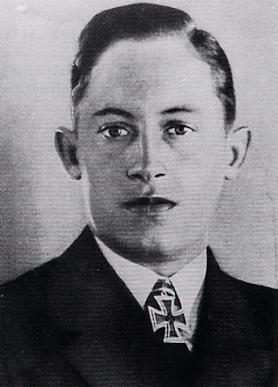 Mirbach

9th S-Flottille commanded by Korvettenkapitän Gotz Frhr. von Mirbach from April 43 till war's end.

S-130
S-144
S-145
S-146
S-150
S-167
S-168

Because of this operation in June of 44 the S-booten protective bays were obliterated and nearly all the boots sunk but some did escape (info: Erich)
The Schenllboote that took part in the mission were as follows.

5th S-Flottille

S-136, 138, 140, 142, 143 and 100

9th S-Flottille

S-130, 145, and 150

The following was received from the same site as Erich, but from Xavier -Dec 04
The only known, surviving and seaworthy S-boot, S-130, was built at the Johann Schlichting boatyard as hull 1030 in Travemünde, on the Baltic Coast, and commissioned on October 21st 1943. Her Commanding Officer was Oberleutnant zur See Gunter Rabe and she was assigned to the 9th S-Boot Flotilla (commanded by Korvettenkapitän Götz Freiherr von Mirbach, one of the most famous S-Boot commanders of the war) to reinforce their presence in the Southern North Sea. They operated out of Rotterdam until mid-February 1944, when they re-deployed to Cherbourg in order to reinforce the 5th Flotilla (under Korvettenkapitän Bernd Klug) in their operations throughout the Central and Western Channel area. Throughout her service, her radio callsign was "Rabe" (Raven), her dashing Master was known by all in the 5th and 9th Flotillas as "The Raven" and she wore a ship's crest incorporating a raven in addition to the usual 9th Flotilla sign. The two Flotillas in Cherbourg were directed from his HQ on the French mainland by Kapitän zur See Petersen (later to become Commander of the whole German Schnellbootwaffe).

Attack on Operation Tiger
- Following a succession of dashing and violent night engagements during March and April 1944, S-130 took part in one of the most daring and successful S-Boot operations of the War. Both Flotillas had conducted a number of attacks against Allied shipping off the southern coast of England including, on April 22, a successful attack on British Motor Gun Boats in Lyme Bay and, on the 24th, a very successful attack on shipping in the same area. Then, on the afternoon of 27 April, a Luftwaffe reconnaissance aircraft reported a convoy of 7 merchant ships off Start Point, England. That morning, convoy T45 had left Plymouth for Lyme Bay as a preliminary to Operation Tiger, a US exercise intended to be a rehearsal for the forthcoming D-Day landings on Utah Beach. The exercise was to be conducted on Slapton Sands, near Dartmouth. As part of the exercise programme, the convoy's primary purpose was to carry US tanks and men for Red Beach. It was led by the escort corvette HMS Azalea, followed by LST 515 and, at 700-yard intervals, LSTs 496, 511, 531 and 58 (towing two pontoon causeways). The WW1 Destroyer HMS Scimitar should have been on station as the main escort but had been holed above the waterline in a minor collision the day before and had been kept in Plymouth for repairs. The Naval HQ in Plymouth had not been informed of this and, as a consequence, no replacement vessel was provided. This breakdown in communication did not become clear until the early evening when the Captain of Scimitar realised what had happened and alerted the staff at Flag Officer Plymouth, whereupon HMS Saladin was immediately detailed as relief escort. Unfortunately, she did not get under way for Start Bay until well after midnight. Nevertheless, interference from S-Boote had been anticipated. Units were positioned between Start Point and Portland Bill to screen the operation in Lyme Bay and three MTBs were positioned off Cherbourg. Having been alerted by the earlier Lufwaffe report, however, all this activity had also attracted the attention of German shore-based surveillance systems and, as soon as it was completely dark (at about 2100 hours GMT) the 5th and 9th Schnellboot Flotillas, comprising six and three boats respectively, slipped out of Cherbourg. They evaded the small covering force of MTBs without difficulty and then, steaming at 36 knots under radio silence, soon covered the 90-odd nautical miles to the Northwest to break through the outer defensive screen across Lyme Bay. Meanwhile, the slow-moving convoy had been joined by a column from Brixham comprising LSTs 499, 289 and 507 (508 had failed to make the rendezvous). By this time, the convoy was west of Tor Bay and steering NNW before executing a complicated manoeuvre for the final approach to Slapton Sands. From his HQ on the French mainland, Kapitan zur See Petersen radioed the bearing of a possible target at 2317 hours and the E-boats of the 5th Flotilla split up into pairs to stalk their prey. Positive identification of targets was difficult, if not impossible and they moved slowly and quietly at first in order to retain surprise. After some time, at about 1.30 am, S-136 and S-138 spotted two "destroyers" at a range of 2000 metres and closed at speed. S-138 fired a double torpedo salvo at the stern of the right-hand ship and S-136 fired single torpedoes at the other. After a short interval, S-138 saw an explosion and, one minute later, S-136 noted simultaneous explosions on the second target. S-140 and S-142 had also identified targets at about the same time and opened fire with double shots at 1400 metres but, when no explosions were heard, Oberleutnant zur See Götschke correctly concluded that the ships were shallow-draft landing craft. Meanwhile, S-100 and S-143, alerted to the action by red tracer to their north, closed at high speed and noted that a "tanker" was already well ablaze. Both boats fired two torpedoes at a target of around 1500 tons, achieving a solid hit with one of them. The 9th Flotilla, comprising S-130, S-145 and S-150, were now attracted by red tracer from the 5th Flotilla (although at the time they thought they were from allied ships, since they understood that yellow tracer was to be used by their own force). Closing at speed, S-150 and S-130 turned straight in to a joint torpedo attack against a single ship while S-145 broke off to attack "small armed escorts" nearby (most likely more, lowered landing craft). On the bridge of LST 58, positioned in the middle of the convoy, the following events were logged (all timings are GMT);

0133 Gunfire directed at convoy. Probably AA to draw return fire. 0133.5 General quarters sounded. No target visible. Order to open fire withheld to protect position of convoy.

0202 Convoy changed direction to 203 degrees. Explosion heard astern and LST 507, the last landing craft in the convoy, seen to be on fire.

0215 LST 531 opened fire but no target visible from LST 58. 0217 LST 531 hit and exploded.

0218 Decision to break formation and to proceed independently. 0224 Order given on LST 531 to abandon ship.

0225 E-boat sighted at 1500 metres. Four 40mm guns and six 20mm guns on LST 58 fired off 68 and 323 rounds respectively. The E-boat turned away and at "cease fire" was about 2000 metres distant when it disappeared from view.

0230 LST 289 was hit.

0231 LST 289 opened fire but target not seen from LST 58.

0237 Surface torpedo reported off bow of LST 58.

0238 to 0400 Bright magnesium flares sighted in all directions with the intention of discouraging the scattered convoy making for shore. E-boat engine noises heard on many occasions.

0432 Order given on LST 507 to abandon ship.

0442 LST 515 lowered boats and picked up survivors from LST 507.

In the confusion of the action and darkness, it was impossible to be certain what was happening. The British Fighter Direction Tender, FDT 217, had sailed out of Portland to provide radar and communications cover (she was one of three FDTs that would provide stalwart service off Normandy two months later) but, on this particular night, she received a signal: "Make port all haste" which she duly did. Elsewhere the scale of the debacle was becoming only too apparent. LSTs 507 and 531 had been sunk with the loss of 202 and 424 lives respectively - a total of 626 out of a total US Army and US Navy complement of 943. LST 289 was damaged with the loss of 13 men and LST 511 was hit by fire from LST 496 resulting in 18 wounded. In the end, the total of 639 American killed and missing was 10 times the actual losses on Utah beach on D-Day, for which this exercise had been intended as a rehearsal.

A Twist in the Fortunes of War
- On 12 May 1944, S-130 bore witness to one of the War's many, tragic, little footnotes. S-130 was taking part in a patrol of some 10 S-Boote to the south of the Isle of Wight. The Royal Navy soon discovered them and destroyers were dispatched in pursuit. During the ensuing engagement, The Free French ship La Combattante succeeded in sinking S-141, onboard which was Oberleutnant zur See Klaus Dönitz, the son of Grossadmiral Dönitz, Chief of the German Naval Staff. He was training to qualify for command of an S-Boot and was among the 18 crew from S-141 who died.

D-Day – The Turn of the Tide and the Long Retreat
-On the morning of 6 June 1944, D-Day, S-130 was one of the 31 battle-ready S-Boote sent to attack the Allied fleet. Several successes were claimed but, against such an assault force (4126 landing vessels and transports, 1213 warships and total air supremacy over the landing area and approaches), the Kriegsmarine could do little to hinder the massed landings. The 9th Flotilla sank a number of landing craft but records do not indicate whether any were attributed to S-130. Since two of her ship's company were killed, however, it may reasonably be deduced that she was in the thick of the action. Thereafter, it was a question of retreating east along the Channel and North Sea coasts as the Allied armies advanced towards the Rhine and Germany, trying always to harry and disrupt their sea lines of communication. Little specific record remains of the many engagements that were played out in the darkness of the winter of 1944/45 although it is clear the 9th Flotilla and S-130 were seldom away from the action. By the spring of 1945, German Naval operations in the southern North Sea had all but been suspended and the cessation of hostilities in May found S-130 in Rotterdam. She had survived to fight again.

Old Wine in New Bottles -
In May 1945, S-130 and S-208 were taken as British war prizes. A team of German delivery crews from the German Minesweeping Administration (GM/SA) subsequently brought them to Gosport, England, together with a variety of other small craft. During the ensuing period, the Royal Navy used them for test and trial purposes as Experimental Craft FPB 5130 and FPB 5208. As they were to be used unarmed, the torpedo tubes were de-activated and closed, and the cannon unshipped. Additional fuel tanks were installed in order to increase their operating radius and powerful radar and radio direction finding suites were fitted. In order to conduct comparative trials, S-130 had her three MB 501 V-20 diesels replaced by three, state-of-the-art Napier-Deltic diesels rated at 3140-PS each, whilst S-208 retained her original engines. This new lease of life gave S-130 a speed of 45 kts – an increase of about 5 knots on her previous maximum. It was then decided to re-deploy them to British-occupied Germany on reconnaissance duties under the direction of Flag Officer Germany and, for this new role, the boats were given a coat of special, white, non-reflecting paint.

Pirates Turned Spies
- At first, they were used for coastal survey, based in Rotterdam, but the British Admiralty had urgent need of information about the equipment and activities of the Soviet Fleet, who were making their presence in the Baltic increasingly felt. The boats were re-deployed to Kiel (under command of one Lt Cdr John Harvey-Jones) and were soon turning up in the middle of Soviet Fleet manoeuvres and in the approaches to their bases. They photographed Soviet Units, collected a large quantity of useful information and made a thorough nuisance of themselves but, as soon as they were detected they were able to escape at high speed despite all efforts to intercept them. In order to confuse the situation further, they carried and wore a variety of ensigns and insignia. This made identification very difficult, as several navies used former Kriegsmarine S-Boote, given to them by the US and UK as war prizes, at this time. During this period (1948/9), a decision was made to set up a "British Baltic Fishery Protection Service (BBFPS)" as a cover organisation. Its principal purpose was to conceal the details of Operation Jungle, a programme for the clandestine insertion of agents into the Baltic States, to be mounted by the British Secret Intelligence Service (MI6). They had trained selected emigrants from Latvia, Lithuania and Estonia as agents and these were by now ready to be returned in order to link up with anti-Soviet resistance groups who had been conducting anti-Soviet resistance and hiding in the forests since the end of the war. The Royal Navy felt confident that it could find suitable German candidates to crew a small flotilla for this dangerous undertaking. Tens of thousands of Kriegsmarine personnel had worked for the Royal Navy as part of the British-supervised German Mine Sweeping Administration and its smaller civilian successor, the Cuxhaven Mine Sweeping Group. Most importantly, these included one Hans–Helmut Klose, a daring veteran of the Kriegsmarine S–Bootwaffe. During the last year of World War II, Klose had commanded the 2nd Fast Torpedo Boat Training Flotilla, which operated throughout the Baltic during the final desperate months of the Kriegsmarine's existence. Klose's boats performed a wide range of missions, including the escort of transports, reconnaissance missions, clandestine insertion of agents and even the rescue of high-ranking officials from encircled enclaves. He had fought the Soviet Fleet off Kürland and, during the last days of the War, had played a leading role in the brilliantly-executed but desperate evacuation of Libau in East Prussia. He was highly-regarded and had no "baggage" from the British point of view: Klose was a born pirate but he was no Nazi. In May 1948, Commander Anthony Courtney RN, an intelligence officer, interviewed Klose and asked him whether he would be interested in putting his unique experiences and talents to use against the Russians. He agreed and soon got things moving. Operations began in May 1949, from when MI6 used S-208 (alias FPB 5208) and a variety of other vessels to transport agents to landing sites in Polanga (Lithuania), Uzava and Ventspils (Latvia) Saaremaa (Estonia), and Stolpmünde (Poland). The boats flew the White Ensign but were manned by German crews, all former members of the Kriegsmarine S-Bootwaffe. Called to duty again, this time in the service of the British, they formed what was to become famous – albeit in rarefied, clandestine circles – as "The Klose Fast Patrol Group". The agents were flown from England to West Germany, landing there on British military airfields from where they were brought to various harbours to board one of Klose's vessels. The first stage of the trip was usually to Bornholm, off the Swedish coast, where they would await the radio signal from London giving the final order to penetrate the territorial waters of the USSR. On receipt, British Officers would issue any final instructions and disembark, leaving the German crew to make the run. Only the vessel's Commander knew the destination. After nightfall, the boat closed slowly and quietly to within about 3nm of the coast. Following the satisfactory exchange of agreed authentication signals with the shore reception party, a rubber dinghy with an outboard motor was lowered and the coxswain, who was in radio communication with the mother S-Boot, put the agents ashore. There he embarked any agents for return to England and rejoined the S-Boot which, after clearing the coast with the minimum of noise and disturbance, accelerated out of hostile territorial waters.

S-130 Joins a Very Private Club
- After these rather improvised beginnings, MI6 decided to create a more permanent organisation, which was set up 1951 in Hamburg-Finkenwerder and later moved back again to Kiel. In 1952, S-130, rejoined her sister ship S-208 and the scope of operations was widened to include electronic and signal intelligence activities. This involved the fitting of a variety of signal intelligence (SIGINT) equipment and, from 1953 on, following a co-operation agreement between the British and the American Secret Services, American CIA agents (supported by the famous US-backed Gehlen organisation) were also inserted along the coasts of the Baltic States by Klose's boats. In 1952, following the arrival of S-130, the Group had been further reinforced. The German Federal Border Guard (Sea) (Bundesgrenzschutz See) had ordered three fast patrol boats of the modernised Kriegsmarine S-Boot type from the Lürsen shipyard but their designed speed of 43 kts broke the terms of the Potsdam agreement under which construction of such fast patrol boats was prohibited. The British waited until they were completed and paid for, confiscated the boats just before they were due to be delivered – an example of the perfidy of Albion that can have few equals - and then commissioned two of them as Storm Gull and Silver Gull with the usual German crews. Finally, in 1954/55, three more, newly-built Schnellboote arrived to relieve S-130 and S-208, both of whom were by now looking decidedly war-weary.

Seaworthy Ships but a Leaking Intelligence Service
- From 1951 onwards, MI6 had suspected that Soviet counter-intelligence might have infiltrated the spy networks in the forests of Kürland. In fact, the KGB had been very successful with its counter-penetration operation "Lursen-S." Over 40 agents were inserted into the field and all were caught, sentenced, or turned as moles or double agents. This complete failure of the MI6 operation in the Kürland had much to do with superciliousness and a lamentable lack of internal security inside MI6 itself. In the end, neither MI6 nor the KGB achieved their intended aims and many human lives were sacrificed for a trickle of information which, after close analysis, proved to be of little value. The landings were finally stopped for good in 1955. In contrast, the Naval intelligence, surveillance and reconnaissance operations conducted by the Klose Fast Patrol Group were very successful indeed and it was for this that Lt Cdr Harvey Jones (now rather better-known as Sir John Harvey-Jones, formerly Chairman of ICI) was made an MBE. These operations also did much to set aside the Anglo-German naval bitterness and resentment of the immediate post-war period and laid the foundation of what was to become the German Navy's new "Schnellbootflotille" and the Intelligence Organisation.

The New Germany Joins NATO and The Bundesmarine is Born

In spring 1956 the BBFPS was disbanded. The crews received medallions from a grateful Royal Navy for their services and the boats were handed over to the nascent German Federal Navy. Our heroines, S-130 and S 208, were restored to their old condition and handed over, in March 1957. They were used as high-speed training vessels, designated UW 10 and UW 11 respectively, at the underwater warfare school, while the newer boats formed the first Fast Torpedo Boat Squadron. Most of the crew members also joined the German Federal Navy and the Flotilla Commander, Hans Helmut Klose, finally retired in the rank of Vice Admiral, having created and commanded the complete, new and excellent Schnellboot arm, in 1978. S-208 was finally broken up but S-130 continued to give valuable service as a test and training platform in a variety of roles under the pennant number EF3. She was finally paid off for the last time, after 48 years' service, in 1991 in Wilhelmshaven, where she remained as a house-boat until her acquisition for restoration in England by her present owner in January 2003.
Sir Peter Scott, the famous naturalist, commanded Motor Gun Boats (MGB's) in the Channel during WW2 and published a book, "The Battle of the Narrow Seas" - long out of print. I was fortunate to obtain a first edition 1945. In this he briefly mentions Exercise Tiger; which was shrouded in deepest secrecy for a long time. On page 187 he is writing about Portsmouth and E boats and he goes on about the Portsmouth Plot:
"It was from this plotting room --- that a complete picture of the naval part of the invasion was continuously made available to Allied Commanders, and it was from here too that the Channel war against E Boats and enemy shipping was conducted during the months before. Only once in that time did the E Boat achieve anything of significance. That was during an invasion exercise when they got in amongst a convoy of landing ships in Lyme Bay and wrought serious devastation and heavy loss of life; it was their sole success although they were at sea night after night."
30 Jan 2018. I received an email, which contained some info you should be aware of. My name is Laurie Bolton, and my uncle died in Exercise Tiger, on board LST 531. I am a close friend of Dean Small, son of the late Ken Small, and together we are part of a non-profit organization called Exercise Tiger Memorial, Ltd. He is Director, and I am an Honorary Director. Please see our website: www.exercisetiger.com. Thank You Laurie.
In memory: Sgt. Louis A. Bolton, who perished on Board LST 531 and all his comrades.
Finally, a comment from an American Colonel to Ken: Quote: "Man, you have been up and down two great mounds
of bureaucracy in the United States, you are halfway up the third, how the hell you have done it I don't know,
but you have done it, it is sheer persistence". Unquote. However, compared to our own bureaucracy,
the US bureaucracy was easy!